Will National Oilwell Varco, Inc.'s Rebound Continue This Quarter?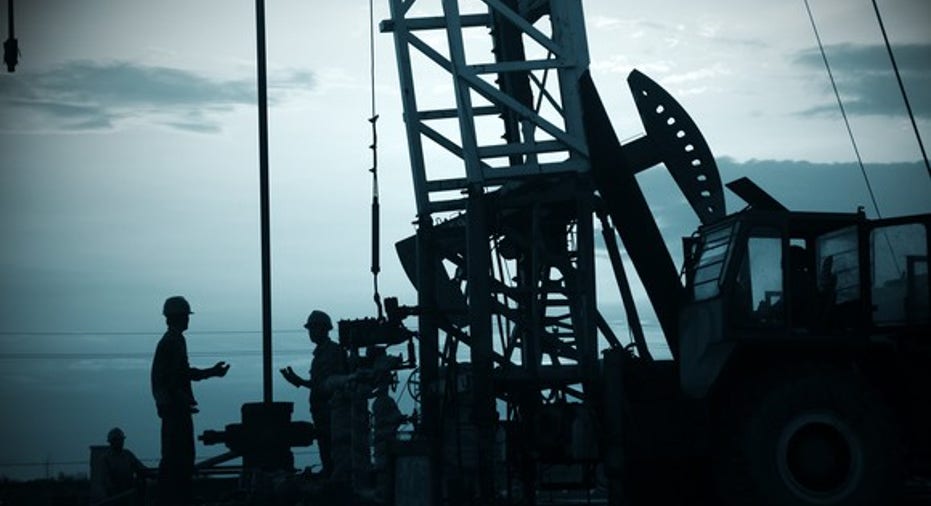 Last quarter National Oilwell Varco (NYSE: NOV) CEO Clay Williams proudly proclaimed that he was "very encouraged by our results, as our fourth quarter consolidated revenues increased for the first time since the downturn began in late 2014." Moreover, the oil-field equipment company's CEO said that he was "look[ing] forward to a brighter year ahead" given the expectations that conditions should continue to improve.
That said, several headwinds remain, which probably affected results in some of its segments during the first quarter. That's certainly what the company expected when it unveiled its forward guidance on last quarter's conference call. Here's a look at that forecast, which does contain several green shoots that could enable the company to maintain its forward momentum.
Image source: Getty Images.
Rig systems: The slow shift toward land continues
Rig systems used to be National Oilwell Varco's biggest moneymaker. However, it has fallen victim to the oil-market downturn because customers aren't ordering much new equipment for offshore drilling. Instead, nearly half of this segment's new orders last year were for land rigs, which the company expects will increase this year. It will take a while to restock the backlog, so the equipment maker expects rig systems revenue to decline by another 10% to 12% during the first quarter, though aggressive cost management should keep the profit decline to a minimum.
One other thing investors should keep an eye on this quarter is new orders. The company noted on last quarter's conference call that customer dialogs around newbuild land rig opportunities were expanding, but that it didn't expect these conversations to convert to new orders until the second half of this year. Still, if the company captured those sales ahead of schedule, it would be a sign that this segment is about to turn around.
Rig aftermarket: Still waiting for the bottom
The company's rig aftermarket segment also currently remains heavily weighted toward the offshore market. However, like rig systems, sales in this segment are also pivoting toward land. However, CFO Jose Bayardo said on last quarter's call that the company was "not yet ready to call a bottom for this segment" since it expected first-quarter revenue to slip by a mid-single-digit rate, though profits should flatten out due to a more favorable sales mix. Given that expectation, investors should look to see how near this segment is to hitting rock bottom.
Wellbore technologies: Slowly getting better
Last quarter the company's wellbore technologies segment finally started showing signs of improvement after revenue edged up 1%. Driving that modest rebound was "an accelerating recovery in North American land," according to the CFO, with demand for short-cycle products and services outweighing declines in international and offshore markets. The company expects this recovery to accelerate in the first quarter, with expectations that revenue will increase in the mid-single-digit range along with "outsized incremental margins."
Image source: Getty Images.
Completion & production solutions: The new growth driver
The driver of National Oilwell Varco's unexpected bounce last quarter was the robust results within its completion & production solutions segment: Revenue rebounded 11% versus the prior quarter while earnings improved 60.5%. Fueling growth was an across-the-board improvement in all its business units, as customers chose to exhaust their capital budgets before the end of the year and distributors started restocking products for the first time in two years. In fact, new orders more than doubled last quarter to $370 million, boosting the company's backlog to $870 million. While the company expects continued challenges in its offshore businesses to be a drag on first-quarter results, it also expects a stronger than originally anticipated recovery for its completions-related equipment and other businesses to propel segment results higher this quarter. Overall, the company forecasts "revenues to increase a couple hundred basis points with strong incremental margins."
Adding it all up
National Oilwell Varco's first-quarter guidance isn't overly bullish because it expects weak offshore markets to continue weighing on its rig systems and rig aftermarket segments. However, improving sales to land customers, especially in its completion & production solutions segment, should more than offset those weak spots. As long as nothing unexpected pops up during the quarter to derail its recovery, it would appear that National Oilwell Varco's rebound will not only continue, but should start gaining steam.
10 stocks we like better than National Oilwell VarcoWhen investing geniuses David and Tom Gardner have a stock tip, it can pay to listen. After all, the newsletter they have run for over a decade, Motley Fool Stock Advisor, has tripled the market.*
David and Tom just revealed what they believe are the 10 best stocks for investors to buy right now... and National Oilwell Varco wasn't one of them! That's right -- they think these 10 stocks are even better buys.
Click here to learn about these picks!
*Stock Advisor returns as of April 3, 2017
Matt DiLallo owns shares of National Oilwell Varco. The Motley Fool owns shares of and recommends National Oilwell Varco. The Motley Fool has a disclosure policy.