Will Las Vegas Sands Stock Pay a Bigger Dividend in 2017?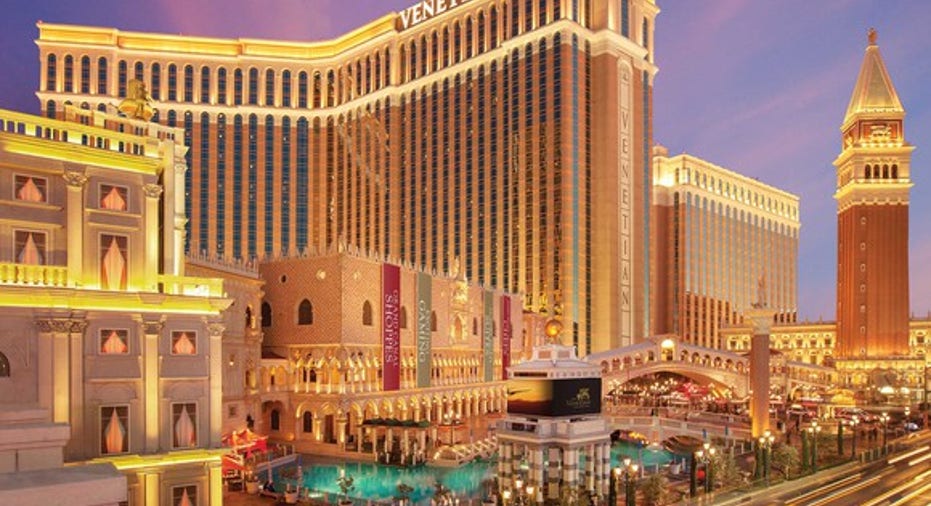 In the casino world, it always pays to bet on the house. Las Vegas Sands (NYSE: LVS) has been a big winner for long-term investors, and the hotel and resort operator has not only managed to give its investors impressive share-price appreciation historically, but also has had an impressive track record of paying ample and growing dividends to its shareholders. The casino giant's CEO, Sheldon Adelson, has signaled that Sands intends to follow through on plans for a small dividend increase in 2017. Yet with a yield in excess of 5% and an annual dividend rate that exceeds its earnings over the past 12 months, some investors worry that Las Vegas Sands' dividend might be at risk. Let's take a closer look at Las Vegas Sands to see if dividend investors can count on a bigger payout in the near future.
Dividend stats on Las Vegas Sands
| | |
| --- | --- |
| Current Quarterly Dividend Per Share | $0.72 |
| Current Yield | 5.3% |
| Number of Consecutive Years With Dividend Increases | 5 years |
| Payout Ratio | 137% |
| Last Increase | March 2016 |
Datat source: Yahoo! Finance. Last increase refers to ex-dividend date.
Can Las Vegas Sands keep rewarding shareholders with higher dividends?
Las Vegas Sands hasn't paid dividends for that long, but in its short history, it has done a great job of ramping up its payouts quickly. Starting with a $0.25 per share quarterly payout in 2012, Sands has nearly tripled its dividend payments since then, including an 11% boost near the beginning of 2016.
For 2017, that's likely to change. The company has historically declared dividend increases in late January of each year, but Sands also typically signals any boost in its third-quarter earnings call during the preceding fall. Sure enough, in November, Adelson said that the company's board had authorized a $0.01 per share increase in the quarterly payout. If the company moves forward with declaring that dividend -- something it typically does each January -- then investors will get just a 1.4% boost to their income in 2017.
With such a steep trajectory in establishing and boosting dividends, Sands inevitably had to slow the pace of dividend growth. Indeed, investors were right to be concerned about whether the company could continue to keep up its past pace of higher payouts. Moreover, ongoing challenges could cause problems in the future as well, forcing Sands to be aggressive in maintaining its growth.
Image source: Las Vegas Sands.
What could push Sands forward?
In particular, weakness in the Macau casino market has been a big problem for Sands. During 2015, net income for Sands fell by more than a quarter, and that ate into operating cash flow at a time when capital expenditures were rising to handle the costs of new development. In the end, the company saw its cash balance fall by more than $1.3 billion, or about half of what it paid in common dividends.
Yet Macau could also be a big boon for Sands and its dividend in the long run. The early success of the new Parisian hotel and resort in the former Portuguese colony has given Sands new optimism about the future course of its Macau operations, and that has implications for its dividend going forward. As CFO Patrick Dumont said during the most recent conference call, if future cash flow growth bounces back, then it could help support future dividend growth. Dumont characterized Sands' dividend as "a cornerstone of our return of capital strategy, and it's very important for us to keep it going in a sustainable and a growing way in the future."
When will Las Vegas Sands' dividends rise again?
Investors can and should expect Las Vegas Sands to follow through on its November announcement and declare a $0.01 per share increase to its dividend in late January. Going forward, though, it will likely take until 2018 for conditions to improve enough to warrant a more substantial rise for the quarterly payout. If that turnaround in Macau doesn't happen, moreover, worries about the sustainability of Sands' dividend are likely to get worse again.
10 stocks we like better than Las Vegas Sands When investing geniuses David and Tom Gardner have a stock tip, it can pay to listen. After all, the newsletter they have run for over a decade, Motley Fool Stock Advisor, has tripled the market.*
David and Tom just revealed what they believe are the 10 best stocks for investors to buy right now... and Las Vegas Sands wasn't one of them! That's right -- they think these 10 stocks are even better buys.
Click here to learn about these picks!
*Stock Advisor returns as of Nov. 7, 2016
Dan Caplinger has no position in any stocks mentioned. The Motley Fool has no position in any of the stocks mentioned. The Motley Fool has a disclosure policy.