Will JPMorgan Chase Get Approval on Wednesday to Increase Its Dividend?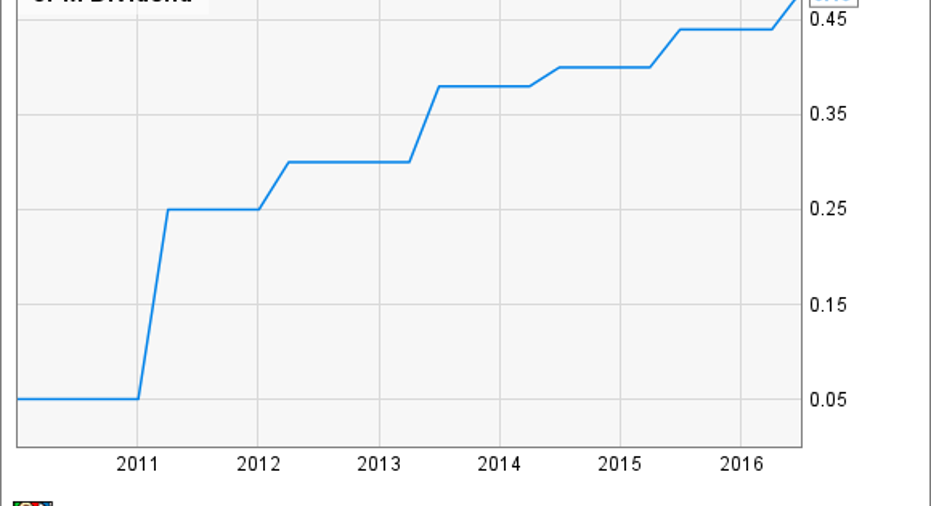 Image source: The Motley Fool.
There are two reasons for investors to consider buying shares of JPMorgan Chase .
The first is that they've fallen by roughly 10% in the wake of last week's vote in the United Kingdom to separate from the European Union. The second is that the nation's biggest bank by assets could soon gain approval from the Federal Reserve to boost its dividend -- though the actual increase may not occur until later in the year or even next year, as JPMorgan just raised its quarterly payout by 9%.
The net result is that JPMorgan Chase's stock yields 3.22%, which comfortably exceeds the average yield on the S&P 500 of 2.17%.
Whether JPMorgan Chase can raise its dividend further will be decided by the Federal Reserve in the comprehensive capital analysis and review -- the second step in the annual stress test process -- the results of which are scheduled to be announced on Wednesday.
As the Fed explained in a press release earlier this month (emphasis added):
This process has tripped up many of JPMorgan Chase's peers in the past. Last year, Bank of Americahad to resubmit its capital plan to "address certain weaknesses in its capital planning processes." And the year before that, the Fed objected to Citigroup'scapital plans based on "qualitative concerns." It's no coincidence, in turn, that each of these banks has increased its quarterly payout only once since the financial crisis.
The same isn't true for JPMorgan Chase, which has boosted its payout annually over the past five years. And there's reason to believe that it will gain approval to do so again in this year's CCAR.
JPM Dividend data by YCharts.
While it's true that JPMorgan Chase had to temper the proposed amount that it wanted to return to shareholders last year in order to meet its minimum capital requirements on a post-stress basis, it emerged from the first stage of this year's stress test with meaningfully higher capital ratios.
Its Tier 1 common capital ratio last year under the severely adverse economic scenario was 6.5%. This year it was 8.3%. Given this, it seems unlikely that JPMorgan Chase will run into a similar issue.
Consequently, while an actual dividend increase might not happen immediately, it seems reasonable to assume that the New York City-based bank will be given approval to raise the amount of capital that it returns to shareholders -- be it through a higher quarterly payout or a more generous stock buyback plan.
The article Will JPMorgan Chase Get Approval on Wednesday to Increase Its Dividend? originally appeared on Fool.com.
John Maxfield owns shares of Bank of America. The Motley Fool recommends Bank of America. Try any of our Foolish newsletter services free for 30 days. We Fools may not all hold the same opinions, but we all believe that considering a diverse range of insights makes us better investors. The Motley Fool has a disclosure policy.
Copyright 1995 - 2016 The Motley Fool, LLC. All rights reserved. The Motley Fool has a disclosure policy.