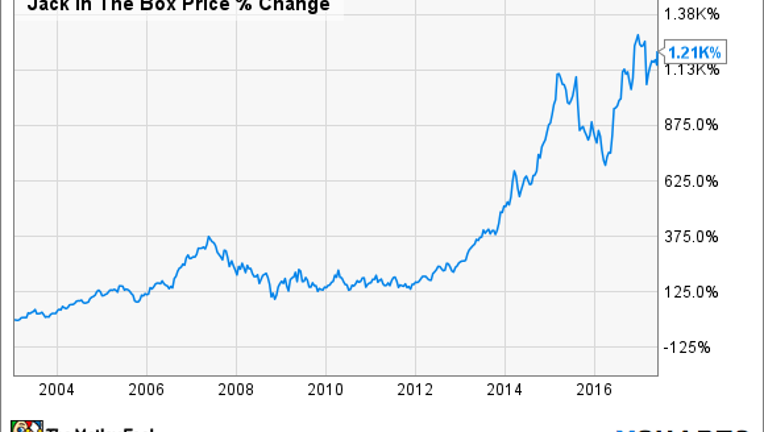 Jack in the Box (NASDAQ: JACK) stock had a great day following the release of the fast-food company's earnings. Beating expectations in its most recent quarter, Jack in the Box also announced that it is looking for guidance regarding its Qdoba Mexican Eats brand.
A Mexican-American food mash-up
During the earnings call, CEO Lenny Comma said the company is consulting with Morgan Stanley to find strategic alternatives for Qdoba -- not exactly breaking news, as it was mentioned as a possibility this time last year. However, business conditions have apparently changed enough for the company to renew its focus on the idea.
Image source: Qdoba.
Details were scant, as Jack in the Box wants to give Morgan Stanley time to finish its review, and the board of directors will have to make some decisions before the company reveals more. However, Comma did offer this:"We said one of the factors that would cause us to reconsider our strategy with respect to Qdoba was valuation. It has become more apparent since then that the overall valuation of the company is being impacted by having two different business models."
Though it may be time for the two restaurant chains to separate, it has been a great deal for Jack in the Box. When it purchased Qdoba in 2003, the fast-casual Mexican food chain had 85 locations and $65 million in sales. Today, there are 700 locations with $800 million in sales as of fiscal 2016, making it the country's second-largest Mexican food brand behind Chipotle.
Jack in the Box's share price has been a sight to beholdsince the company bought Qdoba. Data by YCharts.
Doing what others should have done
For the quarter, Jack in the Box beat on the top and bottom lines, which is significant considering the industry has been experiencing weakness since last year. Many chains have been coping with declining foot traffic and lower per-store profitability.
But while it was a beat, it was not a great performance. Rapid expansion in the past decade and a half has new restaurant openings outpacing customer demand, and the industry has suffered as a result. Qdoba was also discounting its menu last year, a strategy the company is now leaving behind.
Data source: Jack in the Box. Chart by author.
Despite the recent weakness, Jack in the Box's purchase and development of Qdoba will still go down as a brilliant investment. Once upon a time, fast-food rival McDonald's made a similar move when it bought a stake in fledgling Chipotle in 1998. Chipotle had 14 stores at the time, and when McDonald's sold out in 2006, there were 500. History has shown the world's largest burger sold too soon, as Chipotle now operates over 2,300 locations.
What it all means for Jack in the Box shareholders
It appears Jack in the Box will spin off the chain, but how and when that mighthappen is yet to be decided. It's also possible Morgan Stanley comes back saying the company should hold its subsidiary tight -- much of this will depend on what Qdoba would fetch in the current market.
In the meantime, Wall Street thinks the news is positive. Stay tuned for more details.
10 stocks we like better than Jack in the BoxWhen investing geniuses David and Tom Gardner have a stock tip, it can pay to listen. After all, the newsletter they have run for over a decade, Motley Fool Stock Advisor, has tripled the market.*
David and Tom just revealed what they believe are the 10 best stocks for investors to buy right now... and Jack in the Box wasn't one of them! That's right -- they think these 10 stocks are even better buys.
Click here to learn about these picks!
*Stock Advisor returns as of May 1, 2017
Nicholas Rossolillo has no position in any stocks mentioned. The Motley Fool owns shares of and recommends Chipotle Mexican Grill. The Motley Fool has a disclosure policy.