Will Intel Raise Its Dividend in 2017?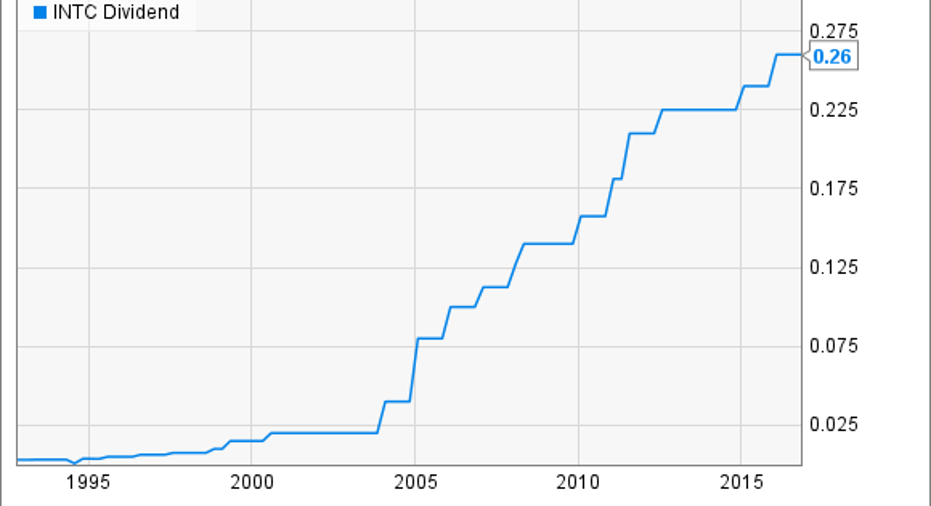 Technology stocks have only recently become major dividend payers, but semiconductor giant Intel (NASDAQ: INTC) was early to get onto the dividend bandwagon compared to most of its tech peers. Most of Intel's early dividends were small token payments, but the company has worked hard to return more capital to shareholders in recent years, and Intel's yield and dividend growth have become quite impressive.
Yet some investors remain nervous about whether Intel will find its way through the transformation of the tech industry toward mobile computing. Let's look more closely at Intel to see whether investors can count on the Dow component to raise its dividend in 2017.
Dividend Stats on Intel
| | |
| --- | --- |
| Current Quarterly Dividend Per Share | $0.26 |
| Current Yield | 2.8% |
| Number of Consecutive Years With Dividend Increases | 2 years |
| Payout Ratio | 48% |
| Last Increase | February 2016 |
Source: Yahoo! Finance. Last increase refers to ex-dividend date.
How Intel has increased its dividends over time
Intel's dividend growth has slowed over the past several years, but the tech company is still rewarding shareholders regularly. During the mid-2000s, Intel started making a true commitment to dividend growth, quadrupling its quarterly payout in just a year-and-a-half, and starting a trend that quickly gave the stock a reasonable dividend yield.
More recently, Intel's dividend hikes have been more modest. In 2016, the company gave investors an 8% boost to the dividend, which had a 7% rise the year before. That 2015 increase broke a streak of stagnant dividend payments that Intel had made since mid-2012, however, making the stock not quite as reliable as some of Intel's peers on the Dow Jones Industrials.
INTC Dividend data by YCharts.
The main problem that Intel faced during the early 2010s was its sluggish response in adapting to the mobile revolution. Intel's dominance of the PC microprocessor market gave it immense resources to put to work, but it also proved difficult for the company to maneuver as effectively to take advantage of new growth opportunities in smartphone and tablet chips. Meanwhile, competitors were quicker to identify the potential of mobile semiconductors, and they gradually starting taking away business that Intel arguably should have captured. The result was a painful contraction in net income that made many investors nervous about the company's future.
What's happening with Intel now?
Now, however, Intel has done a better job at finding its way. The company has used the data-center market as an opportunity to demonstrate the value of its servers, and a combination of enterprise servers and cloud-computing applications have opened up growth potential in that space.
At the same time, other markets also have promise for Intel. The company has a substantial memory business, and the rise of solid-state drives has reinvigorated the memory market recently. Moreover, the Internet of Things holds great potential for Intel, and the company has formed an autonomous driving unit aimed at helping manufacturers achieve the dream of driverless cars.
Admittedly, investors aren't entirely convinced that Intel has solved all of its problems. After the company posted solid bottom-line gains in 2016, those following the stock believe that earnings and revenue growth could slow substantially for Intel in 2017.
Will Intel raise its dividend in 2017?
Nevertheless, Intel is paying out less than half of its earnings in dividends, and even single-digit percentage growth in earnings should be enough to justify giving investors another $0.02 per share payout hike -- which is the same amount that it gave investors in 2016. That would bring the quarterly dividend to $0.28 per share.
Intel made its dividend decisions in late January, so investors won't have to wait long to see if the tech giant sticks to its game plan, or goes a different direction in 2017.
10 stocks we like better than Intel When investing geniuses David and Tom Gardner have a stock tip, it can pay to listen. After all, the newsletter they have run for over a decade, Motley Fool Stock Advisor, has tripled the market.*
David and Tom just revealed what they believe are the 10 best stocks for investors to buy right now... and Intel wasn't one of them! That's right -- they think these 10 stocks are even better buys.
Click here to learn about these picks!
*Stock Advisor returns as of January 4, 2017
Dan Caplinger has no position in any stocks mentioned. The Motley Fool recommends Intel. The Motley Fool has a disclosure policy.