Will Intel Profit From Self-Driving Cars?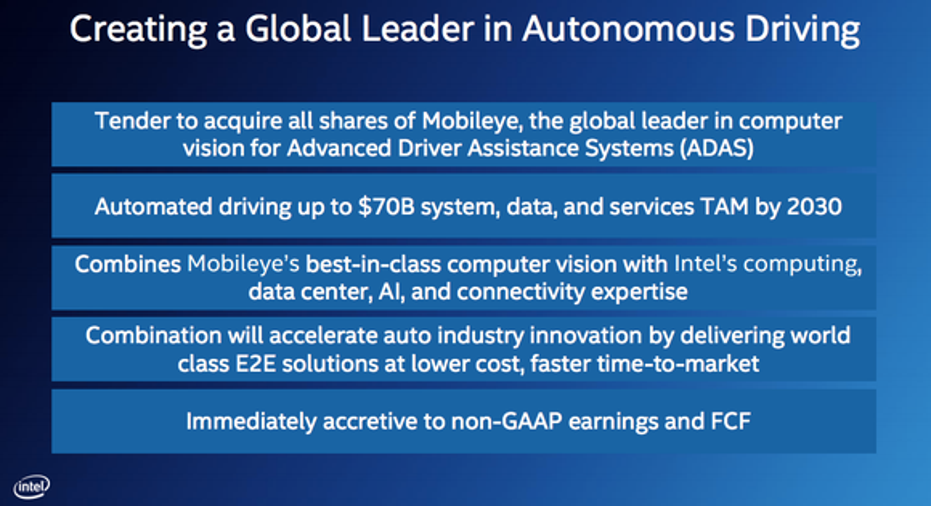 Will Intel(NASDAQ: INTC) benefit from driverless cars? The likely answer just a month ago would have been "maybe."However, in the wake of Intel's recent deal to acquireIsraeli-based self-driving-car component maker Mobileye (NYSE: MBLY) for $15.3 billion, the answer today has become a resounding "yes." Here's why.
Image source: Intel.
Intel's Mobileye buyout changes everything
Intel had, for some time, eyed the rise of self-driving cars as a major commercial opportunity. As the company loves to describe the trend in its promotional material, passenger and commercial vehicles will transform into "data center on wheels"with the rise of driverless cars. This transition will require massive amounts of additional computing resources in areas including connectivity, data-center processing, and artificial-intelligence software. Intel already produces solutions in one form or another for each of these computing tasks.
However, adding Mobileye gives Intel an opportunity to move further into the car by owning the processing technology that will control the actual driving function in autonomous vehicles. This will also allow Intel to create an end-to-end self-driving vehicle solution for the automotive industry, an economic opportunity Intel CEO Brian Krzanich estimated could be worth $100 billion between in-car and data-center opportunities by 2030.
Image source: Intel.
Does this make Intel a buy?
With so far to go before self-driving cars change lanes into the mainstream, handicapping the impact this deal could have on Intel is guesswork. In a big-picture sense, though, the deal makes sense for Intel, even if it did have to pay a pretty price to make it happen.
Critics of the deal note that Intel valued the company at more than 130 times its current earnings; one sell-side analyst's note chided, "Since when have so few spent so much to buy so little?"Moreover, Intel has botched large-scale acquisitions in the past. In 2010, the company spent $7.6 billion to acquire security-software provider McAfee,a deal that created essentially no growth for the company and ultimately led Intel to Intel sell McAfee to private-equity firm TPG last year for $4.2 billion.
However, beyond issues with the valuation, this deal makes sense for Intel, which badly needs to tap into new growth markets. Sales of personal computers, which accounted for 55% of Intel sales last year,declined another 5.7% in 2016, according to research firm IDC. Analysts see Intel's revenue increasing just 0.9% this year and 2.4% next year.Of course, Intel is a mature company, so expecting robust sales growth from it isn't fair. However, with the company having plateaued using its current strategy, the chipmaker needed to take some kind of action to remain relevant as several emerging technologies vie to become the next great generational growth driver, as smartphones were in the past decade.
Though Intel does carry a fair amount debt, financing also doesn't appear to be an issue. Credit-rating agencies Moody's and Fitch have already given the deal their blessings, as it pertains to Intel's credit rating.
Although Intel paid a steep price for Mobileye, inaction would have been worse. This is a big, bold bet that Intel can tap into a space where only a handful of component suppliers operate. Combining Mobileye's existing technology and partnerships with Intel's scale and resources should make both formidable competitors in what figures to be a massive global market. As such, the Mobileye deal should help Intel profit from the dawn of self-driving cars, even if the deal does carry some noteworthy risks in the process.
10 stocks we like better than IntelWhen investing geniuses David and Tom Gardner have a stock tip, it can pay to listen. After all, the newsletter they have run for over a decade, Motley Fool Stock Advisor, has tripled the market.*
David and Tom just revealed what they believe are the 10 best stocks for investors to buy right now... and Intel wasn't one of them! That's right -- they think these 10 stocks are even better buys.
Click here to learn about these picks!
*Stock Advisor returns as of February 6, 2017
Andrew Tonner has no position in any stocks mentioned. The Motley Fool owns shares of and recommends Moody's. The Motley Fool recommends Intel. The Motley Fool has a disclosure policy.