Will Intel Corporation Sell Its Cybersecurity Business?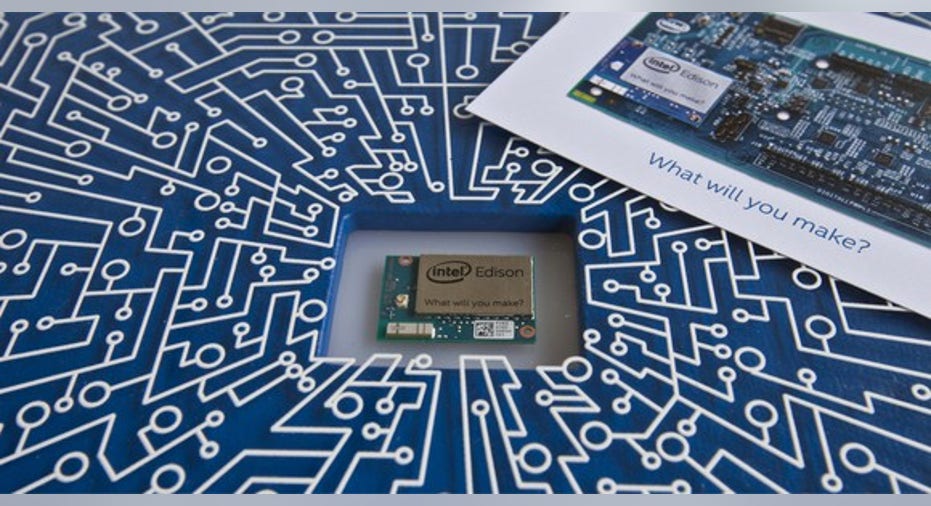 Intel is reportedly mulling over the sale of Intel Security, the cybersecurity business it built from its $7.7 billion acquisition of McAfee nearly six years ago. The Financial Times , citing sources close to the matter, claims that the sale could be "one of the largest in the sector."
Image source: Intel.
Potential buyers include private equity firms, which havebeen pouring billions into cybersecurity companies, or large tech companies interested in diversifying into security solutions. That's because demand for cybersecurity services will likely soar due to a spike in personal data breaches, which the Identity Theft Resource Center reports nearly doubled to 169 million last year.
Why would Intel sell its security business?
When Intel acquired McAfee, it planned to embed its security features directly into its chips to enable threat detection on a deeper level. Device manufacturers could decide whether or not they wanted to activate the feature.
However, Intel never fulfilled that promise. Dave DeWalt, the McAfee CEO who engineered the sale, left to lead threat detection firm FireEye in 2012. His successor, Mike DeCesare, left in 2014 and now leads another cybersecurity company called ForeScout. The division is now led by former Cisco VP Chris Young.
Meanwhile, Intel's sales of PC chips started slipping due to slower upgrades and the disruptive impact of smartphones and tablets. It spent billions in subsidies to convince smartphone makers to use its Atom chips, but capturedjust 1% of the market. Even sales of chips for data centers, which it dominates with its Xeon chips, have fallen short of expectations.
All that bad news meant that Intel had to kill weaker businesses and slash jobs to protect its bottom line. The company recently axed its mobile application processor efforts and announced 12,000 layoffs. It looks like Intel Security could be next on the chopping block, due to rising competition in the cybersecurity market.
Why selling Intel Security could be a mistake
Selling Intel Security would probably give the chipmaker a few billion dollars of extra cash and boost its free cash flow levels, but I think it could be a short-sighted move. Earlier this year, Intel CEO Brian Krzanich introduced five pillars of growth that could helpit pivot away from the PC market -- the cloud (data centers and virtualization), the Internet of Things (IoT), non-volatile memory, 5G networking, and its manufacturing business.
Intel's Edison IoT module. Image source: Intel.
In the IoT market, Intel's biggest adversary is ARM Holdings , which licenses its low-power chip designs to a wide variety of chipmakers like Qualcomm. ARM offers its own real-time operating system (RTOS), mBed, for devices powered by its processors. Last year, ARM acquired security firms Offspark and Sansa Security and partnered withIBMto beefup mBed's security capabilities.
Intel's RTOS for IoT devices, VxWorks, was developed by its subsidiary Wind River andruns on both x86 and ARM-based processors. The OS secures IoT devices withIntel Security and links them to Intel's IoT Gateway. Therefore, if Intel abruptly sells Intel Security, the future of that security ecosystem would be jeopardized, which would give ARM's mBed a big boost in the IoT market.
But Intel Security isn't just an IoT business
The dilemma Intel faces is that Intel Security isn't just an IoT business. It also specializes in network, risk management, endpoint, and data security. On the surface, Intel Security business is posting decent growth -- revenue rose 12% annually to $537 million last quarter, and operating income surged from$15 million to $85 million (though mainly due to a one-time tax benefit).
But looking ahead, Symantec's recent purchase of Blue Coat, which adds network and cloud security solutions to its on-premisesand mobile solutions, makes it a powerhouse across all those markets. Intel Security can't effectively compete against Symantec unless it significantly boosts operating expenses -- which contradicts its attempts to slim down its business.
What are Intel's options?
Intel now faces three options. It can keep Intel Security, which can help it counter ARM but exposes it to the growth of Symantec. It can sell it, gaining billions and boosting earnings, but weakening its position in the IoT market. If could also spin it off, which would let it maintain a stake to keep the security products in IoT, while letting the stand-alone company spend its own cash or stock to stay competitive.
The third choice makes the most sense, but Intel could struggle to package Intel Security as an attractive stand-alone play on the competitive cybersecurity market. Therefore, I think Intel will probably take the easy way out with a quick sale -- which might be a myopic mistake.
The article Will Intel Corporation Sell Its Cybersecurity Business? originally appeared on Fool.com.
Leo Sun owns shares of Cisco Systems and Qualcomm. The Motley Fool owns shares of and recommends FireEye and Qualcomm. The Motley Fool recommends Cisco Systems and Intel. Try any of our Foolish newsletter services free for 30 days. We Fools may not all hold the same opinions, but we all believe that considering a diverse range of insights makes us better investors. The Motley Fool has a disclosure policy.
Copyright 1995 - 2016 The Motley Fool, LLC. All rights reserved. The Motley Fool has a disclosure policy.