Will Garlic Fries Spice Up Sales at McDonald's?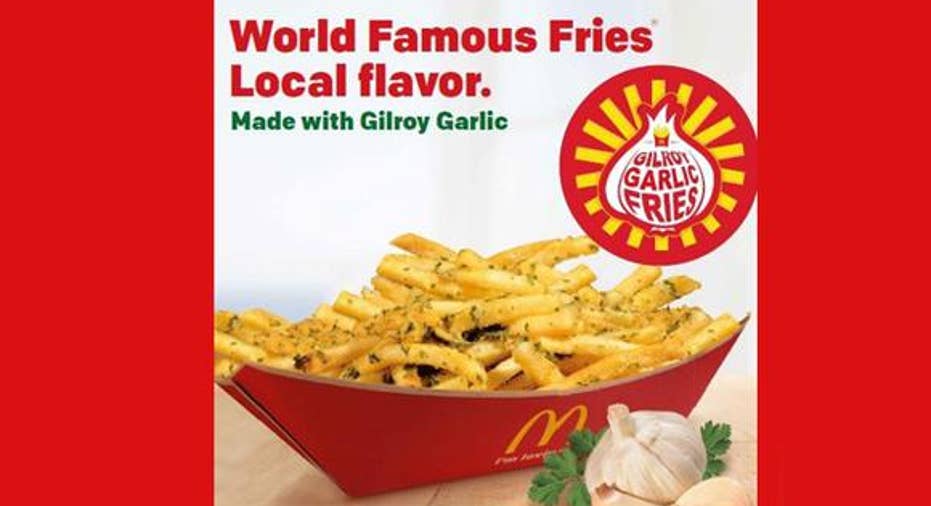 Image source: McDonald's.
An iconic item at McDonald's is getting a makeover. The world's largest burger chain is testing a tweak to its signature fries at four of its San Francisco restaurants.
Employees are tossing the French fries in stainless steel bowls with a puree mix consisting of chopped Gilroy garlic, olive oil, parmesan, parsley, and salt. Regular fries are available, too, of course.
Seasoned fries aren't new in the burger world, and garlic-spiked fries are common at the better burger chains that are popping up all over the country. Smashburger offers a similar mix of garlic, rosemary, and olive oil for its flagship Smash Fries side. BurgerFi patrons can order their fries "urban style" topped with parmesan and an herb garlic aioli.
McDonald's hopping on the trend for more foodie-centric fare makes sense, and being able to charge a premium for spiced fries is a bonus. It could really move the needle as the perfect tweak that increases average check sizes, brings out the curious, and boosts the McDonald's brand to the quality level of its smaller yet sexier rivals.
McDonald's is big, but it's certainly not the result of consumer perceptions about its quality. A 2014Consumer Reports survey of tens of thousands of fast food fans rated McDonald's dead last among 21 quick-service chains based on the quality of their burgers.
Right now, McDonald's is in a good place. Comps turned positive late last year after rattling off two years of declines. The stock hit a new all-time high two weeks ago, and Mickey D's is a Wall Street fave.
However, investors shouldn't take the back-to-back quarters of healthy comps growth for granted. It's building on two years of negative results before that, and many argue that the novelty of serving breakfast items all day is providing only a temporary uptick. The year-over-year comparisons will get harder by the fourth quarter, and that's why McDonald's can't rest on its laurels. It's easy now to look good after two consecutive years of sales and earnings declines, but if it wants to earn its recent highs, it's going to have to get back to where it was when both ends of its income statement peaked in 2013.
Twirling fries around in a slippery and saucy steel bowl may seem like a simple idea, but it's the right move for McDonald's. The test should expand beyond the Bay area stores, probably around the time that the chain will need the boost later this year.
The article Will Garlic Fries Spice Up Sales at McDonald's? originally appeared on Fool.com.
Rick Munarriz has no position in any stocks mentioned. The Motley Fool has no position in any of the stocks mentioned. Try any of our Foolish newsletter services free for 30 days. We Fools may not all hold the same opinions, but we all believe that considering a diverse range of insights makes us better investors. The Motley Fool has a disclosure policy.
Copyright 1995 - 2016 The Motley Fool, LLC. All rights reserved. The Motley Fool has a disclosure policy.