Will Ford Steal the New York International Auto Show?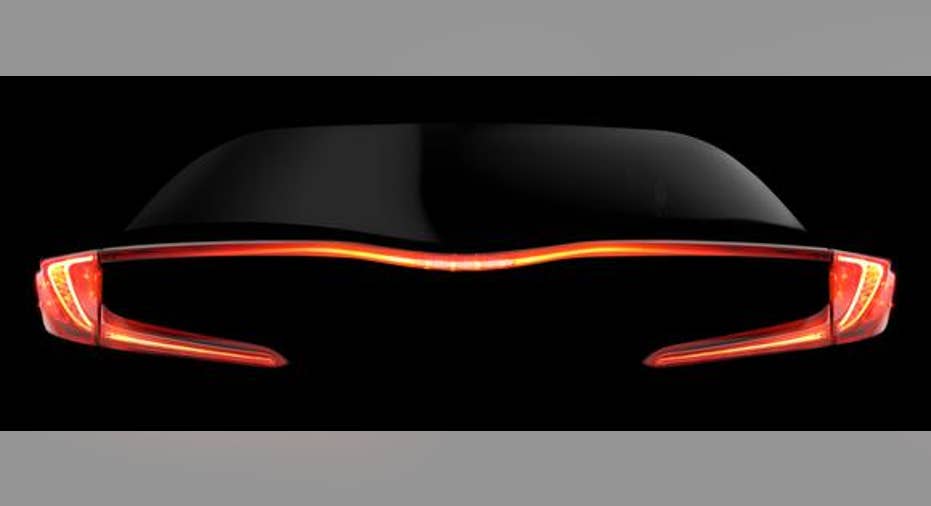 Honda released this "teaser" photo of the new-for-2017 Acura MDX crossover SUV. The new MDX will be a highlight of this week's auto show in New York. Image source: Honda
A new plug-in Prius, the latest Subaru, and revamped crossovers from Buick and Acura look likely to be the big stories when the New York International Auto Show kicks off later this week. But will there be some surprises?
As you can guess from the headline, I think there might be. Your humble Fool will be at the show's Media Days on Wednesday and Thursday. Here are the expected highlights from the major brands -- and why I think the Blue Oval might be cooking up a surprise.
Acura will show a revised 2017 MDX Honda's premium brand will show a refreshed version of its best-seller, the MDX crossover SUV. It won't be all-new ("refreshed" is industry-speak for a facelift, not a complete redesign), but as you can see in the "teaser" photo above, revamped styling seems to be in the cards.
Honda has also hinted at "advanced new powertrain technology" for the 2017 version, but hasn't yet shared details.
A facelift for the strong-selling Buick Encore General Motors' Buick Encore is another hot-selling crossover that's set to be "refreshed." The small Encore has been a surprise hit for GM in the U.S., in China -- and in Europe, where it's sold as the Opel Mokka.
GM's European branch showed off the refreshed-for-2017 Opel Mokka X in Geneva earlier in March. The Buick Encore is expected to get similar upgrades for 2017. Image source: General Motors.
GM showed off a revamped 2017 Opel Mokka, called the "Mokka X," in Geneva earlier this month. The Mokka will get a new front fascia and grille for 2017, along with a new touchscreen "infotainment" system and some other interior upgrades. I expect the Encore to get similar changes.
Hyundai (maybe) previews an important luxury modelHyundai's luxury brand, Genesis, is expected to show a concept car that's roughly the size of the upcoming Genesis G70. The G70, expected in about a year, will be the brand's high-volume model -- a compact premium sedan aimed at BMW's strong-selling 3 Series. It's possible that the concept car will be a preview of the G70, but it could be just a styling exercise.
An all-new big sedan from Kia Kia will show off the all-new 2017 version of its Cadenza, a full-size sedan that competes with cars like GM's Chevrolet Impala. Kia has already shown the all-new version of the K7, the Cadenza's Korean-market sibling, and the new Cadenza is expected to look a lot like the preview version that Kia showed off last year.
A surprise from Lincoln?Ford's luxury brand is set to unveil something in New York. The brand pretty much stole last year's New York show with the stunning Lincoln Continental Concept. As I write this on Monday, the Blue Oval hasn't yet dropped any hints to what it has in mind for us this week. But Lincoln president Kumar Galhotra told me in January that Lincoln has two all-new products under development. Could one of them be Ford's New York surprise this year?
The big Lincoln Navigator is due for a redesign. Will we see it in New York this week? Image source: Ford Motor Company
I obviously don't know for sure, but my sense is that those two new Lincolns are still a year or more away. My guess is that what we'll be seeing in New York is an all-new version of the big truck-based Navigator SUV, one that's built on the new-for-2015 Ford F-150's underpinnings -- and one that, like the F-150, makes extensive use of aluminum to improve fuel economy and towing capacity.
But it could be something completely different. We'll find out on Wednesday morning.
Nissan will show a new Titan pickup -- and a new supercar From an investor's perspective, the big news from Nissanin New York will be our first look at the upcoming new Titan pickup. Sales of the current Titan have barely been a blip next to the huge monthly sales totals put up by Ford's class-leading F-150 and its Detroit rivals. Can the new one do better? I'll be taking a close look to see.
From a car enthusiast's perspective, a revamped version of Nissan's super-fast GT-R sports car will be the week's big news. It's unclear how much of the GT-R will be all-new, but the strong hint is that the revamped supercar will be getting a significant horsepower boost.
An all-new Subaru Impreza for 2017Subaru will unveil sedan and "five-door" hatchback versions of its all-new 2017 Impreza. The new Impreza is the first Subaru built on the company's new "Global Platform," an extremely flexible vehicle architecture that can accommodate internal-combustion, battery-electric, and hybrid powertrains.
Subaru released this "teaser" photo of its new-for-2017 Impreza. Image source: Subaru
Subaru often schedules its major new-model debuts for the New York show, with senior executives from corporate parentFuji Heavy Industriesmaking the trip to the company's most important global market. I'll be taking a close look at the Impreza and talking to some of those folks, and I'll have the full story for you later this week.
A new Toyota Prius that isn't the just-launched new Toyota Prius Toyota said last week that it will show off an all-new Prius in New York, but Toyota just launched a completely redesigned new-for-2016 Prius. What's this about?
It's almost certainly a new plug-in version of the popular hybrid sedan. But unlike the last-generation Prius PHEV ("plug-in hybrid electric vehicle"), it looks like the new one will get different, distinctive styling that sets it apart from the "regular" Prius, in hopes of boosting its visibility and increasing sales.
This "teaser" photo from Toyota hints at a dramatic taillight design for the plug-in Prius. Image source: Toyota
The last Prius PHEV was a very slow seller, in part because of an electric-only range rating (just 11 miles) that was far behind rivals like the Chevrolet Volt. The new model probably won't match the latest Volt's 53-mile rated electric-only range, but it should see a significant boost to go along with its new styling.
The article Will Ford Steal the New York International Auto Show? originally appeared on Fool.com.
John Rosevear owns shares of Ford and General Motors. The Motley Fool owns shares of and recommends Ford. The Motley Fool recommends BMW and General Motors. Try any of our Foolish newsletter services free for 30 days. We Fools may not all hold the same opinions, but we all believe that considering a diverse range of insights makes us better investors. The Motley Fool has a disclosure policy.
Copyright 1995 - 2016 The Motley Fool, LLC. All rights reserved. The Motley Fool has a disclosure policy.