Will Disney World Start Charging for FastPass?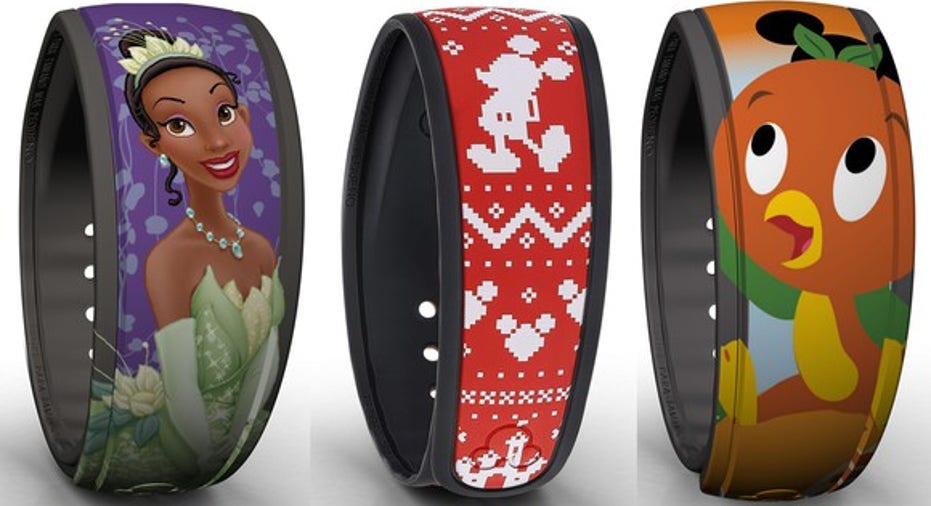 Image source: Disney.
Disney (NYSE: DIS) has a new way to milk a little more spending money out of some of its guests at its original California resort. The theme-park giant unveiled Disney MaxPass on Wednesday, a new option that will allow guests at Disneyland and Disney's California Adventure the ability to use mobile devices to make reservations for expedited FastPass queues.
Unlike the larger Disney World, which has been letting guests use mobile apps and in-park kiosks to manage their FastPass choice in advance of their visits for a couple of years, Disneyland still uses the old ticket-based system, where return times are dispensed at the individual rides and attractions. When MaxPass rolls out later this year, it will give Disney's original resort the long overdue update to digital distribution, but park regulars aren't happy.
In an interesting twist that's angering Disneyland buffs, Disney is charging $10 a day as an introductory rate for the right to use MaxPass. Disney World's digital system is available at no additional cost. Disney defends the practice by tacking on unlimited downloads of in-park PhotoPass images -- a good deal for those who collect on-ride and character greeting snapshots -- but unlimited PhotoPass access is already a part of some of higher-end annual passes. The big fear for park fans, opportunity for shareholders, and bittersweet punch for park fans who are also shareholders is that Disney is taking the first step toward charging for its ride reservations system.
It's a small world
Disney World fans are allowed to reserve three FastPass return times on PCs and mobile apps for free. Folks can reserve them days in advance, something that even MaxPass isn't going to offer at first.
There's not necessarily a level playing field here. Folks staying at a Disney World resort hotel can make their ride reservations as many as 60 days in advance. Annual passholders can jump in 30 days ahead of their visits. Other guests with purchased tickets have a seven-day window. It's not a coincidence that folks paying more -- on-site hotels aren't cheap -- have early access. By the time passholders get a crack at the platform, some of the more popular attractions, including Epcot's Frozen Ever After and the Magic Kingdom's Seven Dwarfs Mine Train, are typically long gone. By the time the seven-day window kicks in for everybody else, the available times for many key attractions could be limited.
In short, Disney World doesn't charge for FastPass, but those already sending more money Disney's way already have access to a better experience in terms of FastPass selection. Disneyland's MaxPass may be a more explicit charge for an experience enhancer, but there's always a caste system.
The real issue here is what Disney is telegraphing by charging $10 for MaxPass, when a superior Disney World platform is available at no additional cost. Could this be a mouse-eared trial balloon to start charging for digital reservations in Florida?
There will always be the rumor that Disney is going to give guests at its more upscale resorts access to more than three pre-visit ride reservations a day. It's already giving folks paying up to stay on-site earlier and extended access to select parks. One can also argue that hefty price increases for admission in recent years are the equivalent to charging for FastPass and the MyMagic+ technology that Disney reportedly invested $1 billion in to get off the ground.
It will still be interesting to see California's acceptance of MaxPass later this year. If Disney can get away with directly charging more for an upgraded experience, it's not going to wait long before finding ways to port it over to Florida.
10 stocks we like better than Walt Disney When investing geniuses David and Tom Gardner have a stock tip, it can pay to listen. After all, the newsletter they have run for over a decade, Motley Fool Stock Advisor, has tripled the market.*
David and Tom just revealed what they believe are the 10 best stocks for investors to buy right now... and Walt Disney wasn't one of them! That's right -- they think these 10 stocks are even better buys.
Click here to learn about these picks!
*Stock Advisor returns as of January 4, 2017
Rick Munarriz owns shares of Walt Disney. The Motley Fool owns shares of and recommends Walt Disney. The Motley Fool has a disclosure policy.