Will Delta Air Lines' Domestic Fleet Renewal Drive Earnings Growth?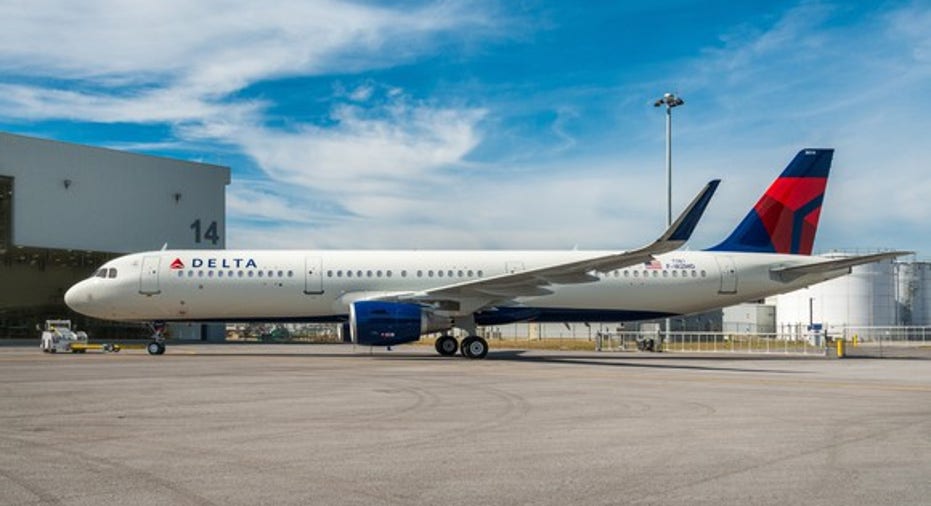 2016 is shaping up to be a pivotal year for Delta Air Lines' (NYSE: DAL) fleet strategy. The legacy carrier added a new aircraft type to its domestic fleet earlier this year. It has also placed two sizable orders to support a stepped-up fleet renewal effort in the next few years.
The net result of these actions is that Delta's average fleet age will decline noticeably by 2020. But will this have a significant impact on Delta's profitability?
Strategy shift
A few years ago, Delta Air Lines was known for buying and refurbishing lots of used jets to save money while bolstering its fleet. While the company wasn't completely opposed to new aircraft -- it ordered 100 737-900ER jets from Boeing (NYSE: BA) in 2011 -- Delta's capital expenditures budget was very modest.
A few years ago, Delta relied mainly on used aircraft to refresh its fleet. Image source: The Motley Fool.
The result is that Delta's fleet has gotten steadily older, even as many of its competitors have embarked on aggressive fleet renewal plans. By the end of 2015, the average age of the planes in Delta's mainline fleet had reached 17.1 years.
However, cash flow has surged at Delta in the past few years. As a result, management has recognized that the company can increase its aircraft spending while still generating strong free cash flow that can be used for debt reduction, dividends, and share buybacks.
Entering 2016, Delta had already placed orders for 45 new Airbus (NASDAQOTH: EADSY) A321s. It had also ordered 20 additional Boeing 737-900ERs. In total, Delta was scheduled to receive about 40 new aircraft annually from 2016-2018, with deliveries trailing off thereafter. Nearly all of these orders were for narrow-body aircraft that will serve domestic routes.
More orders on tap
In April 2016 -- shortly after receiving its first A321 from Airbus -- Delta ordered another 37 A321s. Delta is now scheduled to receive 67 Airbus A321s between 2017 and 2019, in addition to the 15 it is receiving this year.
Delta ordered another 37 A321s earlier this year. Image source: Delta Air Lines.
Around the same time, Delta Air Lines ordered 75 CS100 jets from Bombardier, for delivery between 2018 and 2022. Whereas the Airbus A321 has 192 seats in Delta's configuration, the CS100 will probably seat just 100 to 110 customers.
Together, the A321 and CS100 -- along with the remaining 51 Boeing 737-900ERs on order -- will allow Delta to completely retire its aging MD-88 fleet by 2020. The carrier will also retire a number of its older Airbus A320s, Boeing 757s, and domestic Boeing 767s.
What's the payoff?
Between 2017 and 2019, Delta Air Lines will replace about 20% of its domestic mainline fleet. Most of the planes being replaced will be 25 to 30 years old by the time they are retired. As a result, Delta's average fleet age will decline significantly.
Having a younger fleet should lead to lower maintenance expense. Delta will also benefit from "upgauging" to larger aircraft in the next three to four years as it replaces dozens of aircraft in the 150 seat range with 180-seat 737-900ERs and 192-seat A321s. These planes are cheaper to fly on a per-seat basis, which will offset some of Delta's expected unit cost growth over the next few years.
Delta will also replace some MD-88s with the smaller CS100. It can deploy the CS100 on routes that don't have enough demand to support a 737-900ER or A321. This will ensure that Delta doesn't add too many seats to smaller markets, which would lead to lower unit revenue.
The CS100 will help Delta serve smaller markets profitably. Image source: Delta Air Lines.
Lower fuel consumption is likely to be the biggest profit driver from this fleet replacement project. Many of the planes Delta is buying will be at least 20% more fuel efficient than the ones they replace. Improving fuel efficiency by 20% across more than 20% of the domestic mainline fleet could reduce annual fuel consumption by up to 100 million gallons, saving perhaps $150 million to $200 million annually.
Not a game changer
Delta's domestic fleet renewal over the next few years will deliver substantial fuel cost savings as well as some non-fuel cost savings. Nevertheless, the total earnings benefit is a few hundred million dollars at most. Considering that Delta generated $5.9 billion of adjusted pre-tax income last year, this is hardly a game changer.
That said, most of these planes being retired are nearing the ends of their useful lives. Moreover, Delta has gotten very good deals from Boeing, Airbus, and Bombardier for the new planes it has on order. Delta's domestic fleet renewal may not drive much earnings growth, but it should still deliver a good return on a relatively modest investment.
10 stocks we like better than Delta Air Lines When investing geniuses David and Tom Gardner have a stock tip, it can pay to listen. After all, the newsletter they have run for over a decade, Motley Fool Stock Advisor, has tripled the market.*
David and Tom just revealed what they believe are the 10 best stocks for investors to buy right now... and Delta Air Lines wasn't one of them! That's right -- they think these 10 stocks are even better buys.
Click here to learn about these picks!
*Stock Advisor returns as of November 7, 2016
Adam Levine-Weinberg owns shares of Boeing and is long January 2017 $40 calls on Delta Air Lines. The Motley Fool has no position in any of the stocks mentioned. Try any of our Foolish newsletter services free for 30 days. We Fools may not all hold the same opinions, but we all believe that considering a diverse range of insights makes us better investors. The Motley Fool has a disclosure policy.