Will Congress Put the Kibosh on the Navy's New Frigates?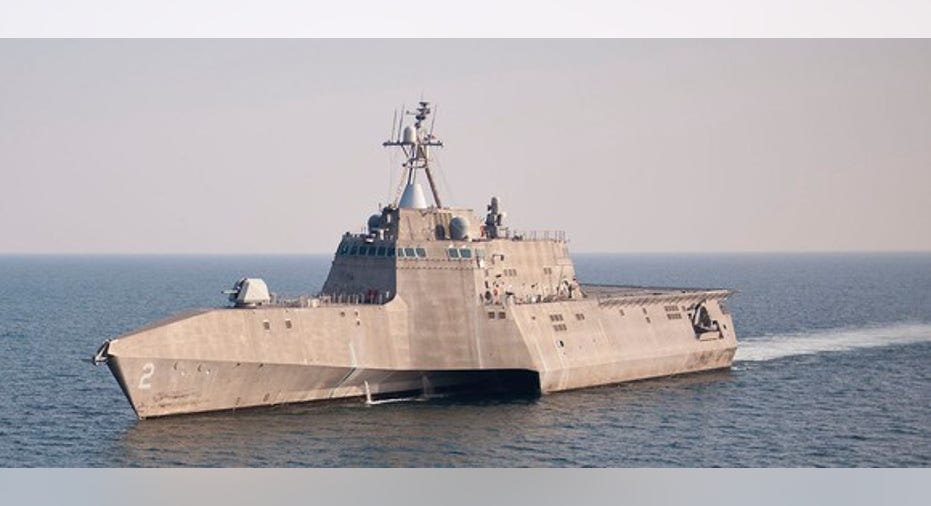 The U.S. Navy is pulling the plugon its Littoral Combat Ship (LCS) program.
That's not the official storyline, of course. Officially, the Navy still supports the LCS, of which 14 shipshave been christened, 10of which have actually entered service (granted, half of those subsequently broke down -- but that's another story), and another 14are under contract and/or under construction today.
But after those first 28 ships have been delivered, it's not entirely clear what will happen next.
One version of the Littoral Combat Ship -- General Dynamics' USS Independence (LCS-2). Image source: U.S. Navy.
Hold up a sec. Remind me -- what's a Littoral Combat Ship?
The Navy's smallest class of capital warship, Littoral Combat Ships are built with a "modular" design. Depending on the mission an LCS is assigned, it might load a "mission package" of equipment and weaponry geared toward hunting submarines one day, and the next day, offload that package and take on drones and sonar equipment more suitable to sweeping a minefield instead.
Nor is that the only way in which the LCS is a malleable platform.
The Littoral Combat Ship is actually built in two variants: a 378-foot, 3,500-ton monohull Freedom-classdesign built by Lockheed Martin (NYSE: LMT), and a competing 418-foot, 3,100-ton trimaranIndependence-classbuilt first byGeneral Dynamics (NYSE: GD), and later by its Australian partner, Austal (NASDAQOTH: AUTLY).
This dial goes to "28"
Now, the 28 LCS units either already built or under contract to be built comprise 70% of the Navy's planned 40-ship rollout. Before the Navy orders its final dozen ships, though, it wants to tweak the LCS design, and convert those last 12 ships into dedicated small surface combatants that it's calling "frigates."
And this is where the controversy arises.
According to a recent report issued by the U.S. Government Accountability Office, "[T]he Navy plans to request authority from Congress in 2017 to pursue ... a block buy of 12 planned frigates and funding for the lead ship" from a single yet-to-be-named contractor. In total, the Navy anticipates spending $9 billion to buy this final batch of frigate-variant ships from said contractor -- $750 million per ship.
Ready, fire, aim!
There are at least three problems with this idea:
First, although the Navy knows how much money it is asking for, it doesn't know how much a frigate will cost to build.
Second, it doesn't know the cost because "key detail design activities" on the frigate won't even begin until late next year.
Meanwhile, "based on the existing and planned shipyard workloads" of naval shipbuilders, shipyards are maxed out on their capacity to build new ships through 2021.
Nevertheless, the Navy apparently wants to award the first contract to build a frigate next year -- years before anyone will be able to start building it, without knowing the cost, and without having even settled upon a final design for the warship.
Which you have to admit, sounds a little crazy. (At least, GAO thinks so. Lockheed Martin, General Dynamics, and/or Austal, on the other hand, may think that handing out $9 billion contracts without a plan for what the Navy is buying is a swell idea.)
A modest suggestion
GAO, however, is recommending that the Navy cool its jets and hold off on asking for any money (or building any frigates) until it's settled upon a design for what it wants built. As the agency modestly suggests: "Congress should consider ... delaying funding of the lead frigate until at least fiscal year 2019," and delaying authorization of the Navy's hoped-for $9 billion, until "more information is available on the ship's cost, design, and capabilities."
So where does this leave us, and what does it mean for defense investors? Believe it or not, after seeing GAO's recommendation, the Pentagon responded that although it "partially concurred with the recommendation," it's "not planning to delay frigate procurement." In other words, the Pentagon still plans to ask for the money, and still plans to buy its frigates -- sight unseen.
That could be great news for whichever shipbuilder ultimately wins the contract to build those frigates, be it Lockheed Martin, General Dynamics, or Austal. For taxpayers, however, this whole program appears to have all the makings of a fiasco.
10 stocks we like better than Lockheed MartinWhen investing geniuses David and Tom Gardner have a stock tip, it can pay to listen. After all, the newsletter they have run for over a decade, Motley Fool Stock Advisor, has tripled the market.*
David and Tom just revealed what they believe are the 10 best stocks for investors to buy right now... and Lockheed Martin wasn't one of them! That's right -- they think these 10 stocks are even better buys.
Click here to learn about these picks!
*Stock Advisor returns as of April 3, 2017
Rich Smith has no position in any stocks mentioned. The Motley Fool has no position in any of the stocks mentioned. The Motley Fool has a disclosure policy.