Will Chasing Garmin Boost GoPro's Hero 5 Sales?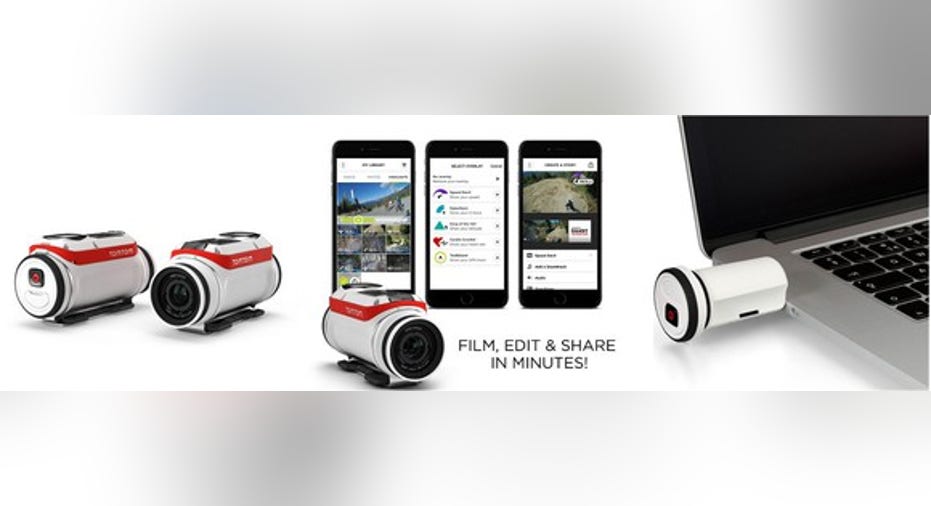 GoPro (NASDAQ: GPRO) recently announced thatit will let users extract telemetry data -- like speed, altitude, G-force, and other GPS data -- from its Hero 5 Black cameras. Users can also use the GPS data to generate a map of their travels.That data can then be overlaid on video footage with the Quik app.
Image source: GoPro.
That sounds innovative, but it's hardly a new idea. Garmin's (NASDAQ: GRMN) GPS-equipped action cameras haveoffered similar features for the past two years, and hobbyists already put Garmin's GPS overlays fromother GPS devices over GoPro videos last year.
In my opinion, this "new" feature for the Hero 5 Black is just a weak attempt to differentiate the camera from rival devices this holiday season. Unfortunately, it also highlights GoPro's long history of copying ideas and passing them off as its own. Furthermore, it's a cumbersome feature which won't likely win over many new users.
GoPro's journey from innovator to follower
GoPro struck gold with its first wearable action camera in 2010. Those devices carved out a niche market among hardcore athletes and outdoor enthusiasts. But it eventually filled up the niche market, and existing users didn't see compelling reasons to upgrade their cameras. Mainstream users also didn't need stand-alone cameras when their smartphone cameras worked just fine.
Instead of carving out new niches, GoPro started copying its rivals. Last year's Hero 4 Session looked so similar to C&A Marketing's Polaroid Cube thatC&A sued GoPro for patent infringement. Its Omni and Odyssey VR rigs simply copied earlier spherical rigs created by smaller companies like360Heros (now known as 360Rize).
The Karma drone's foldable form factor already appeared countless timesin earlier drones, and its new GoPro Plus cloud backup service is a paid service while there are many free competing services available. Therefore, it isn't surprising that GoPro "adopted" some of Garmin's GPS features for the Hero 5 Black.
Why this "new" feature won't win new users
The Hero 5 Black's telemetry features might be more interesting if they resembled the ones found in TomTom's Bandit action camera. The Bandit detects moments of high acceleration, rotation, vertical speed, G-force, and even heart rate data from anoptional chest strap. It bookmarks those moments with colorful icons on a video timeline so users can quickly find, clip, and compile the highlights from a long video within the mobile app.
TomTom's Bandit. Image source: TomTom.
GoPro users, however, must export the video to its Quik for Desktop app. Users then flip on the "Gauges" toggle and save the video as a new clip to get the telemetric data to appear. If the footage is directly exported to YouTube or social media, the data won't be carried over. It's a clunky system which will probably only be used by hardcore users like skiers or surfers who feel compelled to share moment-by-moment information about their movements.
Why GoPro needs to sell lots of Hero 5 cameras
GoPro has posted four straight quarters of year-over-year revenue declines due to a lack of new products, waning demand for action cameras, and tough competition from cheaper devices and better smartphones.
GoPro planned to break that losing streak with huge sales growth during the fourth quarter, fueled by robust demand for its Karma drones and Hero 5 cameras. But even if GoPro meets analyst expectations for 35% growth this quarter, its full year sales are still expected tofall 24% with its bottom line in the red.
Unfortunately, GoPro's holiday quarter has been plagued with problems. A pricing dispute with a particularlyprominent e-retailer prevented the Hero 5 from being sold to early shoppers. Supply chain issues prevented the Karma drones from shipping on time, and when they finally arrived, they fell out of the sky -- prompting a full recall of the device. GoPro then offered full refunds for the drone and apologized by giving out free Hero 5 Black cameras. Those bleak developments indicate that GoPro could completely miss sales expectations for the holiday quarter.
The key takeaway
Adding Garmin-like telemetry features to the Hero 5 Black won't win over any mainstream users, who are more likely enamored with Snapchat's Spectacles. Instead, it's just a desperate attempt to gain some publicity with a "new" feature which has been standard in rival GPS-enabled cameras for years.
10 stocks we like better than GoPro When investing geniuses David and Tom Gardner have a stock tip, it can pay to listen. After all, the newsletter they have run for over a decade, Motley Fool Stock Advisor, has tripled the market.*
David and Tom just revealed what they believe are the 10 best stocks for investors to buy right now and GoPro wasn't one of them! That's right -- they think these 10 stocks are even better buys.
Click here to learn about these picks!
*Stock Advisor returns as of November 7, 2016
Leo Sun has no position in any stocks mentioned. The Motley Fool owns shares of and recommends GoPro. The Motley Fool has the following options: short January 2019 $12 calls on GoPro and long January 2019 $12 puts on GoPro. Try any of our Foolish newsletter services free for 30 days. We Fools may not all hold the same opinions, but we all believe that considering a diverse range of insights makes us better investors. The Motley Fool has a disclosure policy.