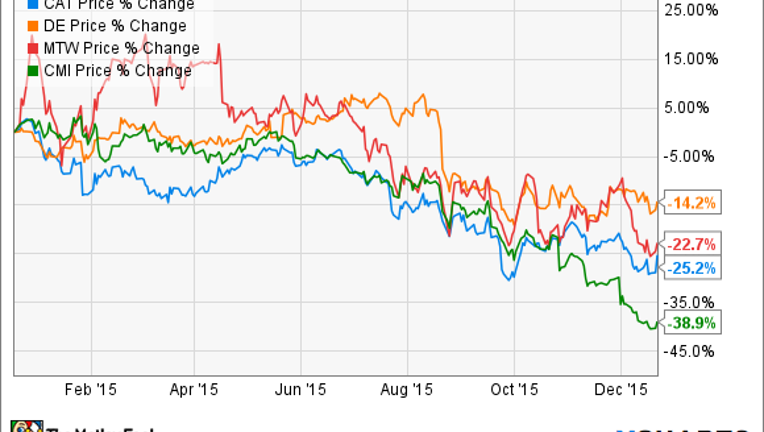 GivenCaterpillar's exposure to beaten-downsectors like mining and energy, it's no surprise that it's one of the worst-performing Dow stocks of the year. In fact, Caterpillar is also among the bigger losers in the heavy-machinery industry, having underperformed peers like Deere and Manitowoc . While Manitowoc gave up most of its gains during the latter half of 2015, as plunging oil prices hit demand for off-highway equipment, Deere escaped the brunt of the pain as it's primarily an agriculture-equipment company, and farm commodities have held up stronger than metals and oil.
CAT, DE, MTWdata by YCharts.
Given Caterpillar's precipitous fall during the past couple of years, the big question in investors' minds right now is whether the approaching year will provide some respite. Will 2016 be a turnaround year for Caterpillar, and will its stock regain some of its lost glory? Get some insight in the slideshow below.
Will Caterpillar Stock Recoup This Year's Losses in 2016? from The Motley Fool.
The article Will Caterpillar Inc. Stock Recoup This Year's Losses in 2016? originally appeared on Fool.com.
Neha Chamaria has no position in any stocks mentioned. The Motley Fool has no position in any of the stocks mentioned. Try any of our Foolish newsletter services free for 30 days. We Fools may not all hold the same opinions, but we all believe that considering a diverse range of insights makes us better investors. The Motley Fool has a disclosure policy.
Copyright 1995 - 2015 The Motley Fool, LLC. All rights reserved. The Motley Fool has a disclosure policy.