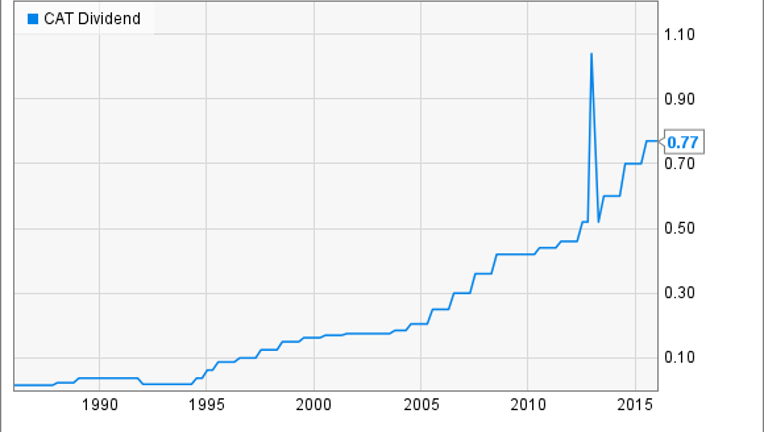 Image: Caterpillar.
Dow component Caterpillar has gone through economic downturns before, but rarely has it seen a confluence of negative factors affect its business so directly. With global slowdowns in construction, infrastructure, mining, and most recently energy, Caterpillar has had to endure plunging sales and deferred spending patterns from its key customer base. Even the agricultural sector, in which Caterpillar machinery competes with Deere and other ag-industry specialists, has shown signs of deterioration lately. As if that weren't bad enough, the strong dollar has also played havoc with Caterpillar's financials, putting the company in an even deeper hole in terms of trying to produce growth. Let's look more closely at Caterpillar in an effort to see if the company can keep its dividend rising in 2016.
Dividend Stats on Caterpillar
Source: Yahoo! Finance. Last increase refers to ex-dividend date.
The disparity between Caterpillar's fortunes and its dividendIt's unusual to see a struggling company keep boosting its dividend, but Caterpillar has continued to take pride in its track record of strong dividend growth. Throughout much of the past decade with a short pause during the financial crisis in 2008 and 2009, Caterpillar gave investors double-digit percentage raises to its quarterly payout. Even over the past couple of years, with Caterpillar struggling under the weight of difficult conditions in its key industries, the heavy-equipment maker has given investors dividend boosts of 17% last year and 10% this year.
That kind of track record looks vulnerable in light of the huge fundamental difficulties that Caterpillar has faced. In its most recent quarter, Caterpillar saw revenue plunge 19%, and net income fell by two-thirds. The company's adjusted earnings of $0.75 were actually less than the $0.77 per share that the company paid in quarterly dividends. Moreover, the heavy-equipment specialist gave guidance for full-year earnings of just $3.70 per share when you include restructuring costs, and that would work out to a payout ratio above 80%. That raised some concerns about Caterpillar's ability to keep raising dividends at its past pace.
CAT Dividend data by YCharts. Note: 2012 spike reflects acceleration of dividend to December rather than ordinary January payout.
Nevertheless, Caterpillar's recent strategic efforts have emphasized how high a priority it puts on dividends. With a yield half again higher than Deere's, Caterpillar prides itself on having a strong balance sheet, leaving it in a solid position to take measures like incurring debt if it needs to in order to sustain dividend levels temporarily. In addition, cash flow remains robust, and the company has worked hard to cut costs and squeeze as much operating margin as possible. With expectations for capital expenditures falling, Caterpillar won't need as much money for internal investment in a sluggish economic environment, and that should free up further cash to go toward dividend payments if necessary.
When will Caterpillar's dividends rise again?Caterpillar's management also has said that it's behind keeping the dividend as healthy as possible. At its most recent quarterly news conference, CEO Doug Oberhelman said, "The dividend is a priority use of cash. ... We've paid a dividend every year for over 20 years, and maintaining that is a key use of our cash and a priority for our company." Many companies that make similar statements later have to pull back from them if conditions worsen, but back in June when Caterpillar announced its most recent dividend increase, Oberhelman specifically noted the company's track record of boosting dividends "despite periods of business and economic uncertainty." That's a decision Deere hasn't made, instead keeping its dividend stable throughout 2015 as it goes through some similar challenges of its own.
Accordingly, it's reasonable to expect that as long as Caterpillar can manage to keep 2016 earnings from falling further from their current depressed levels, shareholders should see higher dividend payments around the middle of the year. The growth rate might well slow, but as Caterpillar approaches the quarter-century mark in terms of higher payouts, the stakes of allowing the dividend-boost streak to end get larger, and Oberhelman and his team look prepared to do whatever it takes to keep providing dividend growth to shareholders.
The article Will Caterpillar Inc. Raise Its Dividend in 2016? originally appeared on Fool.com.
Dan Caplinger has no position in any stocks mentioned. The Motley Fool has no position in any of the stocks mentioned. Try any of our Foolish newsletter services free for 30 days. We Fools may not all hold the same opinions, but we all believe that considering a diverse range of insights makes us better investors. The Motley Fool has a disclosure policy.
Copyright 1995 - 2015 The Motley Fool, LLC. All rights reserved. The Motley Fool has a disclosure policy.