Will Calumet Specialty Products Partners LP Sink or Swim?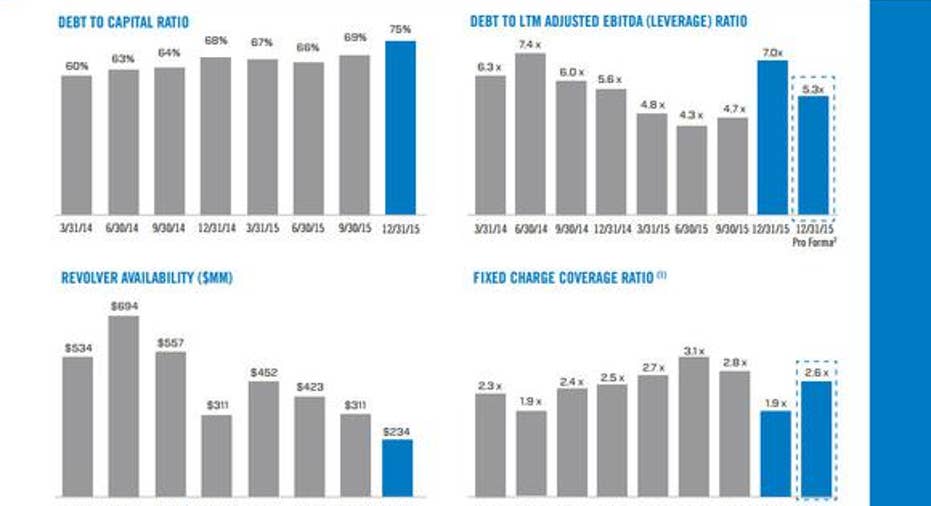 Calumet Specialty Products Partners had a big problem that made the company very unsafe for investors. It's a problem, however, that the company recently addressed by undertaking two very important strategic initiatives: Raising additional debt and suspending shareholder distributions. In doing so it put the company in a much better position to stay afloat, at least in the near-term.
Say goodbye to the distributionDue to a combination of deteriorating market conditions and the company's weakened financial situation, Calumet Specialty Products Partners recently made the tough choice to suspend its quarterly distribution. It's a decision that CEO Tim Go noted was a "difficult one," however, he pointed out that, "over time this action is expected to further support our liquidity position and financial flexibility."
It's a move that the company really had to make given that it was already paying out all of its adjusted cash flow at a time when its underlying business was deteriorating significantly. In fact, last quarter the company only produced $4.4 million of adjusted distributable cash flow, which is a huge drop from the year-ago period when its adjusted distributable cash flow was $94 million. That meager cash flow didn't come close to supporting the company's distribution last quarter, which was more than $50 million. Meanwhile, operating conditions weren't getting any better, and were actually growing worse in some of the company's markets, meaning it would continue to pay out a lot more than it brought in.
Suffice it to say, maintaining a distribution that it couldn't support with cash flow had the potential to sink the company. So, while it might be painful to see this payout go away, it does put the company in a much better position to stay afloat.
Piling on even more debtIn addition to suspending the distribution, the other initiative that Calumet Specialty Products Partners recently completed to bolster its financial situation was to raise another $400 million in debt. It's debt the company plans to use to pay down the borrowings under its revolving credit facility as well as to terminate or cash collateralize some of its hedging obligations.
This is a move that in the short term should also help keep the company afloat. As the chart in the bottom left-hand corner on the slide below shows, it was running low on liquidity with the availability under its revolving credit facility shrinking each quarter:
Source: Calumet Specialty Products Partners Investor Presentation.
As a result of this transaction the company estimates that it will be able to completely pay off the outstanding borrowing under that facility, which should boost its liquidity to $397.9 million on that facility to go along with $7.4 million in cash. That's a much better liquidity position to weather the storm than the company had prior to the debt offering.
Having said all that, Calumet's leverage ratio had already risen to a very worrisome 5.3 times on an adjusted basis, which will only go up if conditions continue to deteriorate. That's a grave concern because this debt could sink the company if it doesn't do something about the situation. That said, CEO Tim Go does have a turnaround plan in place that is focused on a number of self-help projects to boost its underlying earnings in order to better support its leverage. In addition to that, non-core asset sales are not out of the question, with those proceeds potentially being used to reduce leverage.
Needless to say, the company still needs to get its debt situation under control in order to stay afloat over the long-term
Investor takeawayCalumet's decision to suspend its distribution and raise incremental debt to pay down its credit facility puts it in a much better position to stay afloat during the currently weak market conditions. That said, the ballooning debt on its balance sheet is a longer-term concern that could end up sinking the company if conditions continue to grow worse and the company doesn't do anything to address the situation.
The article Will Calumet Specialty Products Partners LP Sink or Swim? originally appeared on Fool.com.
Matt DiLallo has no position in any stocks mentioned. The Motley Fool has no position in any of the stocks mentioned. Try any of our Foolish newsletter services free for 30 days. We Fools may not all hold the same opinions, but we all believe that considering a diverse range of insights makes us better investors. The Motley Fool has a disclosure policy.
Copyright 1995 - 2016 The Motley Fool, LLC. All rights reserved. The Motley Fool has a disclosure policy.