Will Barnes & Noble Education Make Investors Feel Smart?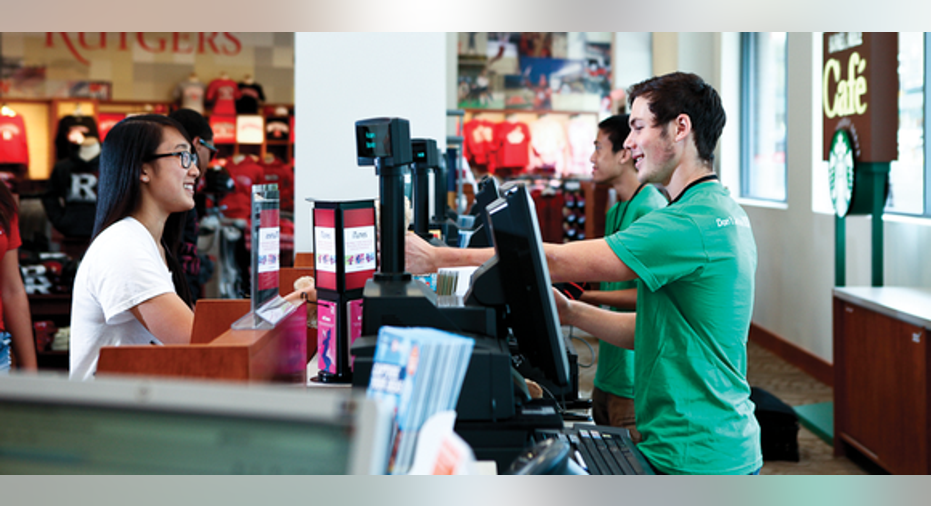 Image source: Barnes & Noble Education.
Anyone who has attended college or has a family member in higher education knows how costly college textbooks and other course materials can be. That fact provides the business model for Barnes & Noble Education , which spun off from its broader-based parent to specialize in operating campus bookstores and providing the materials students need for their college classes.
Coming into its fiscal fourth-quarter financial report on Tuesday, most investors expect B&N Education to post another modest loss. But many also believe the company is on track to take full advantage of the opportunity in education and generate profits in the near future. Let's take an early look at how B&N Education has done lately and what investors are likely to see in its report.
Stats on Barnes & Noble Education
| | |
| --- | --- |
| Expected EPS | ($0.06) |
| Expected Revenue Growth | 3.8% |
| Forward Earnings Multiple | 25.2 |
| Expected 5-Year Annualized Growth Rate | 20% |
Data source: Yahoo! Finance.
Can Barnes & Noble Education start earning a profit?
In recent months, investors have had mixed views about the earnings prospects for B&N Education. They've widened their loss projections for the fiscal fourth quarter by a nickel per share, but they've also boosted their expectations for the next fiscal year by about 25%. The stock hasn't made much progress lately, rising just 2% since late March.
B&N Education's fiscal third-quarter results didn't give investors very much confidence in the company's ability to perform well as an independent company. Revenue dropped from year-earlier levels, and the company posted a GAAP net loss. Restructuring charges were responsible for holding back B&N Education's earnings, but even after making appropriate revisions to reflect extraordinary items, adjusted earnings fell short of what those following the stock had expected to see. A drop of more than 4% in comparable-store sales was particularly troubling, and weaker enrollment in higher education generally is a negative trend that could have long-term implications for the business. With B&N Education projecting further restructuring costs in the fiscal fourth quarter, investors will likely see $7 million to $8 million of downward pressure on the bottom line in the coming report.
The hope for B&N Education is that digital content will be the answer to the tough conditions its brick-and-mortar store locations have experienced. Moves like its decision to work closely with content-sharing specialist VitalSource and the acquisition of LoudCloud should help the company be more competitive in the digital content space, and that in turn will appeal to current college students who need their course materials in a format they can use.
Meanwhile, B&N Education continues to win business. In April, the University of North Carolina chose the company to operate its Student Stores network, with a 10-year deal that will involve B&N Education making payments estimated at $3 million annually back to the university to fund scholarships. In May, the company announced that 14 colleges and universities had chosen it for campus bookstore operations, including Georgetown and the University of Connecticut. All told, the schools have 140,000 students as well as faculty members who will need bookstore services.
B&N Education is also looking at broadening its bookstore product lineups. The company's new Glossary concept adds cosmetics, skin-care, and hair-care items into its stores. As a company executive noted, "Through in-depth student discussions and focus groups, we recognized a gap in access to beauty solutions on campus and worked with them to help shape The Glossary." B&N Education hopes the initiative will help it become a more popular choice among students as it rolls out to more campuses this summer.
In the B&N Education earnings report, investors need to look closely for guidance on how the company sees fiscal 2017 shaping up. With shareholders growing impatient with the slow pace of progress toward profitability, B&N Education needs to show continued advances in order to reassure investors of its long-term prospects.
The article Will Barnes & Noble Education Make Investors Feel Smart? originally appeared on Fool.com.
Dan Caplinger has no position in any stocks mentioned. The Motley Fool owns shares of Barnes and Noble Education. Try any of our Foolish newsletter services free for 30 days. We Fools may not all hold the same opinions, but we all believe that considering a diverse range of insights makes us better investors. The Motley Fool has a disclosure policy.
Copyright 1995 - 2016 The Motley Fool, LLC. All rights reserved. The Motley Fool has a disclosure policy.