Will Apple, Inc. Really Double Its Services Business in 4 Years?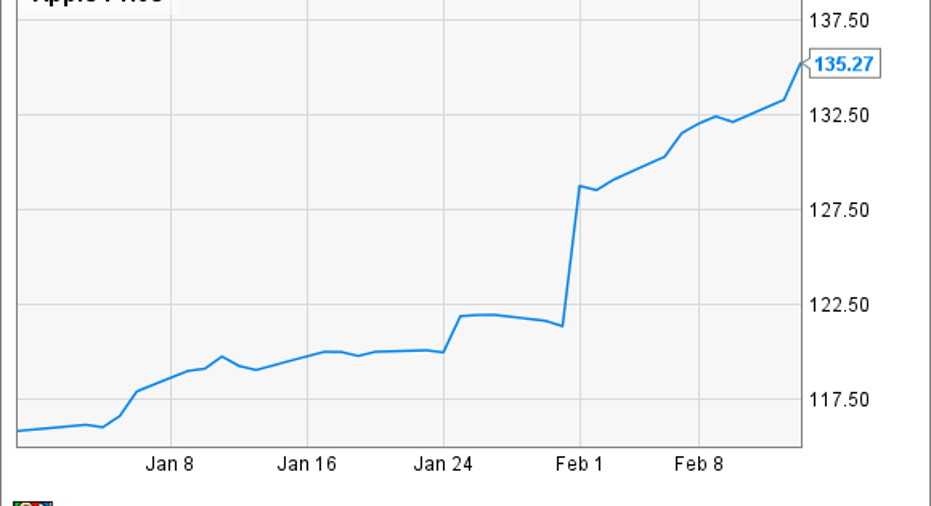 About a year ago, Apple (NASDAQ: AAPL) began spending more time discussing its services business during its quarterly earnings calls. It's pretty clear why it decided to do so -- the services segment is the only aspect of Apple's business that is still growing consistently.
On the first quarter earnings call last month, Apple CEO Tim Cook announced an ambitious goal of doubling the company's services revenue in the next four years. That's a big reason why Apple stock has rallied more than 10% in the past few weeks, reaching a new all-time high.
Apple YTD Stock Performance, data by YCharts.
Plenty of analysts and other pundits are skeptical that it will be feasible to double the services business in four years, barring a big acquisition. But here are three reasons why doubling the services business might not be so hard after all.
Services growth is accelerating
First, the services segment's growth trajectory is better than it seems. For Q1 of fiscal 2017, Apple reported an 18% year over year increase in services revenue, down from 26% growth a year earlier.
These figures make it seem like Apple's services growth is already slowing. Considering that Apple needs to grow its services revenue at a 19% compound annual rate to double it in four years, this would be an ominous sign.
However, in the first quarter of fiscal 2016, Apple benefited from a one-time $548 million gain related to a patent infringement lawsuit. Excluding that patent revenue, Apple's services revenue grew only 15% in Q1 2016, but surged 30% year over year last quarter. Thus, Apple doesn't even need to maintain its recent services growth rate to hit its target.
The App Store is gaining scale
A second factor working in Apple's favor is that the App Store has recently become the largest contributor to Apple's services revenue.
App sales have been growing at a fast clip for many years, but Apple only reports its net revenue from the App Store. The portion of App Store sales that goes to developers -- which ranges from 70%-85% -- doesn't show up in Apple's financial statements. Apple earns an extremely high profit margin on App Store revenue due to this accounting policy, but the growth of this revenue stream hasn't been very material until recently.
Wall Street analyst Toni Sacconaghi estimates that Apple's net App Store revenue reached $7.3 billion in the 2016 fiscal year that ended last September. That would make it the largest piece of Apple's services segment, ahead of iTunes, which faces secular revenue declines.
Furthermore, the App Store continues to grow at a phenomenal pace. Last month, Apple reported that developers' earnings rose more than 40% year over year during 2016. The pace of growth is sure to slow over time, but App Store revenue is on a trajectory to more than double in the next four years, providing a good chunk of the services revenue growth Apple is targeting.
The iPhone Upgrade Program could lift AppleCare revenue
Growth of the iPhone Upgrade Program is a third factor that could contribute to increases in Apple's services revenue. For as little as $32.41/month, this program allows customers to get a new iPhone every year by trading in their old one. Purchases under the iPhone Upgrade Program include AppleCare+ enhanced warranty coverage, which is worth $129.
The iPhone Upgrade Program is boosting AppleCare+ revenue. Image source: Apple.
Many iPhone fans have already enrolled in the iPhone Upgrade Program, but there's still plenty of room for growth. Apple could potentially expand the program to more countries. It could also consider creating similar programs for other devices like the Apple Watch.
These Apple-operated upgrade programs can drive significant services revenue growth because AppleCare+ is part of the bundle. Very few of these customers would be buying AppleCare+ if it were still sold separately.
A big reason for optimism
Apple's services business produced more than $24 billion of revenue in fiscal 2016, up from less than $20 billion a year earlier. This allowed it to surpass both the iPad and Mac product lines to become Apple's second-largest segment by revenue.
Even if Apple misses its target of doubling its services revenue by 2020, it will certainly get a meaningful amount of revenue growth from that segment. With strong services growth ensuring that Apple's non-iPhone revenue will rise consistently in the years ahead, Apple will be well positioned to return to strong earnings growth as the next iPhone sales cycle heats up.
10 stocks we like better than AppleWhen investing geniuses David and Tom Gardner have a stock tip, it can pay to listen. After all, the newsletter they have run for over a decade, Motley Fool Stock Advisor, has tripled the market.*
David and Tom just revealed what they believe are the 10 best stocks for investors to buy right now... and Apple wasn't one of them! That's right -- they think these 10 stocks are even better buys.
Click here to learn about these picks!
*Stock Advisor returns as of February 6, 2017
Adam Levine-Weinberg owns shares of Apple and is long January 2018 $90 calls on Apple. The Motley Fool owns shares of and recommends Apple. The Motley Fool is long January 2018 $90 calls on Apple and short January 2018 $95 calls on Apple. The Motley Fool has a disclosure policy.