Will Apple Finally Part Ways With Samsung?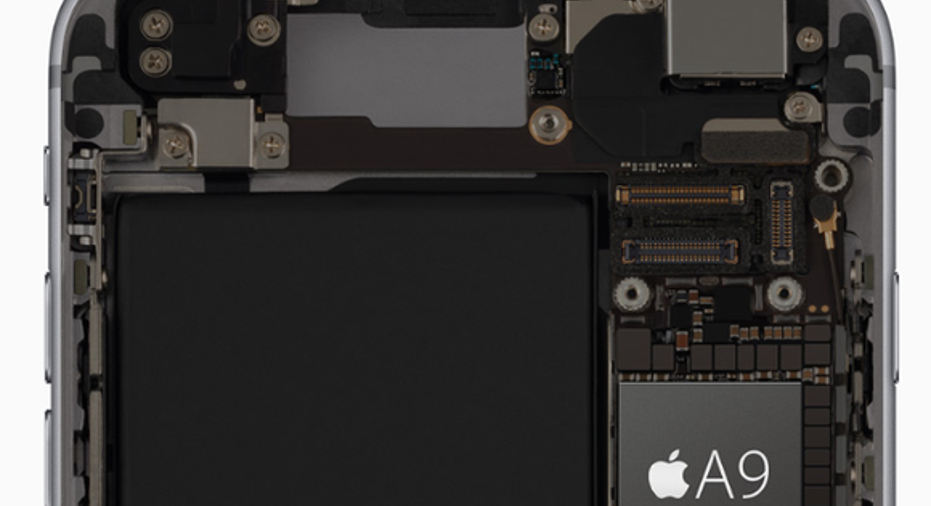 Apple's A9 may be Samsung's last hurrah as the fabricator. Source: Apple
It's always been a strange relationship between Apple and Samsung . On one hand, these two companies compete among high-level devices including tablets and smartphones. However, Apple depends upon Samsung as a supplier to fabricate the heart of its devices -- Cupertino's signature A-line series of chips. In a recent HSBC research note, analysts Steven Pelayo and Lionel Lin estimate that Samsung produces 60%-70% of Apple's current-gen A9 chip.
More recently, however, Apple has been looking to divest itself from Samsung's clutches. Starting with the A8 chip, Apple decided to use Taiwan Semiconductor Manufacturing Company as the lead fab. Later iPhone teardowns found Samsung providing up to 40% of fabrication. In the current A9 chip, this dual-sourcing strategy continued.
But that's not the biggest news from HSBC's report: It appears Apple has finally decided it's time to make the jump to Taiwan Semiconductor as its only source of fabrication for its next-gen A10 chip. If true, this could be a big win for TSMC at the expense of Samsung's future revenue and profit drivers.
A blow to SamsungFor Samsung, this would serve as both a tangible loss and a symbolic one. As for the former, in its third-quarter earnings report, Samsung reported its first year-on-year operating profit increase in the past seven quarters. The reason for this reversal was not the company's smartphone line, but rather its semiconductor business, which increased a massive 62% over last year's result, contributing nearly 50% to Samsung's total operating profit.
Going forward, Samsung specifically noted 14-nanometer foundry growth, in reference to the fabrication node it manufactures Apple's A9 chip on, as a source of future earnings improvement. And while Apple should still contribute to Samsung's operating profit in the short term, this would hurt Samsung's year-on-year comparisons when this revenue and profit no longer show up on Samsung's income statement.
In addition, the symbolic blow could affect Samsung's 14-nm business. Earlier reports were that iPhones equipped with Samsung's A9 chip were prone to overheating with noticeably worse battery life. And while Apple later rebutted the reports, stating that the battery-life variance was only 2%-3%, moving away from Samsung amid quality reports has the potential to scare other smartphone makers away from Samsung, much as the company itself did to Qualcomm after reports that its previous-gen Snapdragon 810 flagship chip was prone to overheating.
A potentially big win for TSMCWhether it's Apple's desire not to depend upon its main competitor, poor performance from Samsung-fabbed A9 chips, or seeming superior next-gen technology (see below), this would be a huge win for TSMC. Right now, Apple contributes more than 14% to TSMC's top line, with forecasts that the company will contribute $3.7 billion in the nearly completed fiscal 2015 versus companywide revenue estimates of $26.24 billion.
According to the report, TSMC is working with Apple to introduce integrated fan-out packaging, a breakthrough that will lead to thinner and lighter chips. As a result of this new technology, and it reportedly winning the full production, forecasts are that TSMC will increase its Apple-related revenue next year 24% to $4.6 billion. If so, this is a big win for TSMC at the expense of Samsung.
The article Will Apple Finally Part Ways With Samsung? originally appeared on Fool.com.
Jamal Carnette owns shares of Apple. The Motley Fool owns shares of and recommends Apple and Qualcomm. Try any of our Foolish newsletter services free for 30 days. We Fools may not all hold the same opinions, but we all believe that considering a diverse range of insights makes us better investors. The Motley Fool has a disclosure policy.
Copyright 1995 - 2015 The Motley Fool, LLC. All rights reserved. The Motley Fool has a disclosure policy.