Will Any of These Companies Actually Buy GoPro Inc.?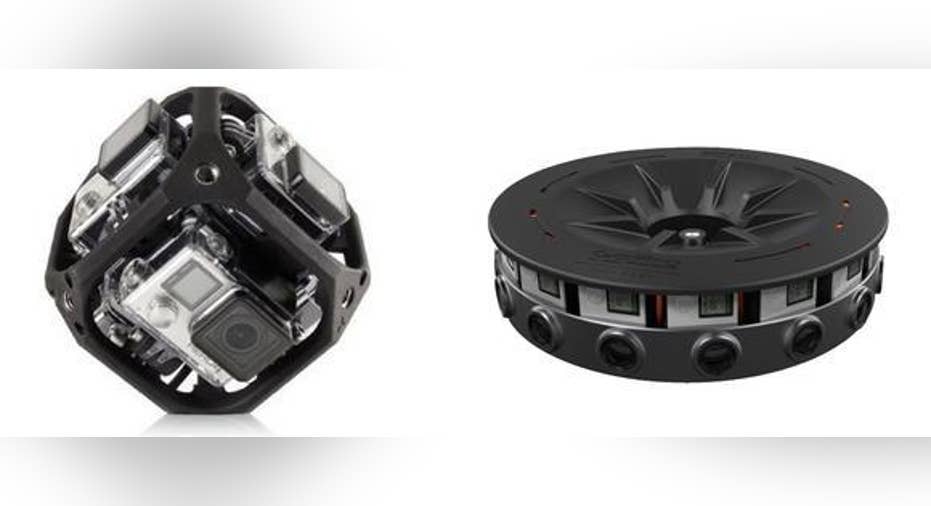 AmidGoPro's 70% decline over the past year, there has been rampant speculation that the action-camera maker could be acquired by a larger company.
Supporters of a buyout argue that GoPro's brand remains strong, its social media base is valuable, and that its stock trades at just 13 times forward earnings -- a discount compared to its expected five-year annual earnings growth rate of 23%. Its market cap of $2.6 billion is only moderately higher than its projected 2015 revenue of $1.7 billion.
Image source: GoPro.
The bears argue that GoPro is a one-trick pony, that cheaper action cameras and better smartphone cameras will marginalize its devices, and that its forward estimates are based on overly bullish forecasts. Nonetheless, tech investors should understand the buyout case for GoPro, and recognize the most likely suitors for the company.
AlphabetEarlier this year, Alphabet's Google partnered with GoPro to create a 16-camera VR rig called Odyssey. The $15,000 rig can be used to film 360-degree videos for YouTube through Google's Jump platform. These 360-degree videos can be viewed by moving the mobile device or by using Google Cardboard.
While the Odyssey might seem designed for a niche market, tech M&A advisory firm Digi-Capital estimates that the global VR market's total value could surge to $30 billion by 2020, thanks to growing interest in VR games, experiences, and films. To reach more mainstream users, GoPro plans to launch a smaller six-camera rig, the Spherical, at a lower $3,000 price tag. Back in April, GoPro also acquired French start-up Kolor, which stitches together videos to create panoramic VR videos which can be shared and viewed through its mobile app and Cardboard.
GoPro's Spherical (L) and Odyssey (R) rigs. Image source: GoPro.
GoPro's YouTube channel, which has over 3.5 million subscribers, already showcases numerous Google Jump videos. Therefore, it might be logical for Google to buy GoPro's cameras and digital platform as its "VR launchpad."
FacebookShortly after Google and GoPro started launching 360-degree videos, Facebook added similar GoPro-produced videos to its News Feed. Since Facebook revolutionized how people share photos and videos online, upgrading to 360-degree videos would seem like a logical next step.
Those 360-degree videos also complement Facebook's $2 billion purchase of Oculus VR, since the Oculus Rift headset can already be used to watch 360-degree videos. When CEO Mark Zuckerberg initially announced the Oculus acquisition, he stated that the Rift would initially be marketed as an "immersive gaming" device before becoming "a platform formany other experiences" like remote teaching, telehealth, or attending live events. Simply put, Facebook could evolve beyond its blue and white walls and into a VR world where people can virtually interact with each other.
But for Facebook's plan to work, it needs a capture device to stream 360-degree video back to the Rift. Samsung demonstrated thisconnection earlier this year by streaming a baby's live birth to a father wearing a VR headset 2,500 miles away. If Facebook buys GoPro's VR rigs and shrinks them down to more affordable cube-like devices, it could simultaneously enhance its News Feed and Oculus VR businesses.
Facebook's Oculus Rift. Image source: Oculus VR.
AppleApple has notably lagged behind Google and Facebook in the VR market. The company has made multiple AR and VR acquisitions and filed related patents, but it hasn't unveiled any first-party products or services yet. Apple has also expressed interest in the action camera market on two occasions. First, it filed a patent tomake one in January. Second, it launched a "Shot on iPhone 6" gallery earlier this year to showcase GoPro-like shots being taken on the iPhone.
While those moves indicate that Apple might launch an "Apple Cam," it might be easier for Apple to simply buy GoPro to inherit its media base and VR partnerships. GoPro's action cameras and upcoming Karma drone could also help Apple diversify its top line away from the iPhone. FBR & Co. analyst Dan Ives, who suggests that a GoPro acquisition "makes sense", noted that "action cameras are uniquely positioned at the intersection of Apple's smartphones, wearables, and multimedia offerings".
In a previous article, I argued that buying GoPro wouldn't be that different from buying Beats. Both companies had strong brands, appealed to niche markets, and had growing digital ecosystems. Apple was willing to pay $3 billion for Beats, so it might do the same for GoPro.
But don't wait for a white knightIt's possible that Alphabet, Facebook, or Apple might eventually use their pocket change to buy GoPro, but investors shouldn't hold their breath.
Alphabet and Facebook could let the VR camera market evolve, then reap the benefits of a commoditized market without actually selling any cameras. Apple could simply make its own action camera or drone, since its brand is strong enough on its own. Therefore, GoPro investors should fully understand the bull and bear cases for the stock instead of holding out for a white knight "hero."
The article Will Any of These Companies Actually Buy GoPro Inc.? originally appeared on Fool.com.
Leo Sun owns shares of GoPro. The Motley Fool owns shares of and recommends Alphabet (A shares), Alphabet (C shares), Apple, Facebook, and GoPro. Try any of our Foolish newsletter services free for 30 days. We Fools may not all hold the same opinions, but we all believe that considering a diverse range of insights makes us better investors. The Motley Fool has a disclosure policy.
Copyright 1995 - 2015 The Motley Fool, LLC. All rights reserved. The Motley Fool has a disclosure policy.