Will a $9.99 Cheeseburger Save Disney World?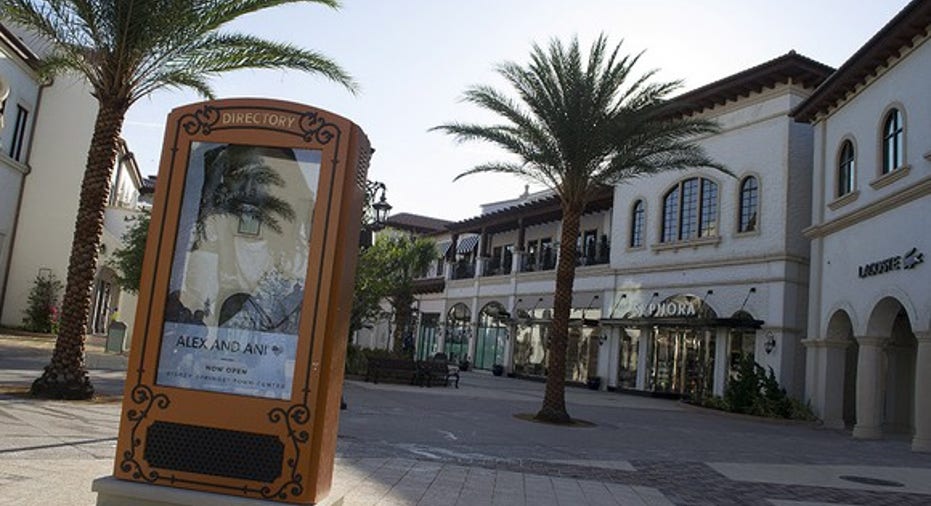 Image source: Disney.
With theme park guest counts and hotel occupancy rates sliding for Disneyat its flagship Florida resort, the name of the game has changed. The media giant is now turning to cost cuts and price hikes to milk more money out of the tourists it is able to land, and that leads us to yesterday's debut of a new proprietary burger chain where the cheapest entree is a $9.99 cheeseburger.
Disney opened the Town Springs section of its Disney Springs shopping and entertainment district -- the bustling collection of shops and eateries that until recently was known as Downtown Disney -- on Sunday morning. A new parking garage that adds 2,000 sorely needed parking spaces was also put into service. More than two dozen moderate to upscale retailers opened shop in Town Springs, but a couple of eateries also set up camp.
The more ambitious entry is D-Luxe Burger, Disney's in-house attempt to cash in on the "better burger" craze that's sweeping the nation. Diners expecting to take in modestly priced sandwiches will be in for a bit of sticker shock. The burgers start at $9.99 for a veggie or traditional cheeseburger, and that's just for the sandwich. A small order of fries rings up at $4.99, and some of the fancier shakes to wash it all down will take you into the double digits for the spiked varieties.
Eating at a theme park is never easy on the pocketbook
Anyone that has ever dined at one of Disney World's four theme parks knows that there's a stiff ransom to be paid when hunger pangs kick in. Guests are a captive audience, and you're going to be paying multiplex and concert hall prices for any concessions to fuel your adventure. However, Disney Springs is just an outdoor shopping center in the outskirts of Disney World's turf. Guests are mere minutes away from "better burger" joints that won't charge you nearly $20 for a combo of a burger, smaller fries, and beverage. Will guests really pay theme-park food prices for a burger meal when shopping trips are much shorter and less real estate restrictive than a day at the park? Well, folks weren't backing away yesterday from paying deluxe prices for D-Luxe food. Reports find folks willing to wait nearly an hour to get a burger fix at Disney's new concept.
This may find you shaking your head, but you can't fault Disney for charging what folks are seemingly willing to pay. Several price increases and premium experiences have been introduced at Disney World's theme parks this year. February's move to increase one-day ticket prices by as much as 18%is the move that impacts most guests, but it's just one of the many moves that have kicked in during 2016. Beverages sold at the parks moved sharply higher last month, and we also find Disney offering everything from premium parking spaces to after-hours events for folks willing to pay more these days. Why wouldn't it charge $14.98 for a simple cheeseburger with a small order of fries if it can get away with it?
Disney is on a mission to maximize profitability at its theme-parks division, and it's succeeding in the near term. The typical guest is spending 8% more now than a year earlier at Disneyland and Disney World, and Disney's operating profit for its domestic theme parks for its fiscal second quarter soared 20% since the prior year. Even with a downtick in attendance in Florida and a 1% decline in resort hotel occupancy rates Disney's laughing all the way to the bank. Shareholders who have seen the stock drop since last week's problematic quarterly report could be the ones getting the last laugh here.
Even outrage on social media won't stop Disney from charging $9.99 for a cheeseburger if folks are lining up to pay for them.
The article Will a $9.99 Cheeseburger Save Disney World? originally appeared on Fool.com.
Rick Munarriz owns shares of Walt Disney. The Motley Fool owns shares of and recommends Walt Disney. Try any of our Foolish newsletter services free for 30 days. We Fools may not all hold the same opinions, but we all believe that considering a diverse range of insights makes us better investors. The Motley Fool has a disclosure policy.
Copyright 1995 - 2016 The Motley Fool, LLC. All rights reserved. The Motley Fool has a disclosure policy.