Will 2017 Be Polaris Industries Inc.'s Worst Year Yet?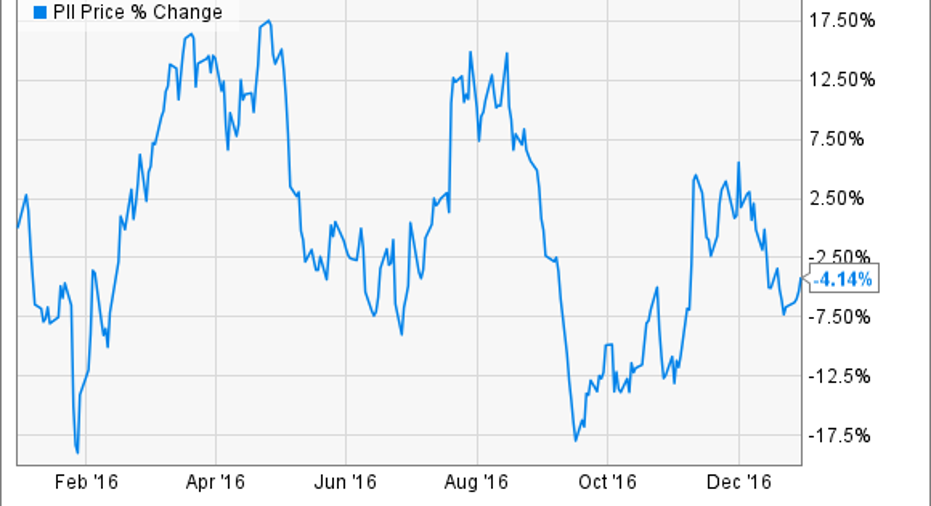 As bad as last year was for Polaris Industries (NYSE: PII), it looks like 2017 is shaping up to be even worse.
From a stock performance perspective, 2016 could've been worse. Shares of the powersports vehicle manufacturer only lost about 4% of their value over the course of the year, and though that's poor compared to the S&P 500, which gained almost 10%, the persistent recalls it suffered with its ATVs and motorcycles could and probably should have damaged its stock even more.
So why might 2017 be even worse? Well, Polaris started off the year announcing yet another recall, this time to its Sportsman Touring 570 and X2 all-terrain vehicles. That indicates it hasn't gotten a handle on the woes that plagued it last year, and the mounting costs of the recalls will dent its profits this year, too.
Up in smoke
Third-quarter sales last year fell 19% to $1.18 billion while Polaris lost market share in a weak powersports industry and incurred approximately $65 million of recall and related legal costs. Year to date, those costs and expenses are running as high as $120 million, and they're weighing heavily on its quarterly earnings of $0.50 per share, which plunged nearly 80% from the third quarter of 2015.
CEO Scott Wine admitted, "Polaris has been consumed by recall news this year," but he said that while it had completed its review of the situation, it was not an end to the problems. Although the company foresaw additional recalls coming, such as the one that hit the three-wheeled Slingshot motorcycle, it got dinged with yet another in December when it was forced to recall its popular Indian Motorcycle brand, and as noted above, it issued still another recall for a different ATV. And Polaris just recently announced it is killing off its Victory motorcycle brand, too.
Image source: Polaris Industries.
End of the line
While the Indian Motorcycle nameplate it resurrected from bankruptcy in 2011 has wildly outperformed expectations, allowing it to gain market share on industry leader Harley-Davidson (NYSE: HOG), the older Victory big-bike platform that has been around for 18 years just wasn't cutting it. Polaris felt that if it wanted to pursue profitable growth, it had to wind down production.
It's understandable, and probably smart, but it's nonetheless surprising because Victory had recently introduced its midsize performance cruiser Octane that took aim not just at Harley's Sportster Iron 883 and Street bikes, but also Honda's CTX, Suzuki's Boulevard M50, and the Triumph America. Polaris had also introduced new 2017 models of Victory's High-Ball, Hammer S, and Vegas. Abruptly ending that production is a twist, but considering how the industry is shaping up, it just might be necessary.
Image source: Victory Motorcycles.
Sliding downhill
The motorcycle industry is in contraction; Polaris says the market for bikes 900 cubic centimeters and above fell by high single digits in Q3, year over year.Harley-Davidson hasn't been able to sell more bikes in two years and admits it is confronted with "a fiercely competitive environment and an ongoing weak U.S. industry." Its fourth-quarter results due at the end of the month could see it pushing more bikes onto its dealers just to make its shipment guidance once again.
This slowdown comes as the ATV industry has also been sliding for some time due to weakness in oil- and agriculture-dependent states, down bylow-single-digit percentages compared to last year.
It may have gotten some help from rising oil prices in December, but analysts were deeming it a dead-cat bounce, and the weakness persists. The higher oil prices also didn't necessarily translate into companies hiring more people or spending the same on new projects, so it may not have meant higher sales anyway.
The recalls all seem related in some fashion, as they all result in risk of fire. That Polaris is still suffering from this problem, despite having hired internal and external engineering consultants; created new, independent safety and quality functions; and implemented "enhanced post-sales surveillance" suggests the issue is not in hand and 2017 not only promises more of the same. In fact, it may be worse for Polaris Industries because its business, reputation, and stock could all suffer this time.
10 stocks we like better than Polaris Industries When investing geniuses David and Tom Gardner have a stock tip, it can pay to listen. After all, the newsletter they have run for over a decade, Motley Fool Stock Advisor, has tripled the market.*
David and Tom just revealed what they believe are the 10 best stocks for investors to buy right now... and Polaris Industries wasn't one of them! That's right -- they think these 10 stocks are even better buys.
Click here to learn about these picks!
*Stock Advisor returns as of January 4, 2017
Rich Duprey has no position in any stocks mentioned. The Motley Fool owns shares of and recommends Polaris Industries. The Motley Fool has a disclosure policy.