Will 2017 Be Kind to SunPower Shareholders?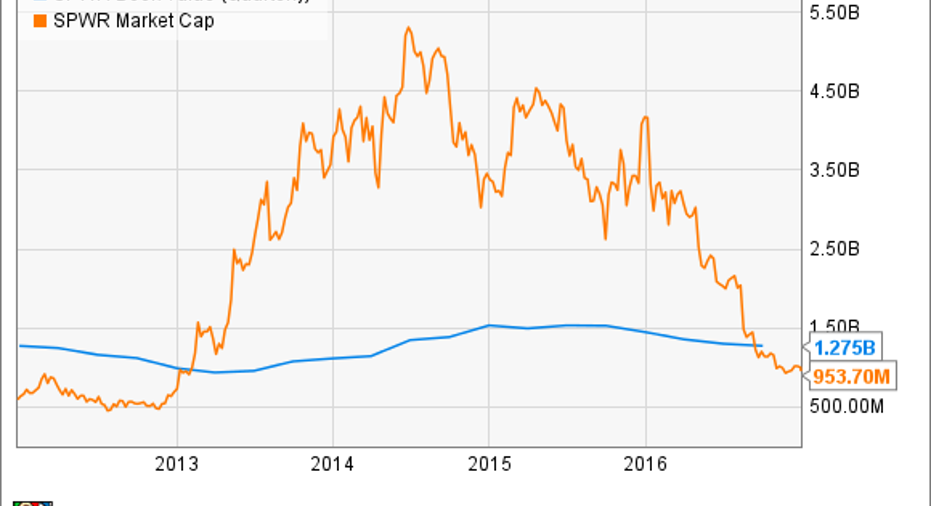 What a difference a year makes. In 2015, SunPower Corporation (NASDAQ: SPWR) was one of the top-performing solar stocks, finishing the year up nearly 20%. But 2016 has been one piece of bad news after another for shareholders, who have seen the stock plunge from over $30 per share to as low as $6. 2017 is expected to be a challenging year operationally for the company, but the stock seems to have already priced in all the bad news, and more.
Let's take a look at why investors should expect better results over the coming year.
Equinox, SunPower's residential package system. Image source: SunPower.
2016 challenges
This past year has been a series of challenges for SunPower. The main issue is simply that solar-panel module pricing has come down dramatically. The 30% drop for the year, 15% of which has come just over the last quarter, has pressured margins for all solar manufacturers, but SunPower seems to have been affected more than most. One simply needs to look at the difference between the company's early 2016 guidance and its most recent expectations for the year:
| Metric | Early 2016 | Current Expectation | Difference |
| --- | --- | --- | --- |
| GAAP revenue | $2.2 billion to $2.4 billion | $2.4 billion to $2.6 billion | $200 million |
| GAAP gross margin | 17% to 19% | 8% to 10% | (9%) |
| GAAP net income (loss) | $0 million to $50 million | ($320 million) to ($295 million) | ($350 million) |
| Total MW deployed | 1.7 GW to 2.0 GW | ~1.35 GW | (500) MW |
Data source: SunPower investor presentations for Q4 2015 and Q3 2016. GAAP: generally accepted accounting principles; MW: megawatts; GW: gigawatts.
As can be seen, expected gross margins for the company dropped by half, resulting in a $350 million change in its income for 2016. The large pricing drop made some of SunPower's production noncompetitive, to the point that management had to make the tough decision to close one of its factories earlier this year.
Shares are trading below book value
SunPower's 80%-plus drop in share price during 2016 has been painful for past investors, but at this point the shares look undervalued, particularly on a book-value basis. The market cap of the stock, which traded as high as 4.5 times book value in mid-2014, is currently at a 25% discount to last quarter's reported book value:
SPWR Book Value (Quarterly) data by YCharts.
Of course, the projected fourth-quarter and 2017 losses will shrink book value over the next few quarters, so the discount to book won't be nearly as large if the shares are still trading at the same level in six months. SunPower skeptics will also point out that the company's long-term debt has also climbed by over $1 billion over the past year, with no seeming benefit to shareholders -- at least not in 2016.
Yet this simplistic view of the financials overlooks the reason for all the additional debt. Over the past twelve months SunPower has managed to increase its contracted portfolio of projects at the holding-company level by over 85%: from 1,002 MW at the end of September 2015, to 1,888 MW at the end of the most recent quarter. Currently, only about 20% of this portfolio is actually complete, while a further 34% belongs to projects currently under construction. This portion, 644 MW worth, is the reason for much of the company's current debt load.
Finally, it's particularly interesting to note that, due to generally accepted accounting principles, SunPower's large stake in yieldco 8point3 Energy Partners LP (NASDAQ: CAFD) actually shows up as a negative $55 million value on the balance sheet, when in fact it's worth about $375 million at current market prices. Because SunPower and First Solar, Inc. have equal control of 8point3 Energy Partners, both companies must account for their stakes as "equity method" investments on their balance sheets. This shared control results in SunPower's balance sheet understating the value of their stake by around $430 million, equivalent to over $3 per share.
Investor takeaway
Just twelve months ago, the future looked bright for SunPower, whereas today it's not clear if the company will be able to effectively adjust its strategy and compete in the fast-growing but ultracompetitive solar market. These concerns, along with significant value being obfuscated by accounting rules, has led to the present situation, where the company's shares appear to be materially undervalued. While it will be important for shareholders to continue evaluating the company's results on a quarterly basis, the outlook is decidedly positive for purchases at current prices.
10 stocks we like better than SunPower When investing geniuses David and Tom Gardner have a stock tip, it can pay to listen. After all, the newsletter they have run for over a decade, Motley Fool Stock Advisor, has tripled the market.*
David and Tom just revealed what they believe are the 10 best stocks for investors to buy right now... and SunPower wasn't one of them! That's right -- they think these 10 stocks are even better buys.
Click here to learn about these picks!
*Stock Advisor returns as of Nov. 7, 2016
Aurelien Windenberger has no position in any stocks mentioned. The Motley Fool has no position in any of the stocks mentioned. The Motley Fool has a disclosure policy.