Will 2017 Be Illumina's Best Year Yet?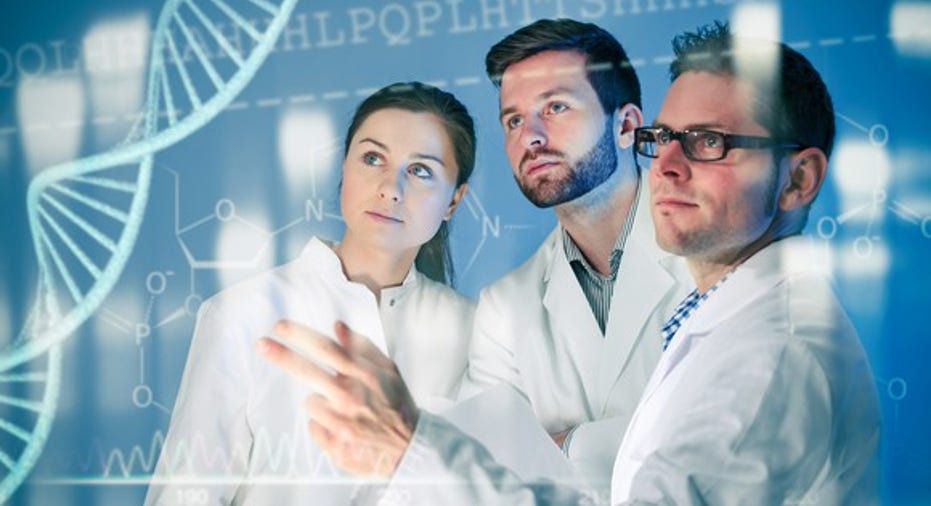 2016 was a painful year for Illumina's (NASDAQ: ILMN) investors. Shares of the genomic-sequencing company dropped by more than 29% during the year in response to disappointing quarterly results. Will the company be able to right the ship in 2017? Here are three reasons to believe that the answer is yes.
Image source: Illumina.
New partnerships could open doors
Illumina recently announced that it has joined forces with Royal Philips NV and IBMin an effort to make processing and analyzing genomics data easier. While these deals are still quite new, they promise to open doors and advance the use of genomic testing in ways that Illumina could never do on its own.
I'm particularly excited about the potential of the IBM partnership. Interpreting genetic data is a massively complex undertaking, but IBM's Watson appears to be up to the challenge. IBM has been investing in Watson for years, and it has become quite adept at pattern recognition. The two companies believe that Watson will be able to quickly comb through thousands of scientific articles, medical books, and clinical trials in order to quickly create standardized reports.
Image source: Getty Images.
If the companies can make this technology work, then it promises to be a game-changer in the move to personalized medicine. That could give Illumina an edge in genomic sequencing that potential rivals would be unable to match.
The start of a new upgrade cycle?
Illumina recently made waves at the J.P. Morgan Healthcare Conference when it announced the launch of two new products that promise to drive substantial growth in the years ahead.
The first product was produced with its partner Bio-Rad Laboratories (NYSE: BIO). The device is called the Illumina Bio-Rad Single-Cell Sequencing Solution, and it utilizes Bio-Rad's single-cell isolator technology to make it far easier for researchers to sequence thousands of individual cells at a time. That process is far too time-consuming for current technology to handle, so this product could be a hit.
Image source: Illumina.
While the Bio-Rad product looks interesting, the big takeaway from the conference was the launch of Illumina's next-generation high-throughput sequencing system, which it calls the NovaSeq series. This new product line promises higher throughput, better ease of use, and a lower cost per sample. In fact, Illumina believes that this product's architecture will one day enable a genome to be sequenced for as little as $100.
Understandably, Illumina is quite bullish on the potential of this new system. The company has already sold 49 instruments to the six customers who were given an early look at the product, so researchers are clearly excited about this new product line.
Importantly, Illumina believes that the NovaSeq's upfront cost is low enough to even attract smaller laboratories. If true, the launch of this product line could drive a massive upgrade cycle in 2017.
Moonshot bets are gathering momentum
Two of Illumina's more exciting long-term opportunities -- Grail and Helix -- were spun off into separate operating companies in which Illumina maintains a substantial stake. While both projects offer jaw-dropping long-term potential, these bets haven't been given enough time to pay off.
That could start to change in 2017. Grail, the company's long-term bet on early cancer detection, recently completed a $1 billion Series B financing round. That provides the company with plenty of fresh capital.
Image source: Alexas_Fotos via Pixabay.
Helix, a company focused on personal genomics in the consumer space, has also started to gain traction. The company recently launched its first product, and it is on pace for another "major launch" by the middle of the year.
In total, Illumina is guiding for these two projects to only dilute the company's 2017 earnings per share by $0.26. That's quite a small figure when compared to the $3.60 and $3.70 in non-GAAP EPS that Illumina expects to haul in for the full year. Given these projects' long-term potential, it is nice to see that their drag on the company's profits won't be all that substantial.
Will 2017 be Illumina's best year yet?
While Illumina's premium valuation makes it difficult to predict whether the stock will head north in 2017, I can't help but feel bullish on the company's prospects. Illumina's actions have it well positioned to maintain and extend its leadership position in genomic sequencing and produce solid growth in the years ahead. Thus, while the coming year might not qualify as Illumina's "best" yet, I think that 2017 is shaping up to work out just fine for investors.
10 stocks we like better than Illumina When investing geniuses David and Tom Gardner have a stock tip, it can pay to listen. After all, the newsletter they have run for over a decade, Motley Fool Stock Advisor, has tripled the market.*
David and Tom just revealed what they believe are the 10 best stocks for investors to buy right now... and Illumina wasn't one of them! That's right -- they think these 10 stocks are even better buys.
Click here to learn about these picks!
*Stock Advisor returns as of January 4, 2017
Brian Feroldi has the following options: long January 2017 $195 calls on IBM, short January 2019 $185 puts on IBM, short January 2019 $180 puts on IBM, long January 2018 $175 calls on IBM, and short January 2018 $175 puts on IBM. Like this article? Follow him on Twitter, where he goes by the handle @BrianFeroldi, or connect with him on LinkedIn to see more articles like this.
The Motley Fool owns shares of and recommends Illumina. The Motley Fool has a disclosure policy.