Will 2017 Be American Outdoor Brand Corp's Best Year Yet?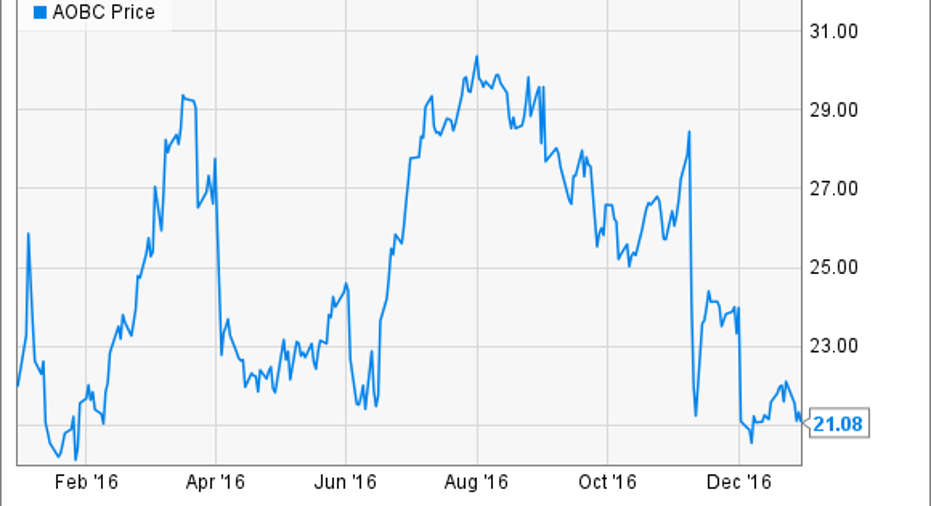 The past year was an awesome one for American Outdoor Brands (NASDAQ: AOBC). Handgun sales jumped 40%, rifle sales were up 70%, and its new outdoors market increased 50%, albeit from a bunch of acquisitions. Yet when you look at its stock, investors found it lacking, remaining largely unchanged from where it started.
That's because after the election of Donald Trump as president, the urgency to buy a gun before new, stricter laws were enacted evaporated. At the recent industry SHOT Show trade show, American Outdoor Brands said that adjusted firearms data in December tumbled more than 17% from the year-ago period, with handguns plunging 30%. Considering that firearms account for 88% of its revenues, can 2017 really be American Outdoor Brands best year ever?
You betcha!
Guns aren't going away
Although it's true that gun sales were lower in December than they had been the previous year, breaking a 19-month streak of ever higher monthly numbers, sales were still higher than any other December without an incident of domestic terrorism. The month was only bested by December 2012 and December 2015, months notable for the tragic shootings in Sandy Hook and San Bernardino, California, respectively. It indicates there's still plenty of latent demand for firearms, and the likely reason is that personal safety has become a paramount issue for gun buyers.
Image source: Getty Images.
The most popular guns being bought today are those designed for concealed carry, small, lightweight weapons that still pack a wallop in firepower. And if the continuing series of protests and unrest are any indication, concerns for defense of self, family, and property will remain uppermost on people's minds. Gun sales may not run at the blistering pace they've been at, but it's likely they'll stay at elevated levels.
The great outdoors
Beyond just guns, though, American Outdoor Brands is transforming itself into a broader, more diversified manufacturer of products for the outdoor recreational industry. With a much larger target market -- some $30 billion to $35 billion, according to AOB's management, compared to $14 billion for firearms -- there's much more opportunity for growth.
While there are a few, big-name retailers focused on servicing the market, including Bass Pro Shops, Cabela's, and Dick's Sporting Goods,not to mention mass merchandisers like Wal-Mart or online retailers such as Amazon.com, it remains a very fragmented industry with some 12,000 independent retailers. Yet it's also an industry that is very complementary to its existing customer base and the new opportunities should give American Outdoor Brands a chance to cross-sell to them.
Sights set on the future
Very much in the same vein, and underscoring exactly what it's trying to achieve, acquisitions like its purchase of Crimson Trace create completely new lines of business, yet ones that don't diverge too far from the path it was originally on.
Image source: Crimson Trace.
With its buyout of the laser sight manufacturer, AOB created a new business segment: electro-optics. Crimson Trace has a decade-long record of growing revenues at a compounded rate of more than 10% annually, a key reason why it was purchased, but it's a natural extension of its firearms business. Laser sighting and tactical lighting are already items gun buyers are looking for (and Crimson Trace was already a long-term supplier of laser sighting systems for Smith & Wesson), but it also opens up new products for it such as various sights, aiming and ranging devices, magnifiers, and scopes for a variety of applications.
A bright future
A lot of these potential growth markets are long term in nature, and American Outdoor Brands admits as much. Yet they indicate a greater diversity of revenue streams, much less stock volatility, and a chance to move away from being just about guns.
In a year that's supposedly going to see fewer gun purchases, a business model that de-emphasizes that segment of its operations while channeling more energy into a niche that is larger and still growing in popularity suggests 2017 will be American Outdoor Brands' best year yet.
10 stocks we like better than American Outdoor Brands Corporation When investing geniuses David and Tom Gardner have a stock tip, it can pay to listen. After all, the newsletter they have run for over a decade, Motley Fool Stock Advisor, has tripled the market.*
David and Tom just revealed what they believe are the 10 best stocks for investors to buy right now... and American Outdoor Brands Corporation wasn't one of them! That's right -- they think these 10 stocks are even better buys.
Click here to learn about these picks!
*Stock Advisor returns as of January 4, 2017
Rich Duprey has no position in any stocks mentioned. The Motley Fool owns shares of and recommends Amazon.com. The Motley Fool has a disclosure policy.