Will 2017 Be Ambarella, Inc.'s Best Year Yet?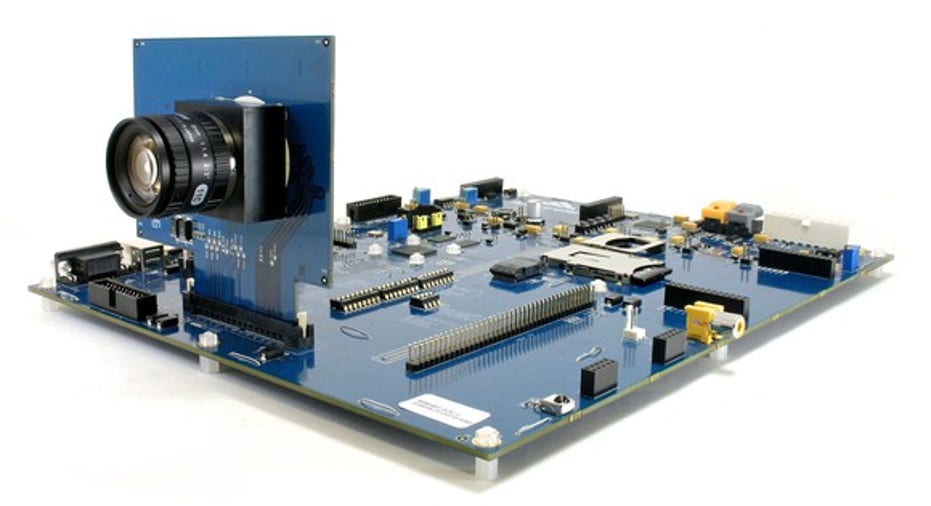 Ambarella (NASDAQ: AMBA) took investors on a wild ride this year -- dropping as low as $33, surging as high as $75, and then sliding back to the mid $50s. Much of that volatility was attributed to its dependence on GoPro (NASDAQ: GPRO), competition from Qualcomm (NASDAQ: QCOM), and inconsistent sales growth. Should investors expect Ambarella to fare better in 2017? Let's examine the major headwinds and tailwinds to find out.
Ambarella's A9 SoC. Image source: Ambarella.
Ambarella's headwinds
Ambarella's biggest weakness is its dependence on GoPro. The action camera makerhas struggled with four straight quarters of annual revenue declines. Earlier this year, Pacific Crest analysts estimated thatGoPro's orders could account for up to 25% of Ambarella's full-year revenue.
The second big issue is competition from Qualcomm, which is expanding its Snapdragon mobile chips into the image application processor market. Qualcomm has already scored a few design wins among lesser-known action camera makers, and Ambarella admitted that Qualcomm had been "talking" to its key customers.
Ambarella continues to be the "best in breed" image processing SoC maker, but its chipsets lack the integrated 3G/4G connectivity of Qualcomm's chips. If action cameras, drones, and dash cams require more stand-alone wireless connections, Qualcomm's chips could gain a major advantage against Ambarella's, which require separate purchases of baseband modems.
Ambarella also faces headaches in the Chinese market, where lower cost rivals have been hurting itsgrowth in automotive and security camera chips. Ambarella's non-GAAP gross margin rose 40 basis points annually to 66.3% last quarter, but its operating margin fell 230 basis points to 29.5% due to slower revenue growth and rising expenses. That's whyanalysts believe that Ambarella's revenue and earnings will respectively decline 2% and 18% next year.
Ambarella's tailwinds
On the bright side, Ambarella's dependence on GoPro could decline as it expands into adjacent markets like drones and connected cars. Ambarella claimed thatSoCs for drones accounted for 10% of its sales last year. It hasn't updated that figure, but that percentage likely rose this year on stronger demand for consumer drones. Ambarella's top customer in that space is DJI Innovations, the biggest drone maker in the world.
DJI's Phantom 4. Image source: DJI Innovations.
Ambarella also supplies SoCs to many of GoPro's competitors, including the Xiaomi-backed Yi Technology. This means that GoPro's loss of market share to rival action camera makers wouldn't necessarily hurt Ambarella. Ambarella also recently secured a foothold in the fledgling augmented reality market with Snap's Spectacles. If Spectacles inspire a wave of similar AR glasses -- which could render action cameras obsolete -- Ambarella will be well-poised for the technological shift.
Meanwhile, competition from Qualcomm and Chinese rivals seems daunting, but the biggest players in each of its main categories -- GoPro in action cameras, DJI in drones, and Hikvision in security cameras -- still use Ambarella chipsets. This indicates that while Ambarella faces competitive pressure, there's no evidence that it will abruptly lose the entire image processing SoC market to its rivals. Instead, that competitive edge -- along with its low enterprise value of $1.4 billion -- sets up Ambarella as a lucrative takeover target for bigger chipmakers.
Ambarella's valuations
Ambarella initially looks expensive at 42 times earnings, which is much higher than its industry average of 26. But looking ahead, Ambarella only trades at 19 times next year's earnings.Looking even further ahead, analysts expect Ambarella's earnings to grow at an average rate of 16% per year.
That estimate gives it a 5-year PEG ratio of 1.25. While that ratio isn't below the "undervalued" threshold of 1, it's actually cheaper than Qualcomm's PEG ratio of 1.4. However, investors should be cautious when using 5-year forecasts for tech stocks, since disruptive new technologies could turn those forecasts upside-down.
So will 2017 be Ambarella's best year yet?
I doubt 2017 will be Ambarella's best year ever, since the stock probably won't nearly triple as it did in 2013. Instead, I believe that 2017 should be similar to 2016, with lumpy sales growth, weakening operating margins, and tougher competition. But if Ambarella can keep diversifying into new markets while keeping costs under control, its growth could stabilize and win back investors.
10 stocks we like better than Ambarella When investing geniuses David and Tom Gardner have a stock tip, it can pay to listen. After all, the newsletter they have run for over a decade, Motley Fool Stock Advisor, has tripled the market.*
David and Tom just revealed what they believe are the 10 best stocks for investors to buy right now... and Ambarella wasn't one of them! That's right -- they think these 10 stocks are even better buys.
Click here to learn about these picks!
*Stock Advisor returns as of Nov. 7, 2016
Leo Sun owns shares of Qualcomm. The Motley Fool owns shares of and recommends Ambarella, GoPro, and Qualcomm. The Motley Fool has the following options: short January 2019 $12 calls on GoPro and long January 2019 $12 puts on GoPro. Try any of our Foolish newsletter services free for 30 days. We Fools may not all hold the same opinions, but we all believe that considering a diverse range of insights makes us better investors. The Motley Fool has a disclosure policy.