Will 2016 Be Twitter, Inc.'s Best Year Yet?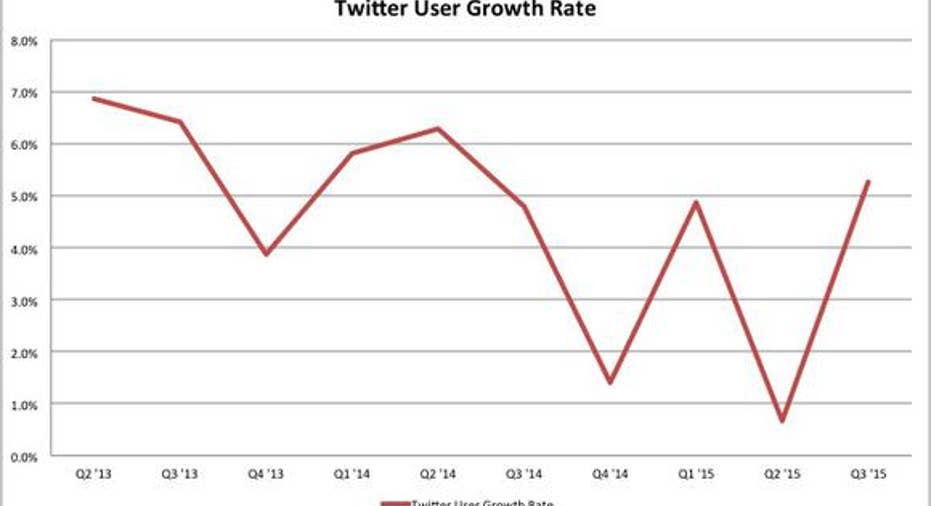 Flipping this article's title on its head, it's safe to say that 2015 was microblogging-platform Twitter's worst year yet.
With shares almost sinking nearly as quickly as its executive team was leaving the company, Twitter today is limping into 2016 with a renewed sense of optimism. More importantly, though, Twitter finally appears to have the individuals in place to solve its most pressing issues. And while their ultimate execution will determine 2016's course for Twitter stock, there's certainly room to believe that 2016 could be Twitter's best year yet.
2016: Twitter's year of reinvention? This year, Twitter's product crisis came to a head. After making commendable progress in evolving Twitter from a cash-burning start-up into an organization headed toward consistent profitability, Twitter's lack of concurrent product innovation finally manifested in a big way in 2015. While Twitter, the business, made strides, Twitter, the product, remained incapable of attracting the mass-market audience necessary to compete with the likes of emerging new media juggernauts like Facebook and Alphabet.
Source: Twitter investor relations.
Enter co-founder Jack Dorsey. As Twitter's product problems grew increasingly apparent, Dorsey replaced then-CEO Dick Costolo in July, eventually assuming the mantle of full-time CEO in early October. I've argued repeatedly in this forum in Dorsey's favor for one extremely simple reason -- Dorsey is a product expert tasked with evolving Twitter's product amid continued threats from Facebook, Alphabet, Apple, and others.
Since his return, Dorsey and his capable core executive team have already notched a number of notable, if not minor, wins, like Moments and third-party advertisement syndication. However, in order to support its lofty 7.8 timesprice-to-sales valuation, Dorsey and company must find ways to attract entirely new audiences into Twitter's ecosystem, a move that is fraught with risks.
Beyond 140 characters As unpleasant as it might be, current evidence suggests that mere incremental improvements won't be enough to allow Twitter to compete with increasingly powerful competitors like Facebook and Alphabet. Twitter's roughly 320 million monthly active users still sits at just one-fifth of Facebook's 1.5 billion MAUs. Furthermore, its sluggish user growth rate suggests Twitter's core product simply lacks enough broad-based appeal to ever catapult it into Facebook's ranks.
Source: Twitter investor relations.
The implication here is that Twitter must invent some kind of entirely new product in order to fulfill its potential to become the communication platform for the 21stcentury. Exactly what kind of new products Twitter might produce is anyone's guess.
Personally, I think layering some kind of high-quality publishing tool, similar to the red-hot blogging platform Medium, seems like a logical extension of Twitter's current primary value-add as a source of information; but I digress. The silver lining investors should focus on is that Twitter's current management possesses the requisite skillset to solve the most pressing issues facing the business.
Crucially, having the necessary skills to solve a problem isn't the same thing as actually solving the problem in question. It merely implies the stage is set to do so.
Investors researching Twitter today must keep this in mind. The ongoing product evolution at Twitter will almost assuredly drive the company's business momentum in 2016, and its stock-price performance by extension. While that's by no means a sure thing, there's a case to be made that 2016 will be Twitter's best year. I might wait, however, for more concrete evidence of its product reinvention actually coming to fruition before buying.
The article Will 2016 Be Twitter, Inc.'s Best Year Yet? originally appeared on Fool.com.
Suzanne Frey, an executive at Alphabet, is a member of The Motley Fool's board of directors. Andrew Tonner owns shares of Apple. The Motley Fool owns shares of and recommends Alphabet (A shares), Alphabet (C shares), Apple, Facebook, and Twitter. Try any of our Foolish newsletter services free for 30 days. We Fools may not all hold the same opinions, but we all believe that considering a diverse range of insights makes us better investors. The Motley Fool has a disclosure policy.
Copyright 1995 - 2015 The Motley Fool, LLC. All rights reserved. The Motley Fool has a disclosure policy.