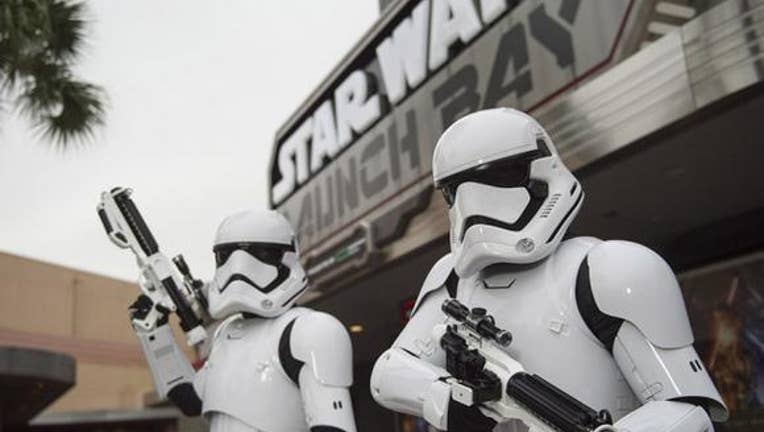 Image source: Disney.
There were plenty of balls in the air for The Walt Disney Company shareholders as 2015 came to a close. How big can Star Wars be in light of the record-setting theatrical debut of Star Wars: The Force Awakens? Can ESPN and Disney's other cable properties catch a break from cord cutters? Will upcoming theme park enhancements drive attendance higher?
The answers to these three questions will ultimately dictate whether 2016 is a winner or loser for Disney shareholders. We already went through some of the media giant'sbestand worst headlines of 2015. Now let's turn our attention to how things will play out for Disney stock in 2016.
We know what Wall Street thinks. They see revenue climbing 7% to top $56 billion in the fiscal year that ends next September. They see profits rising nearly 10% to hit $5.66 a share.
There are a lot of Star Wars fans and turnstile clicks baked into those growth targets, but it's certainly achievable given CEO Bob Iger's successful run at the helm of the House of Mouse. The key for Disney to deliver on its potential in 2016 is if it's able to convincingly more than offset any potential slides at its cable networks with big gains elsewhere.
There are plenty of things going well at Disney these days. Its theme parks are cranking out record results, and there are plenty of new attractions on the slate for 2016 and beyond to keep tourists coming. Theme parks represent Disney's second largest subsidiary, and as a scalable business a modest improvement on the top line can result in a big boost on the bottom line. Theme park revenue rose 7% in fiscal 2015, but segment operating income grew at a 14% clip.
Star Wars: The Force Awakens will naturally have a big impact on Disney's studio entertainment division, its third largest division. It will naturally also play nice with the media behemoth's fourth largest segment, consumer products. The film recently became the fastest film to top $1 billion in global box office receipts, and things are just getting started.
There's so much favorable momentum at Disney as it barrels into the 2016 calendar year, but then we get to the problem at media networks -- its largest subsidiary. Millennials are kissing their satellite and cable television providers goodbye, and that's leading to growing defections through Disney's network properties. Even the mighty ESPN -- the undisputed champ in live sports programming -- is back-pedaling. ESPN subscribers have fallen from 99 million in fiscal 2013 to 95 million in fiscal 2014 to just 92 million today.
It'sweakness at ESPNthat's been weighing on the shares since hitting an all-time high this summer. Disney is still managing modest growth at its media networks. The thinning base of subscribers are paying more and advertising is holding up with its end of the bargain. However, it is the only Disney subsidiary that didn't grow its operating profit in the double digits in fiscal 2015. It's a climate that will get even more challenging in 2016, now that it's so easy to cut the cord given the popularity of streaming video services.
Disney should come through with a market-beating return in 2016 if it's able to achieve stability on the media networks front, but even if it doesn't it has enough ammo elsewhere to still come through with what should be its seventh consecutive year of record financial results.
The article Will 2016 Be The Walt Disney Company's Best Year Yet? originally appeared on Fool.com.
Rick Munarriz owns shares of Walt Disney. The Motley Fool owns shares of and recommends Walt Disney. Try any of our Foolish newsletter services free for 30 days. We Fools may not all hold the same opinions, but we all believe that considering a diverse range of insights makes us better investors. The Motley Fool has a disclosure policy.
Copyright 1995 - 2015 The Motley Fool, LLC. All rights reserved. The Motley Fool has a disclosure policy.