Will 2016 Be Pioneer Natural Resources' Best Year Yet?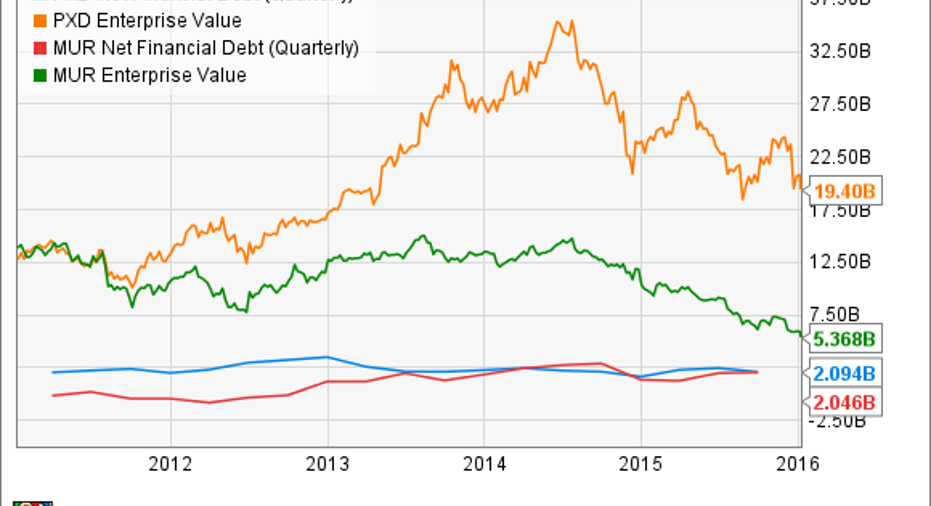 All things considered, Pioneer Natural Resources had a very strong year in 2015. While its stock price was down by double digits, it significantly outperformed oil and its peer group as measured by iShares U.S. Energy :
It was the best of times, it was the worst of times Despite the negative stock price performance, in a lot of ways 2015 could be considered one of the best years in the company's history. Production was 11% higher than its 2014 average and a lot higher than its initial estimates thanks to improved well performance. In fact, for the fourth quarter, the company expects its production to average 213,000 BOE/d to 215,000 BOE/d, which is well above its outlook of 206,000 BOE/d to 211,000 BOE/d.
That performance alone is noteworthy because some of its iShares U.S. Energy-held peers are seeing their production start to decline with Murphy Oil , for example, expecting its production to go from 207,586 BOE/d last quarter to just 199,000 BOE/d in the fourth quarter. That's not happening at Pioneer because it is drilling better-performing wells due to efficiency gains and it is drilling cheaper wells, with drilling and completion capital costs down 25% year over year. Those gains are a bit tougher for Murphy Oil to capture because it operates more expensive and less flexible offshore assets in addition to operating in a key North American shale play.
The other reason Pioneer Natural Resources can grow production is because it proactively boosted its balance sheet by cashing in on its Eagle Ford shale midstream unit just before the value for midstream assets plunged. That balance sheet strength enables Pioneer to continue to grow, which is a significant competitive advantage over its iShares U.S. Energy rivals, many of whom have weaker balance sheets. Murphy Oil, for example, has almost as much net debt as Pioneer despite being just a quarter of its size:
PXD Net Financial Debt (Quarterly) data by YCharts.
That debt is one reason why Murphy Oil stock was down 55% last year.
Having said that, despite the operational excellence and improvement to its already strong balance sheet, the price of oil cut deeply into Pioneer Natural Resources financial results in 2015. Despite the higher production, its cash flow from operations through the first nine months of the year is off by $1 billion, having fallen from $1.8 billion in 2014 to just $800 million over the same period of 2015. That's largely why the stock price slipped last year.
2016 could be more of the sameIn a lot of ways, 2016 is expected to be a repeat of 2015 with strong operational performance that's still being affected by weak oil prices. Operationally, Pioneer Natural Resources expects to deliver production growth of 10% to 15% over last year. That would again be record-setting production for the company.
That being said, while 85% of its production hedged, two-thirds of those hedges are three-way collars, which only cushion the downside. With the price of oil recently in the low $30s, its decline will have an impact on the company's cash flow in 2016. Furthermore, while the company can still make a decent drilling return north of 30% at the current oil price, its returns used to be in the 50%-60% range when oil was at the $50 oil just a couple of months ago.
Because of the weak oil price environment, it will be tough for the company to deliver its best year yet -- as measured not only by robust operating performance, but strong, oil-fueled drilling returns and cash flow, which are what's necessary to blast its stock price past its all-time high. That high was last reached in mid-2014, when the price of oil was north of $100 per barrel and before the company issued more than 10 million shares to bolster its balance sheet:
That dilution alone will make it much harder for the stock price to rebound past its all-time high, unless, of course, that capital is put to good use. However, its current plan to use that cash to drill wells that are only earning a 30% return clearly isn't the most lucrative outcome, especially when its returns would be so much higher if it waited until oil was north of $50 a barrel to drill wells to drive production growth.
Investor takeawayDepending on what metric is used, 2016 could be the best of times for Pioneer Natural Resources given that its production is expected to be its strongest ever. That being said, if cash flow and the share price are the metrics used, then investors shouldn't bank on a record year because the company simply won't be able to match the cash flow and returns it had been enjoying when oil was much higher.
The article Will 2016 Be Pioneer Natural Resources' Best Year Yet? originally appeared on Fool.com.
Matt DiLallo has no position in any stocks mentioned. The Motley Fool has no position in any of the stocks mentioned. Try any of our Foolish newsletter services free for 30 days. We Fools may not all hold the same opinions, but we all believe that considering a diverse range of insights makes us better investors. The Motley Fool has a disclosure policy.
Copyright 1995 - 2016 The Motley Fool, LLC. All rights reserved. The Motley Fool has a disclosure policy.