Will 2016 Be Nike, Inc.'s Best Year Yet?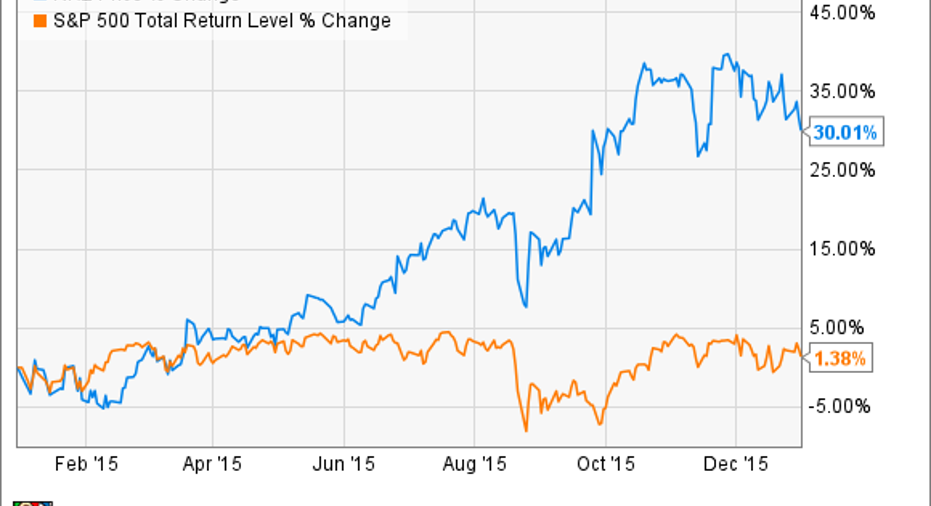 Without a doubt, 2015 was a great year for Nike investors. Despite the negative effects of foreign currency exchange holding back Nike's reported top-line growth, CEO Mark Parker made it clear early in the year that Nike's diverse product set and global scale meant the company viewed any macroeconomic turmoil as an advantage over the competition, and a prime opportunity to come out stronger in the end.
Nike consistently delivered one solid quarter after another, with an outsized focus on improving margins, fostering innovation in its products, and returning billions in capital to shareholders through dividends and stock repurchases.When all was said and done, Nike stock managed to climb an impressive 30% in 2015, handily outpacing the broader market's returns:
That also raises the question: Will 2016 be an even better year for Nike?
Nobody can accurately predict exactly where Nike stock will go in the near term. If Nike's long-term goals and shareholder-friendly initiatives are any indication, however, it seems almost certain that 2016willbe the best year ever for Nike from a business standpoint.
First -- and keeping in mind that Nike doesn't typically offer full-year financial guidance -- consider that, when Nike released its most recent quarterly results three weeks ago, it revealed that worldwide futures orders for NIKE brand footwear and apparel climbed 15% for the period from December 2015 through April 2016. On a currency-neutral basis, the same metric would have risen 20%.
Meanwhile, though gross margin is expected to fall around 50 basis points in the current quarter due to Nike's efforts to clear end-of-year inventory and efficiently bring new products to market, Nike expects gross margin to expand by around 50 basis points when all is said and done this fiscal year.As it stands, gross margin already sits near an all-time high for Nike, while trailing-12-month revenue and net income each continue to steadily rise to new company records.
NKE Gross Profit Margin (TTM)data byYCharts
We should also remember Nike's most recent quarterly results were technically held back by a 5% decline in revenue from Converse, to $398 million. That's still just a little more than 5% of Nike's total sales, but on the surface stands in stark contrast to the strong year-over-year growth Converse was exhibiting early in the year.
But perspective is in order. Specifically, Converse continues to enjoy strong growth in North America, and was held back by declines in the most-recent quarter in Europe. As I pointed out just prior to the report, however, management warned investors well in advance that Converse's year-over-year comparisons would be lumpy as it transitions to a "more direct operating model" outside the United States. After that new model is in place, it seems safe to expect Converse will resume its formerly strong growth on a global scale.
Finally, in October, Nike announced a new target of $50 billion in revenue by the end of fiscal 2020, representing a whopping 63% increase from fiscal 2015 revenue of $30.6 billion.In addition, Nike laid out realistic long-term plans to maintain high-single-digit to low-double-digit revenue growth, gross margin expansion of 30 to 50 basis points per year, earnings-per-share growth in the mid-teens, and continuously expanding returns on invested capital to a high-20% to low-30% range.
All the while, Nike will aim to grow free cash flow faster than net income. The company followed up in November by not only raising its quarterly dividend by 14%, but also approving a new $12 billion, four-year share-repurchase program to take effect when its current $8 billion program is exhausted (expected to be sometime before the end of this year).
These aren't the actions of a company expecting to lose ground in 2016. So whether the market deems it fit to bid up shares of Nike once again this year remains to be seen. But if Nike has its way, 2016 should be another banner year for the business.
The article Will 2016 Be Nike, Inc.'s Best Year Yet? originally appeared on Fool.com.
Steve Symington has no position in any stocks mentioned. The Motley Fool owns shares of and recommends Nike. Try any of our Foolish newsletter services free for 30 days. We Fools may not all hold the same opinions, but we all believe that considering a diverse range of insights makes us better investors. The Motley Fool has a disclosure policy.
Copyright 1995 - 2016 The Motley Fool, LLC. All rights reserved. The Motley Fool has a disclosure policy.