Will 2016 Be J.C. Penney Company, Inc.'s Best Year Yet?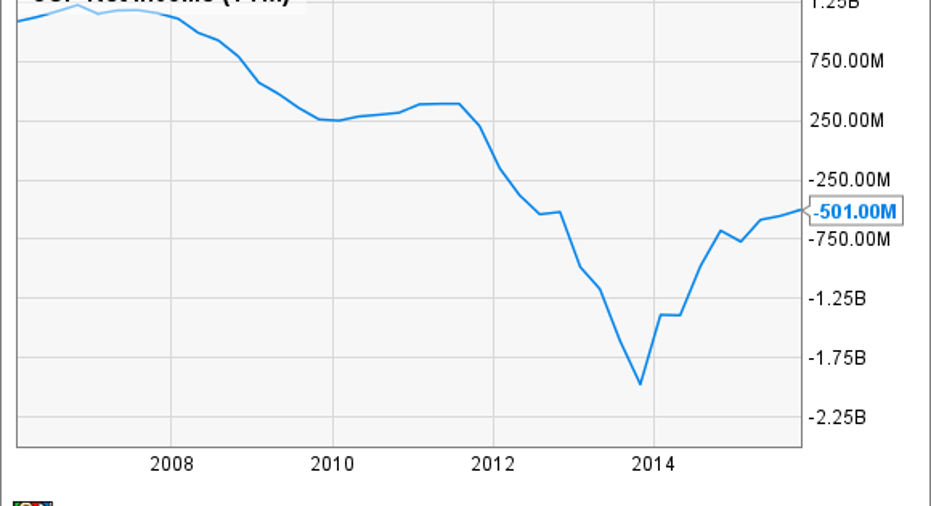 2016 won't beJ.C. Penney Company's best year ever, but it will almost certainly be its best year since 2011.
That was the last year the venerable retailer posted a profit, before the debacle that was Ron Johnson's brief tenure. Johnson jettisoned discounts, private-label brands, and other features that made Penney's customers loyal. Same-store sales plummeted by 25% in 2012, and Johnson was quickly ushered out of the executive chair.
Fast forward to now and Penney's is slowly putting its brand and business back together. First, under returning CEO Myron Ullman and now Marvin Ellison, the company has steadily chipped away at a net loss that reached nearly $2 billion in 2013.
JCP Net Income (TTM) data by YCharts
J.C. Penney's same-store sales also turned positive in late 2013, and the company's performance has been improving since. The retailer is set to report its first quarterly profit since 2011 as it benefits from tailwinds from the holiday shopping season, but analysts still expect it to report a full-year loss of more than $300 million.
Looking ahead to next year, J.C. Penney's net loss is expected to slim once again, but analysts don't see it turning a full-year profit until 2017.
2016 will also mark Marvin Ellison's first full year as Penney's CEO after taking the helm in August, and with it an opportunity to fully move past the doldrums of the Johnson era. In many ways, 2016 will be shaped by Ellison's strategy for the department store chain.
What new leadership will bringHe plans to slow the pace of store closures, seeing an opportunity in physical real estate. Penney closed 40 stores this year and 33 the year before, but still has 1,020 in its fleet.That figure gives it a bigger footprint than rival Macy's,which is much larger in terms of sales and market value.
Penney's sales per square foot in 2014 fell to $155, down from $210 in 2010, and well below the industry average of $508.Given those figures, closing stores may seem like a wise strategy, but Ellison says that many of Penney's outposts in rural locations are its most profitable, having virtual monopolies, and that its network of stores is more valuable as it grows in the e-commerce market. Omnichannel has become a buzzword in retail, and keeping its real estate allows Penney to implement programs like ship-from-store and in-store pick-up.
Its partnership with Sephora is another way Penney is adapting to the future. It announced earlier this year that it would add 25 new Sephora locations in it stores, and I would expect the program to continue to expand as it's been one of the rare positives for the retailer over the last few years.
Improving its technology is another area that Ellison plans to focus on. The company has "tons of data" but doesn't do anything with it, he said at a recent conference.Better use of that information could lead to improved inventory management, better customer relations, and lower prices from suppliers. Ultimately, it adds up to better, more profitable business.
Low-profile improvements like better use of its data trove should typify 2016 for J.C. Penney, as the big fixes that needed to be implemented following Johnson's departure have mostly been taken care of. J.C. Penney still has a long way to go toward returning to full health, but the company is clearly taking steps in the right direction.
The article Will 2016 Be J.C. Penney Company, Inc.'s Best Year Yet? originally appeared on Fool.com.
Jeremy Bowman has no position in any stocks mentioned. The Motley Fool has no position in any of the stocks mentioned. Try any of our Foolish newsletter services free for 30 days. We Fools may not all hold the same opinions, but we all believe that considering a diverse range of insights makes us better investors. The Motley Fool has a disclosure policy.
Copyright 1995 - 2015 The Motley Fool, LLC. All rights reserved. The Motley Fool has a disclosure policy.