Will 2016 Be GlaxoSmithKline plc's Best Year Yet?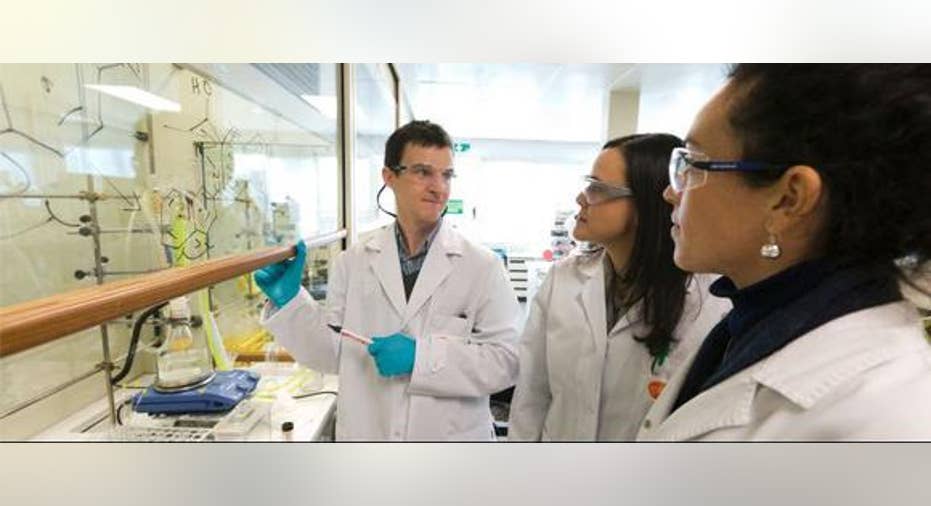 Image source: GlaxoSmithKline.
Although the broad-based market was relatively flat this year, some investors are certainly happy to put 2015 in the rearview mirror. Shareholders of U.K.-based pharma giant GlaxoSmithKline are a good example.
A year shareholders would prefer to forget In 2015, GlaxoSmithKline shares wound up sinking more than 5%, which is truly a disappointment because shares were up by nearly 15% as of mid-March. The culprit for GlaxoSmithKline's miserable year? Once again, its respiratory franchise takes the blame.
GlaxoSmithKline has taken a double hit in each of the past two years thanks to its respiratory franchise. On one end, GlaxoSmithKline is dealing with the imminent entrance of generic equivalents to Advair. Though GlaxoSmithKline is pretty confident that a generic won't rear its head in 2016, the Food and Drug Administration outlining the steps needed to bring a generic to market in September 2013 makes the emergence of one almost a guarantee within the next one to three years. At its peak, annual sales of this COPD and asthma maintenance therapy topped $8 billion. When all is said and done in fiscal 2015, Advair (which is sold as Seretide in overseas markets) will likely produce less than $5 billion in sales.
Image source: GlaxoSmithKline.
On the other side of the coin, Glaxo's next-generation respiratory drugs have struggled to get out of the gate. Developed in collaboration with Theravance , first Breo Ellipta, then Anoro Ellipta, saw sluggish sales following their launch.
Making matters worse, the SUMMIT study, which examined whether or not Breo Ellipta could lower the risk of death for patients taking the drug relative to the placebo, missed the mark. Although there was a slight trend in favor of Breo Ellipta, the results ultimately weren't statistically significant. Even with Glaxo not counting on SUMMIT to drive Breo sales higher, the failure of Breo to reduce the overall risk of death was viewed as a disappointment -- especially to Theravance's much smaller product portfolio.
Will 2016 be GlaxoSmithKline's best year yet? But could 2016 turn GlaxoSmithKline shareholders' frowns upside down? My opinion is that it's highly unlikely, with Glaxo set to face a number of hurdles this year.
For starters (and yes I'm aware this sounds like a broken record), respiratory franchise issues haven't been resolved.
The good news is the hurdles Breo Ellipta faced in the early going -- namely obtaining insurer coverage -- have been put in the rearview mirror. In the third quarter, Breo sales crept above the $125 million mark, meaning it's on pace for slightly more than a half-billion in annual extrapolated sales. Growth may be more modest in 2016, but Breo looks to have the green light for success.
The bad news is that Anoro Ellipta is now a problem. Through nine months of fiscal 2015 Anoro has generated just shy of $100 million. Glaxo noted that the big problem with Anoro is the mind-set of physician and patients who've been taking Advair or Spiriva for years. Though a new option exists (Anoro), getting its target audience to realize this is a time-consuming and costly affair. Expect progress on Anoro in 2016, but don't expect its ramp-up to match Breo's sales trajectory.
Image source: GlaxoSmithKline.
The other issue is that GlaxoSmithKline is suffering from (expected) margin contraction. Earlier this year GlaxoSmithKline and Novartis closed a three-tiered asset swap which sent Glaxo's oncology franchise to Novartis for as much as $16 billion, Novartis' vaccine franchise (sans influenza) to Glaxo for around $7 billion, and saw the two companies form a joint-venture for their consumer health product segments. While the asset swap does boost Glaxo's cash balance, and the consumer health products joint venture should bolster pricing power and efficiency, the addition of Novartis' vaccines segment could continue to pressure Glaxo's margins.
Vaccines usually sport a lower price point relative to other branded drugs, and vaccine developers rely on volume, rather than margins, to drive profits. This isn't to say Glaxo's move to acquire Novartis' vaccine franchise is a bad one -- it should actually bolster Glaxo's long-term profits -- but investors may struggle to come to terms with Glaxo's shrinking margins.
Things to look forward to Of course, it won't be all bad for GlaxoSmithKline shareholders in 2016.
For instance, GlaxoSmithKline has repeatedly stated that it will stick with its market-topping dividend despite near-term weakness in its respiratory franchise. GlaxoSmithKline's management understands full well that its superior dividend plays a big role in supporting its current valuation, and the asset swap with Novartis landed the company a windfall of more than $9 billion in cash which should further help buoy its payout.
GlaxoSmithKline's HIV franchise has also been a major bright spot, and should continue to deliver substantial growth in 2016. Developed by ViiV Healthcare, which is majority-owned by GlaxoSmithKline, Tivicay and Triumeq have generated $628 million and $669 million in sales through the first nine months of fiscal 2015. Triumeq is the therapy most worth keeping an eye on because of its next-generation formulation. Triumeq doesn't use a "booster," which is believed to give it a potentially better safety profile than Gilead Sciences'blockbuster HIV drug Stribild. Stribild uses cobicstat to raise the blood levels of elvitegravir, but elvitegravir has been shown to come with a host of possible adverse drug interactions.
Image source: GlaxoSmithKline.
Should GlaxoSmithKline be in your portfolio in 2016? Now for the big question: Should GlaxoSmithKline be in your portfolio in 2016 in spite of the challenges that lie ahead? The answer, I'd suggest, depends on your investment timeframe.
In terms of volatility GlaxoSmithKline ranks pretty low, so risk tolerance isn't a huge concern for investors. Even with Advair sales expected to dip by another $3 billion by the end of the decade according to management, the company is expected to remain healthfully cash flow positive.
The decision to invest comes down to whether or not you have the patience to wait what could be one, two, or even five years for a potential turnaround in Glaxo's top- and bottom-line. Don't get me wrong, you could see double-digit EPS growth in 2016; but a lot of this has to do with the asset swap and Glaxo's rigorous cost-cutting efforts. We're still not seeing much in the way of juicy organic growth beyond its HIV franchise -- and that's a bit concerning. It appears that you'll be rewarded well for the wait with Glaxo yielding in excess of 5%, but it's also possible that Glaxo's market valuation could have a ceiling until its respiratory franchise demonstrates substantial growth.
The article Will 2016 Be GlaxoSmithKline plc's Best Year Yet? originally appeared on Fool.com.
Sean Williamshas no material interest in any companies mentioned in this article. You can follow him on CAPS under the screen nameTMFUltraLong, track every pick he makes under the screen nameTrackUltraLong, and check him out on Twitter, where he goes by the handle@TMFUltraLong.The Motley Fool owns shares of and recommends Gilead Sciences. Try any of our Foolish newsletter services free for 30 days. We Fools may not all hold the same opinions, but we all believe that considering a diverse range of insights makes us better investors. The Motley Fool has a disclosure policy.
Copyright 1995 - 2016 The Motley Fool, LLC. All rights reserved. The Motley Fool has a disclosure policy.