Will 2016 Be Freeport-McMoRan Inc.'s Best Year Yet?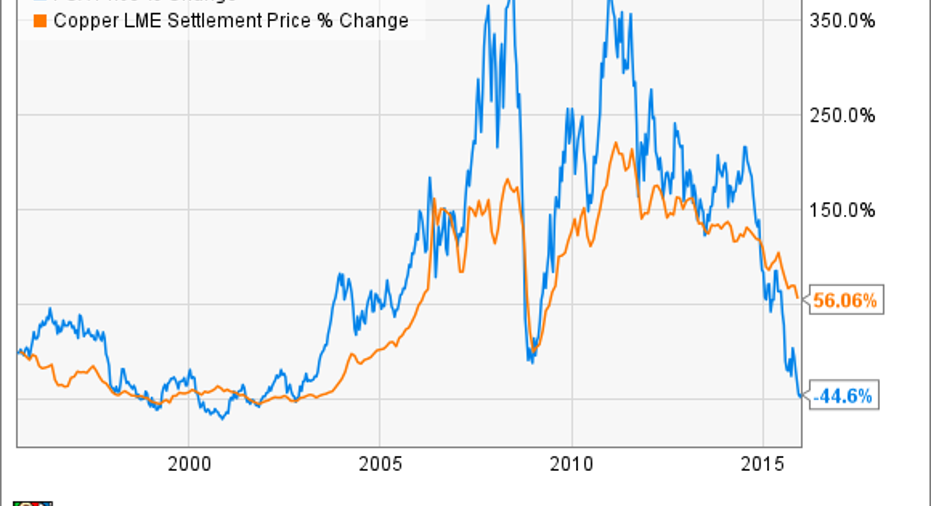 A case could be made that 2015 was the worst year in Freeport-McMoRan's history. Weakening commodity prices, combined with a debt-laden balance sheet, led to a devastating plunge in its stock price, which ended the year down 71.3%. The company was also forced to reduce and then suspend its dividend, after paying one for more than two decades. Clearly, it has a lot of issues to work through to engineer a turnaround. Here's what needs to happen for 2016 to be its best year yet.
Copper needs to come back, big timeAs the world's second largest copper producer, Freeport-McMoRan needs that metal to rebound in 2016. The following chart makes it clear that the company's stock price is very much correlated to the price of copper.
That correlation is for good reason: Every $0.10-per-pound change in the price of copper yields a $320 million change in the company's operational cash flows. The following slide shows that an improvement in the price of copper in 2016 back to the $3.25 per pound it fetched in 2014 would boost its operational cash flow to nearly $9 billion:
Data source: Freeport-McMoRan investor presentation.
For perspective, that would provide upwards of $5 billion in free cash flow in 2016 after accounting for the roughly $4 billion in planned capex spend. For a company with a current market cap of around $7 billion, that would significantly improve its valuation metrics, which would more than likely send the stock much higher. Furthermore, that cash would enable it to make a big dent in its more than $20 billion debt load, which is what has been weighing heavily on its stock price.
Many in the copper industry are very bullish on its prospects despite the current price weakness. Rio Tinto is one that sees a global supply crunch on the horizon. Jean-Sebastien Jacques, the CEO of its copper and gold group, recently said in an interview that Rio Tinto is "very bullish on copper" and that it believes "it is the right commodity." That's because the world's large open-pit mines are digging deeper and into lower-grade ores, which means that new mines, like the ones Rio Tinto and Freeport-McMoRan are building, will be necessary to make up the difference between copper production and global demand. It's that looming supply demand imbalance that should lead to higher future copper prices.
A good outcome for its oil and gas businessThe other big weight on Freeport's stock has been its ill-timed oil and gas acquisitions. Like copper, the change in the price of oil has had a big impact on cash flow, with each $5-per-barrel price change leading to a $170 million change in its operating cash flow. So, like copper, an improvement in the price of oil would help fuel a rebound in Freeport's stock price.
That being said, investors never liked the company's oil and gas acquisitions in the first place and Freeporthas come to the realization that this wasn't its best move. It has been considering its options for the business and is casting a wide net, including seeking financial partners as well as pursuing an IPO for a minority stake in the business or even an outright sale of the entire business. While the company has talked up its various options many times, it has yet to pull the trigger on any deals.
This lack of action weighed on the stock in 2015. Suffice it to say, it now needs to do something, with the best course of action being a transaction that brings immediate value into the company while also enabling Freeport to hold on to some of the future value it has been creating by continuing to develop its oil and gas assets. A partial sale of the business that eventually leads to a full exit appears to be the only option that accomplishes both goals.
Investor takeawayAfter a very tough 2015, Freeport-McMoRan investors are hoping for a rebound in 2016. That's not beyond the realm of possibility given the fact that a rebound in copper and oil prices alone could send the stock soaring. Such a rebound would lead to cash pouring into its coffers, enabling the company to pay down debt and potentially capturing a higher value for its oil and gas assets.
Having said all that, expecting copper and oil prices to recapture their former highs next year is asking a whole lot. So, while Freeport could rebound sharply next year, investors shouldn't bank on a record-setting year for the company.
The article Will 2016 Be Freeport-McMoRan Inc.'s Best Year Yet? originally appeared on Fool.com.
Matt DiLallo has no position in any stocks mentioned. The Motley Fool owns shares of Freeport-McMoRan Copper & Gold. Try any of our Foolish newsletter services free for 30 days. We Fools may not all hold the same opinions, but we all believe that considering a diverse range of insights makes us better investors. The Motley Fool has a disclosure policy.
Copyright 1995 - 2016 The Motley Fool, LLC. All rights reserved. The Motley Fool has a disclosure policy.