Will 2016 Be Ford Motor Companys Best Year Yet?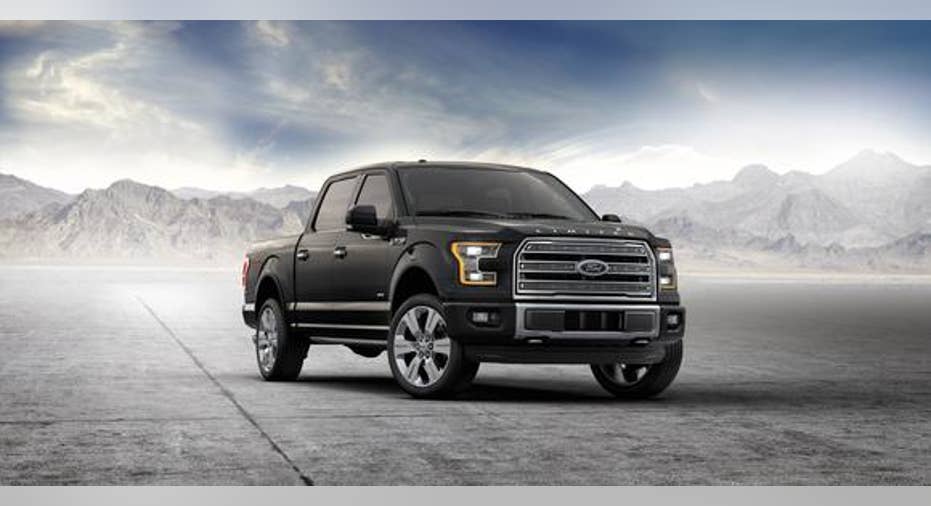 The plush new top-of-the-line 2016 F-150 Limited could help boost Ford's bottom line in the coming year if demand for luxury trucks remains strong. Image source: Ford Motor Company.
Will 2016 be Ford's best year ever? It's possible --at least when it comes to profitability.
Many of the initiatives set in motion by CEO Mark Fields and his predecessor, Alan Mulally, during the last several years are just now starting to pay off. It's possible that 2016 could be the year in which we finally start to see the potential of the globalized "One Ford" that Mulally and Fields had in mind way back in 2006.
But it's also possible that events outside of Ford's control could make 2016 a tougher year than we expect.
Why 2016 could be great for FordRight now, U.S. auto sales are booming. In fact, most analysts agree that 2015 will turn out to be the best year ever for new-vehicle sales in the United States when results are reported next week. Better yet for Ford, demand for SUVs and pickup trucks, Ford's most profitable products, has soared.
Even better, Ford just finished rolling out all-new versions of its F-150 pickup and Edge SUV, along with a revised version of its bigger Explorer SUV. In 2016, it will launch all-new versions of its Super Duty pickups, along with an overhauled version of the compact Escape SUV. Simply put, by the end of 2016, Ford's most profitable products, in the hottest segments of the market, will be fresh and competitive.
The revised-for-2016 Ford Explorer has been selling almost as quickly as Ford can make them. Image source: Ford Motor Company.
That should translate into big sales numbers with minimal need for discounts -- always the most profitable situation for an automaker. (But hold on to this thought, as we'll be revisiting it shortly.)
Meanwhile, Ford's overseas units could also make big contributions in 2016. Ford has been making big investments in expansion in Asia for several years now. The Chinese new-vehicle market slowed in 2015 after several years of strong growth. But if it bounces, Ford is in a great position to continue gaining market share.
In Europe, 2016 could be the year when Ford finally shows a profit after several years of losses. The restructuring plan for Ford Europe, set in motion by Mulally back in 2012, called for factory closures, new products, changes to dealer efforts, and an organizational overhaul. Much of that work has been done.
Ford Europe was originally expected to break even in 2015. The turnaround has been held back to some extent by tough economic conditions in Russia, where Ford has made a substantial investment. But Ford's sales and market share in Western Europe have been rising, in part at the expense of troubled rival Volkswagen , which is contending with a massive emissions-cheating scandal.
It's very possible that Ford Europe won't make much of a profit in 2016, but even a breakeven result would be a big improvement over the billions in losses it has posted since 2012.
Why 2016 could be not-so-great for Ford It's easy to see how Asia could turn out to be just so-so -- if China's economy gets worse instead of better. It's also easy to see how Europe could end up generating another loss -- economic trouble in a market like Germany, or worse-than-expected challenges in Russia.
What might not be as easy to see is how the U.S.'s booming auto market could turn out to be a mixed blessing for the Blue Oval. Absent some sort of surprise economic disruption, new-vehicle sales in the U.S. are likely to be strong again in 2016. But they might not be much stronger than they were this past year. Put another way, year-over-year growth might be hard to get.
If China's slowdown deepens, Ford's Asian profits could be at risk in 2016. Image source: Ford Motor Company.
That could lead some of Ford's competitors to boost their discounting in order to try to generate bigger year-over-year sales gains. Toyota, in particular, could afford such a move, as it has been generating huge windfall profits thanks to favorable exchange-rate shifts.
Ford, like rival General Motors , has so far been quite disciplined with its incentive spending during this economic cycle. That's a big part of why its profit margins in North America have been so impressive. But if Ford finds it necessary to boost its discounts in the face of competitive pressure, those fat margins will come under pressure, as well.
The upshot: Things look good, but it's never a sure betOn balance, 2016 looks likely to be a good year for Ford. And while it's easy to see how the year could turn out to be less than excellent, I'm not sure that means a whole lot for longer-term investors who are already holding Ford.
As investors, here's what we know: Ford has a very good, battle-tested management team. It has strong, fresh products in the market's most-important segments, and a cash reserve that should be ample to keep product development going through a major economic downturn. It's paying a decent dividend, and it's working to ensure that its dividend is sustainable over time.
That will all be true whether 2016 is great, or not so great.
The article Will 2016 Be Ford Motor Companys Best Year Yet? originally appeared on Fool.com.
John Rosevear owns shares of Ford and General Motors. The Motley Fool recommends Ford and General Motors. Try any of our Foolish newsletter services free for 30 days. We Fools may not all hold the same opinions, but we all believe that considering a diverse range of insights makes us better investors. The Motley Fool has a disclosure policy.
Copyright 1995 - 2016 The Motley Fool, LLC. All rights reserved. The Motley Fool has a disclosure policy.