Will 2016 Be Apple Inc.'s Best Year Yet?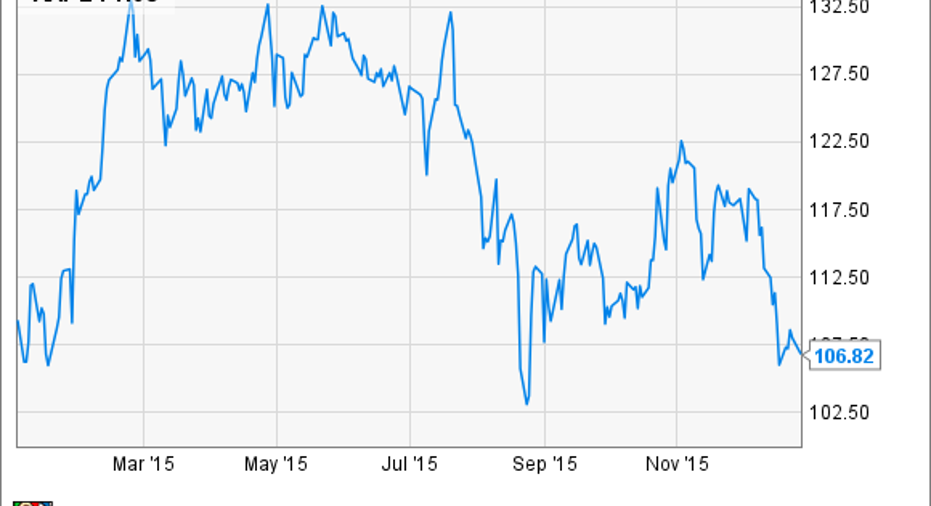 In becoming the biggest company in the world by market cap, Apple has built a company that tends to turn like a cruise ship. It takes a long time for any change to make a big impact, and even things that would effect smaller companies barely cause a ripple.
If most companies released a product that cost as much to develop as Apple Watch, its success or failure could literally make or sink the business. For Apple, however, even a $1 billion segment such as its set-top television boxes could disappear and it would only be a rounding error. That's the case when you do $234 billion in revenue a year (as of fiscal 2015).
You could argue that in producing that revenue -- a 28% improvement over fiscal 2014 -- Apple just had its best year ever. That doesn't mean the best is not yet to come, though, and there are two ways Apple could make 2016 its best year yet.
The stock market was not kind to Apple at the end of the year. Source: YCharts.com.
How can Apple have a big year?There are only two ways Apple can massively change its business in the short term. The first is to release a new, game-changing product. That seems unlikely in 2016, as there are no major rumors that the company has a major release planned.
The company could see big increases in its watch business or really grow Apple TV, and it won't lead to its best year ever. To do that, it would need to create something as big as another iPod or iPhone. It's possible that an Apple car could be that transformative, but the odds that one will be released in the next 12 months are essentially zero.
That means the only way Apple could post its best year ever is the second way -- by increasing iPhone sales. The company's smartphone represented over 60% of its revenue in 2015, according to data from Statista, so a big increase could power it to a record year.
It's very possible that will happen, leading Apple to its best year ever.
Why might iPhone sales hit a record?Apple refreshes the iPhone at a regular cadence, which suggests the iPhone 7 will hit shelves in the fall of 2016. This could become the biggest and fastest-ever-selling phone from the company, for a number of reasons.
First, iPhone releases have become events, and the new model number year is generally a bigger deal than the alternate "s" year. In this case, iPhone 7 is expected to be thinner, perhaps no longer have a physical home button, and who knows what else. It may not have anything as important as when Siri was added or when the connector was switched to the current Lightning hookup, but it's almost certain that the company will have something big planned for the new model.
In addition, Apple should benefit from how the smartphone market has shifted in recent years. All four major carriers used to rely upon two-year contracts to sell consumers subsidized smartphones. That locked people into a device for 24 months unless they paid it off.
The near death of that model has made it easier for people -- specifically Sprint and T-Mobile customers -- to get a new phone every year. T-Mobile, through its Jump! On Demand program, lets users trade in their phones for a new one up to three times a year with penalty (but the financing clock starts anew). Sprint has something similar with its iPhone for Life program, a leasing plan in which customers never own their phone but are always assured they will have the latest iPhone.
T-Mobile especially has been a company on the rise, and both it and Sprint have new networks that work well with the latest iPhones. That, coupled with good plan pricing, could lead the third- and fourth-place wireless carriers to more -- maybe a lot more -- market share in the coming year.
In addition, it has been heavily rumored that Apple will introduce a new model with a 4-inch screen to replace the now-outdated iPhone 5s. If it does that, it would have a model that appeals to people who simply don't want the 4.7-inch screen, which has now become the standard.
2015 looks greatThe next year looks strong for the iPhone and thereby strong for Apple. Everything is in place for the iPhone 7 to be the most popular phone ever sold. If you match that with Apple's adding a slightly downmarket but still top-tier 4-inch phone, then the company could grow its already impressive market share.
If that happens and the rest of the company's business segments keep churning along, then it should have a shot at scoring its best year ever.
The article Will 2016 Be Apple Inc.'s Best Year Yet? originally appeared on Fool.com.
Daniel Kline owns shares of Apple. He will get the new iPhone on release day even if it only has a new sticker saying iPhone 7. The Motley Fool owns shares of and recommends Apple. Try any of our Foolish newsletter services free for 30 days. We Fools may not all hold the same opinions, but we all believe that considering a diverse range of insights makes us better investors. The Motley Fool has a disclosure policy.
Copyright 1995 - 2016 The Motley Fool, LLC. All rights reserved. The Motley Fool has a disclosure policy.