Why Zumiez, Inc. Stock Fell 16% in April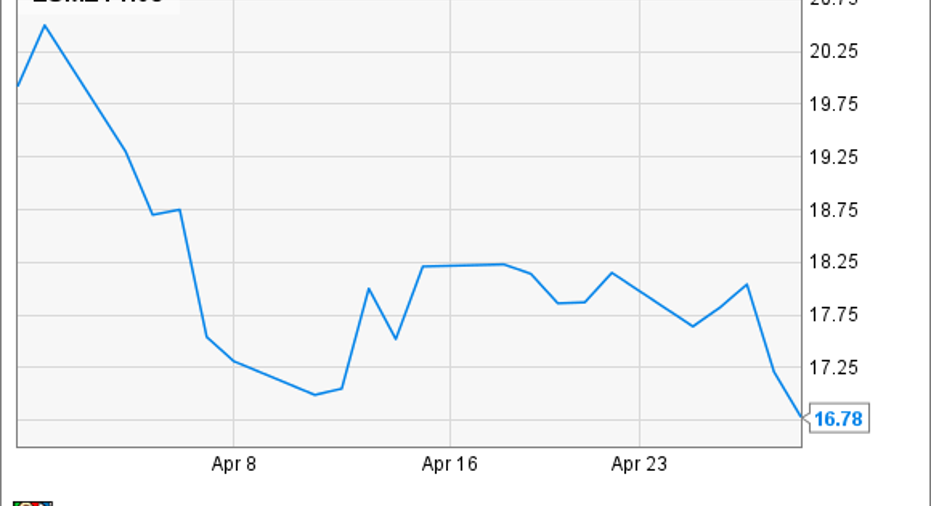 What:Shares of surf-and-skate apparel retailerZumiez were biting the dust last month, falling 16%, according to data fromS&P Global Market Intelligence. The drop was primarily due to a weak monthly sales report for March as most of the stock's descent took place in the days after the report came out on April 6.
So what:Zumiez said comparable sales fell 7.8% in March, worse than the 5.5% drop in the same period a year ago. Overall sales decreased 2.6% to $68.8 million. Management blamed a shift in the Easter holiday for the decline in comps, saying that it expected a recovery in April.
The slide tracked with a number of apparel retailers that reported disappointing monthly sales in March, includingGap,where comps fell 5%. Several other apparel retailers and department-store chains fell by 10% or more last month on general weakness in the industry.
Now what:Zumiez shares began a long slide around this time last year that has wiped out more than 50% of is value as comps have tumbled. So it's disappointing that even as it laps a 5.5% drop, that same-store decline has gotten worse. April same-store sales were almost as bad, slumping 6% against expectations of a 5.4% drop.
Management has acknowledged that its merchandise selection has been off at times, and overexpansion seems to be a problem as well. The company is now eyeing a loss of about $0.11 per share for the first quarter. With comparable sales falling in the high single digits, things may only get worse.
The article Why Zumiez, Inc. Stock Fell 16% in April originally appeared on Fool.com.
Jeremy Bowman has no position in any stocks mentioned. The Motley Fool has no position in any of the stocks mentioned. Try any of our Foolish newsletter services free for 30 days. We Fools may not all hold the same opinions, but we all believe that considering a diverse range of insights makes us better investors. The Motley Fool has a disclosure policy.
Copyright 1995 - 2016 The Motley Fool, LLC. All rights reserved. The Motley Fool has a disclosure policy.