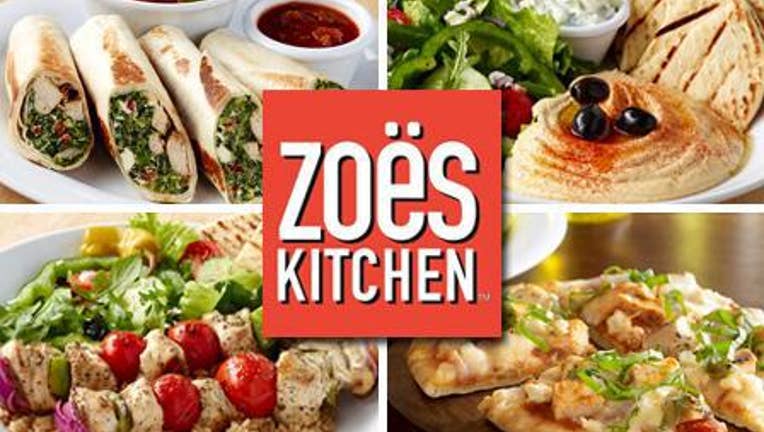 Image source: Zoe's Kitchen.
What:Shares ofZoe's Kitchen climbed 25.7% in the month of February, according to data provided byS&P Global Market Intelligence, driven by the Mediterranean fast-casual restaurant chain's strong fourth-quarter 2015 results.
So what:Zoe's quarterly revenue climbed 31.7% year over year, to $52.7 million, helped by both new locations and a 7.7% increase in comparable-restaurant sales. Within the latter, Zoe's enjoyed a 2.8% increase in foot traffic, as well as 0.4% growth from price increases and a 4.5% boost from favorable product mix. Meanwhile, the chain did post an adjusted net loss of $500,000, or $0.03 per share. But that was narrowed from a $0.04-per-share loss in the same year-ago period. And analysts, on average, were anticipating a wider net loss of $0.06 per share on revenue of just $50.5 million.
As it stands, that marked Zoe's sixth straight year of positive comparable-restaurant sales growth, while the company continues to anticipate investing in its key strategic initiatives to drive sustained growth for the foreseeable future.
Now what:Looking forward, Zoe's anticipates full-year 2016 revenue between $275 million and $280 million -- or growth of roughly 22.5% at the midpoint -- driven by the opening of 34 to 36 new company-owned locations, and comparable-store sales growth of 4% to 5.5%. And though Zoe's lack of bottom-line profitability might seem concerning at first glance, note that its focus on investing in new company-owned locations indeed comes at a cost in the near term, especially in these early stages as Zoe's works to build scale.
Over the long term, however, with its excellent unit-level economics -- including an average three-year cash-on-cash return of 30% for each new location and an outstanding goal to at least double its restaurant base over the next four years -- I think investors willing to buy now and patiently hold Zoe's Kitchen stock will be handsomely rewarded as that growth story unfolds.
The article Why Zoe's Kitchen, Inc. Stock Popped 25.7% in February originally appeared on Fool.com.
Steve Symington has no position in any stocks mentioned. The Motley Fool owns shares of and recommends Zoe's Kitchen. Try any of our Foolish newsletter services free for 30 days. We Fools may not all hold the same opinions, but we all believe that considering a diverse range of insights makes us better investors. The Motley Fool has a disclosure policy.
Copyright 1995 - 2016 The Motley Fool, LLC. All rights reserved. The Motley Fool has a disclosure policy.