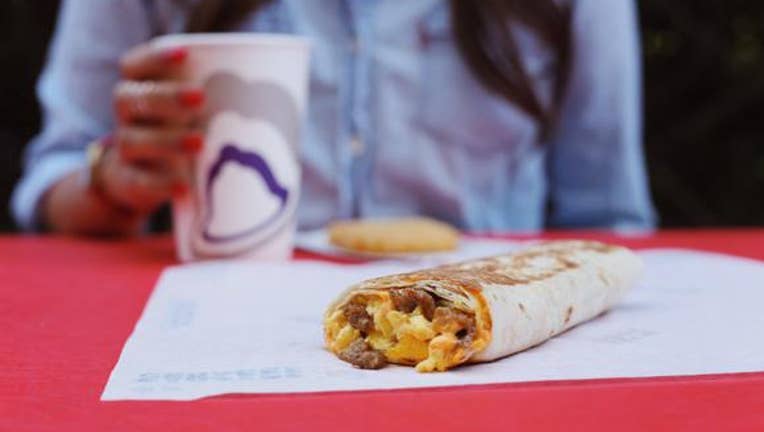 $1 grilled breakfast burritos are among Taco Bell's new breakfast options, Image source: Yum! Brands
What: Shares of Yum! Brands, jumped 12.9% in the month of March,according to data provided by S&PGlobal Market Intelligence, thanks to a combination of the broader market climbing and the company's new breakfast menu strategy at Taco Bell.
So what: First, the S&P 500 climbed almost 7% last month, so you can be sure Yum! shareholders were happy to rise with the tide.
Meanwhile, Taco Bell has already proven a bright spot for Yum! Brands of late; the Mexican-style fast food chain achieved 10% comparable-store sales growth in Yum!'s most recent quarter, helping drive the company's comps all year. By comparison, Yum!'s KFC chain turned in respectable 8% comps growth, while Pizza Hut managed to increase comps 2% over the same period. Taco Bell also led the way with 12% operating profit growth in Q4, outpacing Yum!'s consolidated 8% increase for the metric.
But Yum! is obviously hoping the March 10, 2016 nationwide rollout of Taco Bell's new $1 Morning Value Menu will help accelerate that momentum. The company stated in a tongue-in-cheek press release:
Now what: The menu change comes almost exactly two years after Yum! Brands introduced breakfast at Taco Bell in the first place. And perhaps more significantly, it arrives as McDonald's has not only enjoyed a successful shift to its own all-day breakfast model, but also ditched its its old "Dollar Menu & More" menu options for a higher-priced "McPick 2 for $5" model.
As it stands, it's too early to tell whether Yum! Brands' bet will pay off. But given Taco Bell's recent strength, new breakfast model, and the broader market's climb, it was no surprise to see shares of Yum! Brands trading significantly higher last month.
The article Why Yum! Brands, Inc. Stock Jumped 12.9% in March originally appeared on Fool.com.
More from The Motley Fool
Steve Symington has no position in any stocks mentioned. The Motley Fool has no position in any of the stocks mentioned. Try any of our Foolish newsletter services free for 30 days. We Fools may not all hold the same opinions, but we all believe that considering a diverse range of insights makes us better investors. The Motley Fool has a disclosure policy.
Copyright 1995 - 2016 The Motley Fool, LLC. All rights reserved. The Motley Fool has a disclosure policy.