Why YRC Worldwide, Fossil Group, and Sears Holdings Slumped Today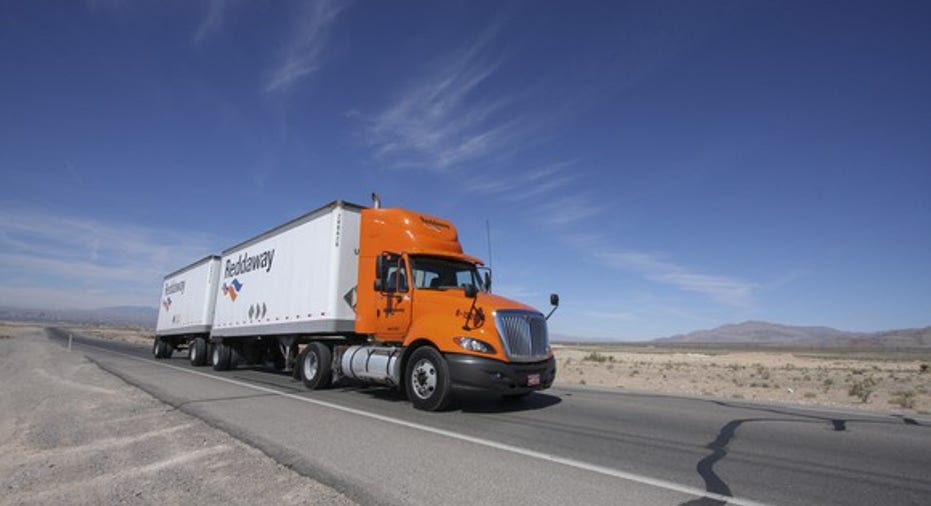 The stock market performed reasonably well on Tuesday, with modest gains for the major market benchmarks. The Nasdaq Composite and Dow Jones Industrials both climbed to intraday all-time record highs before giving back some of those gains, and investors seemed generally content with the current balance of market risks and opportunities. A number of positive reports on the earnings front helped to offset general unease about the unpredictable nature of the geopolitical and global economic situation right now, but some stocks failed to enjoy benefits from the current climate. YRC Worldwide (NASDAQ: YRCW), Fossil Group (NASDAQ: FOSL), and Sears Holdings (NASDAQ: SHLD) were among the worst performers on the day. Below, we'll look more closely at these stocks to tell you why they did so poorly.
YRC Worldwide breaks down
Shares of YRC Worldwide dropped 12% after the company reported fourth-quarter financial results that didn't live up to investor expectations. Revenue was up less than 1% from the year-ago quarter, and the company narrowed its net loss to $7.5 million, or $0.23 per share. However, although shipping volumes as measured in tonnage per day at its YRC Freight facility were up, CEO James Welch noted that revenue dropped on a per-hundredweight basis, hurting its ability to weather rising costs during the quarter. The company has worked hard to put itself in a better position, maintaining pricing discipline and cutting back on long-term debt. Nevertheless, YRC needs better industry conditions in order to realize fully the efficiency gains it has sought to achieve.
Image source: YRC Worldwide.
Fossil moves down in sympathy
Fossil Group stock fell 7% on a tough day for companies in the luxury retail space. Industry peer Michael Kors (NYSE: KORS), which is one of the brands for which Fossil provides licensed products, reported a big drop in comparable sales during the holiday season, joining the growing group of retailers that have had to handle difficult conditions recently. Fossil is slated to report its results on Feb. 14, and investors are already bracing for a decline in revenue and a more-than-20% fall in earnings per share. With similarly situated companies struggling even under economic conditions that have been fairly benign for a long time, Fossil has to be concerned that it will have to work hard to find growth opportunities in the current luxury retail market.
Sears Holdings faces new challenges
Finally, shares of Sears Holdings declined 13%. The beleaguered department store retailer is reportedly dealing with new pressures on its ongoing viability, with recent prices of credit default swaps on Sears climbing to unprecedented heights. Credit default swaps are derivatives that allow investors to get a payout if a company defaults on its bond obligations, and what the readings on Sears mean is that bond market participants believe that the risk of a Sears bankruptcy or other default event is extremely high. Given all the headwinds that the department store retailer has faced in recent years, that risk shouldn't come as news to investors, but it could be just one more mark against the company that will add to investor distrust in its long-term prospects for the future.
Offer from the Motley Fool: The 10 best stocks to buy now
Motley Fool co-founders Tom and David Gardner have spent more than a decade beating the market. In fact, the newsletter they run, Motley Fool Stock Advisor, has tripled the S&P 500!*
Tom and David just revealed their ten top stock picks for investors to buy right now.
Click here to get access to the full list!
*Stock Advisor returns as of 1/30/2017
Dan Caplinger has no position in any stocks mentioned. The Motley Fool owns shares of Michael Kors Holdings. The Motley Fool recommends Fossil. The Motley Fool has a disclosure policy.