Why You're Smart to Buy Costco Stock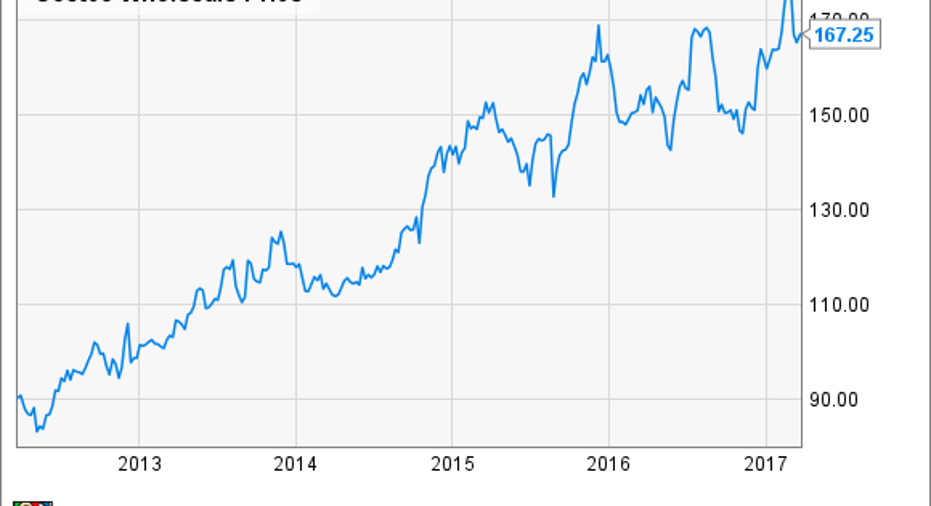 Costco (NASDAQ: COST) will never be a sexy stock pick.
The company moves slowly. It does not reinvent itself or beat other retailers to the punch when it comes to innovation. The warehouse club has only recently embraced the internet and its efforts in that space leave it well behind pure-digital players like Amazon and traditional brick and mortar chains including the resurgent Wal-Mart.
Costco is slow and steady, sometimes even boring and behind the times, but unlike many retailers it has nothing to fear as the way that many Americans prefer to shop continues to change. The warehouse club, with its membership-based business and its shopping as entertainment model has shown that it's immune to the changes sweeping through the malls and shopping plazas of first the United States and then the world.
That may change eventually. Perhaps someday people will find the idea of leaving their home for shopping absurd. But, for the foreseeable future, Costco has a business built on incredibly loyal customers who not only pay to shop there, but have increasingly been willing to pay more for the privilege in the form of enhanced membership.
Costco has a model that works and executes it very well. Image source: Costco.
Why is Costco's model strong?
Unlike most retailers, Costco does not make the bulk of its income from sales. Instead, about 75% of its profit comes from membership fees. That means that while the chain's sales do impact its bottom line, its real business is keeping its members happy.
In recent years the company has been doing that very well. Costco's United States renewal rate has hovered around 90%, inching up steadily from 88% in 2010 to 91% in 2015. In 2016, despite the company making a difficult switch moving its rewards credit card from longtime provider American Express to Visa, renewal rates barely budged.
In 2016 the warehouse club posted a 90.3% renewal rate in the U.S. and Canada. That's a tiny drop given the upheaval caused by the credit card switch. In addition, the company continued to convert Gold Star members, who pay $55 a year, to Executive Members, who pay twice as much in order to get 2% cash back up to $750 on purchases.
At the close of Q4 2016, Costco had 17.4 million Executive Members, a number that was a 370,000 increase. At the time, during the company's earnings call, which was transcribed by Seeking Alpha (registration required) CFO Richard Galanti noted that "Executive Members now account for a little over a third of our base and a little more than two-thirds of our sales, where Executive Members are offered."
Basically, Costco has moved a third of its members to a pricier membership where the customer is more loyal because he or she spends more. The chain added another 348,000 Executive Members in Q1 2017 and renewal rates in the U.S. and Canada stayed at 90.3%.
Costco stock has more or less steadily risen for five years. Image source: YCharts.com.
Savings plus experience
Costco members have proven exceptionally loyal because the chain offers good values. Pricing, however, is not the only reason people shop at the warehouse club.Going to Costco is more than just shopping. The chain's locations are destinations where you never quite know what you may find, and where the numerous samples and food court add to the experience.
While going to many retailers can be a chore, making them vulnerable to online competition, Costco has built a shopping experience that's fun. That ties consumers more strongly to the brand even if they don't buy very much. Walking through one of the chain's warehouses might lead to an unexpected purchase, trying a new food, or perhaps taking a picture with an eight-foot stuffed bear. Those things enhance your connection to the company and add value to your membership.
Costco will likely never show explosive growth, but it has steadily expanded including slowly growing its international footprint. As it has done that its membership has grown and its increase in membership has been steady. This is a chain that has a model that works and that it knows how to execute. That may not be as exciting as the latest concept in retail which may burn out, but it's a winning formula for the long term.
10 stocks we like better than Costco WholesaleWhen investing geniuses David and Tom Gardner have a stock tip, it can pay to listen. After all, the newsletter they have run for over a decade, Motley Fool Stock Advisor, has tripled the market.*
David and Tom just revealed what they believe are the 10 best stocks for investors to buy right now... and Costco Wholesale wasn't one of them! That's right -- they think these 10 stocks are even better buys.
Click here to learn about these picks!
*Stock Advisor returns as of February 6, 2017
Daniel Kline has no position in any stocks mentioned. The Motley Fool owns shares of and recommends Amazon, Costco Wholesale, and Visa. The Motley Fool recommends American Express. The Motley Fool has a disclosure policy.