Why You Should (and Shouldn't) Buy Enterprise Products Partners L.P.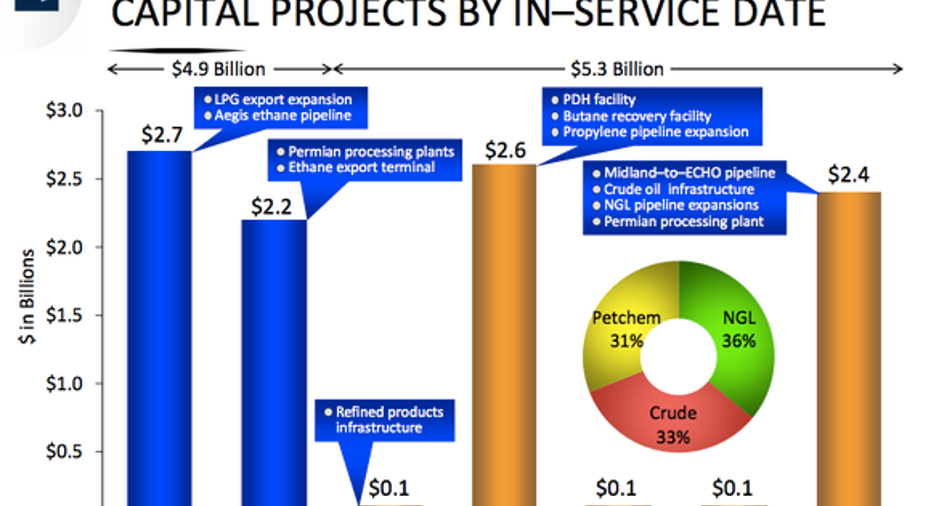 Investors looking for high-yield stocks have most likely come across oil and gas transportation and logistics specialist Enterprise Products Partners L.P. (NYSE: EPD). With one of the nation's largest pipeline and processing networks and a distribution yield just shy of 6%, it certainly has the basics of what you would want in an income-generating stock.
Like all stocks, though, there are just as many reasons to buy as reasons to stay away. So the Fool asked two of our energy contributors to look at why investors may -- or may not -- want to have Enterprise Products Partners as part of their portfolio. Here's what they had to say.
Image source: Getty Images.
A stable ship in a shifting sea
Tyler Crowe: Something you hear from investors a lot is their desire to add energy investments to their portfolio, but there is always that constant concern of buying at the wrong time or having exposure to the volatility of commodity prices. For anyone in this boat, Enterprise Products Partners is the kind of investment you want to look at to fill this part of your portfolio.
Enterprise is able to significantly reduce its exposure to commodity prices in two big ways. The first is through its contract structure. About 85% of the contracts it has with customers are fee-based service contracts, many of which also have minimum volume commitments. This means that no matter what the price of the products it moves, the gross profit margins from these services come in at a fixed rate and take a lot of guesswork out of the commodity price game.
The other factor eliminating commodity-price concerns is the diversity of Enterprise's operations. On top of the transportation and storage assets that Enterprise and most other midstream businesses own, Enterprise also has made significant investments in natural gas liquid processing and export facilities. These facilities --which are natural gas and natural gas liquids consumers -- are natural hedges against periods of lower commodity prices.
It's also worth noting that exporting natural gas liquids has become a big business lately. Enterprise Products Partners is already the world's largest exporter of liquid petroleum gas, with plans to expand its export capacities in ethane, ethylene, propylene, crude oil, and refined petroleum products.
Image source: Enterprise Products Partners investor presentation.
This business model gives Enterprise an incredibly stable cash flow stream which it uses to both grow the business and consistently reward sharehodlers with a growing distribution. Since its IPO in 1998, the company has grown its business through $62 billion in capital projects and acquisitions, all while increasing its payout every year.
For those looking for a steady, growing dividend investment, Enterprise is hard to beat.
Enterprise's growth prospects leave much to be desired
Reuben Gregg Brewer: I agree that Enterprise Products Partners is a well-run limited partnership with an enviable track record. Buying Enterprise would be a great move for many investors...but not for all investors. Here's something to consider before you pull the trigger: Its size.
Enterprise is one of the largest midstream players in the United States. While that provides a level of business stability, the law of large numbers means it limits growth. For example, the company has $5.3 billion worth of capital projects planned between 2017 and 2018. That's a huge amount of work that will add to the top and bottom lines, and support continued distribution hikes.
Enterprise Products Partners' growth spending plans. Image source: Enterprise Products Partners.
But step back and think about the scale here. This is the massive level of spending needed to move the needle at a limited partnership with a $55 billion market cap. There are only just so many investment opportunities of this size out there, and Enterprise has to compete with other large midstream players, like Kinder Morgan, to get them. Acquisitions could also juice growth, but any move here would have to be on a large scale, too. Basically, growth at Enterprise will become harder and harder to achieve over time.
Investors focused on growth may be better served looking at smaller players. There's more risk, but business and distribution growth will be easier to achieve off of a smaller base. A good example is $2.4 billion market cap Rice Midstream Partners LP (NYSE: RM), which is run by growing natural gas driller Rice Energy (NYSE: RICE).
More drop down sales to come between Rice Midstream and its parent. Image source: Rice Midstream Partners.
The LP increased distributions 20% in 2016, and expects solid distribution coverage of around 1.5 times. For reference, Enterprise's distribution grew about 4% last year and coverage is projected to be around 1.2 times. And as Rice Energy expands its drilling business, there are likely to be additional asset sales, called drop downs, between the parent and the partnership. More important, based on Rice Midstream's modest size, it won't take much to move the needle here.
I'm not suggesting that Enterprise is a bad investment option (it isn't). However, it might not be right for you. For those looking for some growth in their income investments, Enterprise's long-term growth prospects may be constrained by its already large and expansive operations.
10 stocks we like better than Enterprise Products Partners When investing geniuses David and Tom Gardner have a stock tip, it can pay to listen. After all, the newsletter they have run for over a decade, Motley Fool Stock Advisor, has tripled the market.*
David and Tom just revealed what they believe are the 10 best stocks for investors to buy right now... and Enterprise Products Partners wasn't one of them! That's right -- they think these 10 stocks are even better buys.
Click here to learn about these picks!
*Stock Advisor returns as of January 4, 2017
Reuben Brewer has no position in any stocks mentioned. Tyler Crowe owns shares of Enterprise Products Partners. The Motley Fool owns shares of and recommends Kinder Morgan. The Motley Fool recommends Enterprise Products Partners. The Motley Fool has a disclosure policy.