Why You Should (and Shouldn't) Buy Clean Energy Fuels Corp.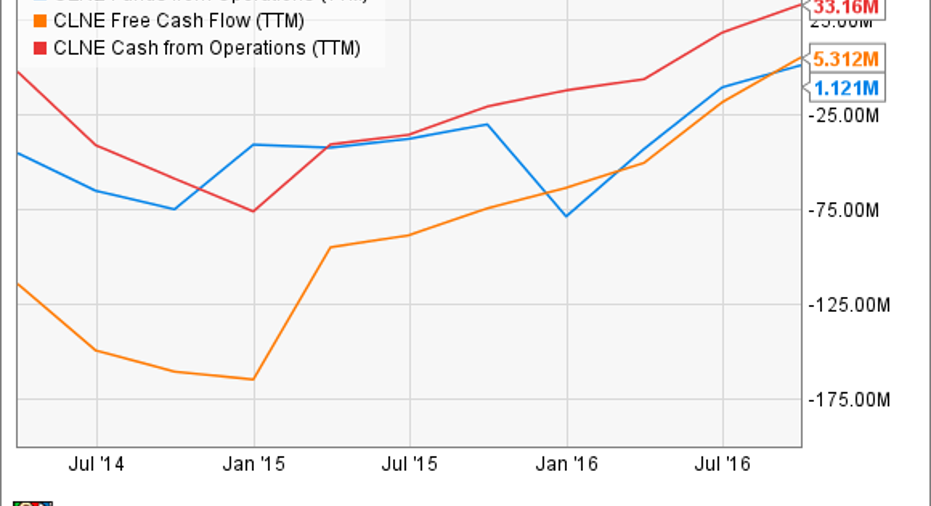 Over the past several years, investors in Clean Energy Fuels Corp. (NASDAQ: CLNE) haven't done well, with the company's stock losing more than three-quarters of its value. Factor in better than 31% total returns for the S&P 500 over that period, and it's been insult added to injury.
Image source: Getty Images.
Is now a good time to buy shares of this beaten-down stock, or should investors stay away? Two of our contributors debate exactly that below. Keep reading to learn why they take the positions they do, and then decide for yourself: Is Clean Energy Fuels a stock worth buying, or best avoided?
Not ready for prime time
Tyler Crowe: Clean Energy Fuels is like one of those raw athletic draft picks in the NBA or the NFL that is said to be "one year away from being one year away." The company continues to make fantastic progress on building out a network of natural-gas fueling stations. Unfortunately, though, that growth hasn't translated to the bottom line yet, nor does it look likely to in the coming years.
One reason is that the company's debt levels have outpaced its operating profit growth profits. In 2011, interest expense as a portion of gross profit was a reasonable 12%. Over the past 12 months, unfortunately, this number has ballooned to 53% of gross profits. I can understand that this company is still in heavy growth mode and needs to spend on developing its network, but those investments don't seem to be generating the types of returns you would want to see in a high-growth company.
The other thing that is concerning is that this is a high-growth company that isn't spending much money anymore. Capital expenditures over the past 12 months were a paltry $27 million, compared to $192 million in 2012. If the company's fueling station build-out was approaching a critical mass, I could understand a winding down of spending. However, it's less than 600 stations, still well short of a fueling network that would make it completely competitive with diesel.
Over-the-road trucking has yet to pay off in big growth for Clean Energy. Image source: Clean Energy Fuels Corp.
It would seem that the company is at a real crossroads here. It needs to keep spending on development, but the amount of money going out the door to service the debt that funds development is becoming overly burdensome. That means we're likely going to see more equity issuances to fund projects -- that's on top of the outstanding convertible debt and options that could increase the current share count by 30%.
I actually like the business for Clean Energy Fuels. Fueling stations can be a decent-margin business without huge commodity-price risk, and there is a huge opportunity in moving heavier-duty engines from diesel to natural gas on economic, geopolitical, and environmental bases. Looking at where the company is today, though, it looks as though Clean Energy Fuels is going to go through a few more rough patches before it builds a sustainable business. When that happens, I will be certainly ready to revisit it as an investment, but the current risk-reward ratio doesn't seem worth it.
A closer look says things are better than they appear
Jason Hall: Tyler makes some compelling points, but a closer examination of the data tells me that things aren't as bad as he thinks. On the contrary, Clean Energy Fuels has made substantial progress in essentially all of these areas over the past couple of years.
Let's start with debt and debt expense. At its peak in 2014, Clean Energy owed more than $620 million in total long-term debt, but as of this writing, that level had been slashed by more than half, with the company paying off more than $320 million in debt over the past 18 months. And while the company did report a big spike in GAAP (generally accepted accounting principles) interest expense over the past year, what my colleague may have missed is that more than half of this was a one-time, non-cash charge related to the termination of a debt agreement with GE. On a cash basis, the company's interest expense is actually going to fall by nearly half in 2017, from around $45 million per year to much closer to $20 million after so much debt retirement.
Even with cheap gas and diesel, Clean Energy has delivered steady -- if unspectacular -- growth. Image source: Getty Images.
As for capital expenditures, it's probably not a fair comparison to look at Clean Energy's growth capex spending over the past five years as a baseline. A huge amount of that spending was focused on the company's "America's Natural Gas Highway," its network of public refueling stations built in partnership with Pilot Flying J, the largest operator of truck stops in the U.S. -- an effort which quite frankly hasn't paid off so far, as heavy-duty trucking has been relatively slow to adopt natural gas for a variety of reasons.
But while this growth has been very slow, the company has seen steady expansion in its private station- and customer-owned, Clean Energy-operated business. The company built more than 60 new stations in 2016, and most of those were in this category -- which doesn't reflect in capex since Clean Energy sells each station to a customer, and then operates and maintains it on a long-term contract. Management says it expects to open about the same number of new stations in 2017 as last year -- which, by the way, was one of the biggest years in the company's history, even with capex sharply below the recent peak.
From an operational perspective, the company has also lowered operating expenses by 9% and boosted gross margins to nearly 40%, allowing it to generate substantially improved cash flow metrics over the past year:
CLNE Funds from Operations (TTM) data by YCharts.
And that's before the full benefit of all the more recent debt retirement kicks in.
Lastly, Clean Energy's shares are trading at what could be a pretty cheap price: roughly 0.9 times book value. If the company can maintain its positive cash flows and continue growing fuel-sales volumes as it has throughout the oil downturn, now could turn out to be a great time to buy shares.
One big caveat: I fully agree with Tyler that dilution is a potential risk that shouldn't be ignored. But even with that risk, I think Clean Energy is, more likely than not, a great buy now.
10 stocks we like better than Clean Energy Fuels When investing geniuses David and Tom Gardner have a stock tip, it can pay to listen. After all, the newsletter they have run for over a decade, Motley Fool Stock Advisor, has tripled the market.*
David and Tom just revealed what they believe are the 10 best stocks for investors to buy right now... and Clean Energy Fuels wasn't one of them! That's right -- they think these 10 stocks are even better buys.
Click here to learn about these picks!
*Stock Advisor returns as of January 4, 2017
Jason Hall owns shares of Clean Energy Fuels. Jason Hall has the following options: long January 2017 $5 calls on Clean Energy Fuels and long January 2017 $3 calls on Clean Energy Fuels. Tyler Crowe and The Motley Fool own shares of GE. The Motley Fool owns shares of and recommends Clean Energy Fuels. The Motley Fool has a disclosure policy.