Why You Should (and Shouldn't) Buy Cheniere Energy, Inc.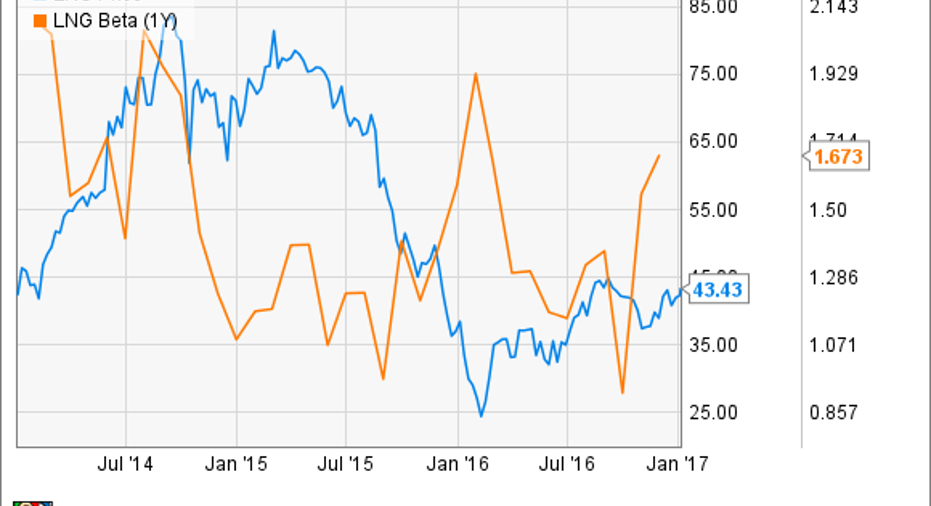 There are few stocks out there as polarizing as Cheniere Energy (NYSEMKT: LNG). Now that a couple of its Liquefied Natural Gas (LNG) process trains are up and running, the company is no longer an investment in the potential of exporting LNG from the United States. Instead, it is a true operating company that we can evaluate on its merits as a business.
The question today is, now that the facility is up and running, and the risk of it not coming to fruition has been eliminated, is Cheniere Energy a stock worth adding to your portfolio? We asked three of our contributors to chime in on their thoughts on Cheniere Energy to help you make a more informed decision.
Image source: Getty Images.
All aboard
Matt DiLallo: The case for buying Cheniere Energy is simple. The LNG export company is nearing the completion of a major growth phase, which will supply it with steady cash flow for the next two decades. Moreover, the company has plenty of growth left in the tank beyond its current phase, with another wave of projects set to come online in a couple of years, and it has additional projects waiting in the wings.
Overall, Cheniere Energy has seven LNG liquefaction trains in various stages of completion along the U.S. Gulf Coast. The company recently finished construction of two of those trains, and itexpects to complete two more later this year while the other three should enter service in 2019. More importantly, the company locked in 87% of the capacity from those trains under 20-year "take-or-pay" commercial contracts, which means it gets paid even if customers do not use this capacity.
In addition to the projects already under construction, Cheniere Energy has two more LNG trains fully permitted by regulators, and it has started the permitting process on two additional trains. Further, the company is exploring a midscale LNG solution as well as a gas pipeline solution to supply its Gulf Coast facilities with gas from the booming STACK/SCOOP plays of Oklahoma. These projects provide the company with enormous growth potential over the next decade.
Bottom line, investors looking for a growing stream of cash flow should consider buying Cheniere Energy and riding its LNG-fueled growth wave over the next several years.
Business looks great. Stock price, not so much
Tyler Crowe: Here's the thing. From a business perspective, Cheniere Energy is the type of company worth looking at as a potential investment. It has a solid business model with a visible revenue path for the next several years. Also, even though it's in the commodity business, it is structured in a way such that there is little commodity risk. When you also consider the potential future for LNG in the coming years. Cheniere Energy is a business worth getting behind.
There is a difference, though, between a business and a stock. Based on the company's current valuation and its projected earnings in the coming years, the idea of investing in Cheniere seems much less palatable.
Thanks to the contracts it has signed for both its Sabine Pass and Corpus Christi facilities and management's cost projections, we can put a reasonable estimate on the company's EBITDA in the coming years.
Image source: Cheniere Energy investor presentation.
If the company were to give the green light for the two additional LNG trains under review, they would come online sometime after 2020. So, at today's share price, we are looking at buying a stock with an implied enterprise value to 2020 EBITDA estimate of 15.3 times for a 7 LNG train business. Or, for a 9 LNG train business, 10.7 times that future EBITDA projection. You could argue that this projection doesn't include any upside from marketing and selling any LNG that isn't already committed to long-term contracts. That's only 13% of total production capacity, though, so there's only a marginal gain there at best.
It's not writing off Cheniere Energy entirely as a potential investment. But it's hard to stomach buying a stable, capital-intensive business with set profitability at 15 times EBITDA that isn't going to come until 2020. If Cheniere's stock were to decline significantly between now and then, I'm most certainly open to revisiting the situation.
It boils down to your risk profile and investing timeline
Jason Hall: Matt and Tyler both make excellent "bull" and "bear" cases for Cheniere, which can only add to the frustration if you're trying to decide whether or not it's a stock you should buy today. Instead of talking about the company, I'll point out what investors should consider that's just as relevant as the merits and detriments of the company itself:
Are you willing and (financially able) to sustain short-term, or even permanent losses?
How long are you willing and able to hold your investment without selling?
Can you sleep at night knowing you own a stock that could fall by half within a few months, or even weeks?
If you're not in a position to hold Cheniere shares for a long period of time -- think years, not months -- or you're considering investing capital that you can't afford to risk, or you don't really have the temperament to ride out a decline in the stock price without selling at a loss, then Cheniere may not be an ideal investment for you to make.
The reality is, as Tyler and Matt point out, the company has some great assets and a pretty sizable locked-up base of long-term cash flows, but as Tyler emphasised, investors today are paying a steep premium for that based largely on the potential upside for the future, which is far from guaranteed.
One only has to look at Cheniere's volatility in recent years to acknowledge the short-term risk if you can't ride out the market's movements:
Bottom line: Cheniere is a stock to avoid if you can't afford the risk or don't have the temperament to ride out the volatility. But if you're willing to take on the premium valuation risk, it's a company with serious potential. The best strategy may be to buy some now, and if the market turns negative but the business prospects remain sound, add to your position at a better price.
10 stocks we like better than Cheniere Energy When investing geniuses David and Tom Gardner have a stock tip, it can pay to listen. After all, the newsletter they have run for over a decade, Motley Fool Stock Advisor, has tripled the market.*
David and Tom just revealed what they believe are the 10 best stocks for investors to buy right now...and Cheniere Energy wasn't one of them! That's right -- they think these 10 stocks are even better buys.
Click here to learn about these picks!
*Stock Advisor returns as of January 4, 2017.
Jason Hall has no position in any stocks mentioned. Matt DiLallo has no position in any stocks mentioned. Tyler Crowe has no position in any stocks mentioned. The Motley Fool has no position in any of the stocks mentioned. The Motley Fool has a disclosure policy.