Why Yelp Inc. Stock Jumped 34% Last Year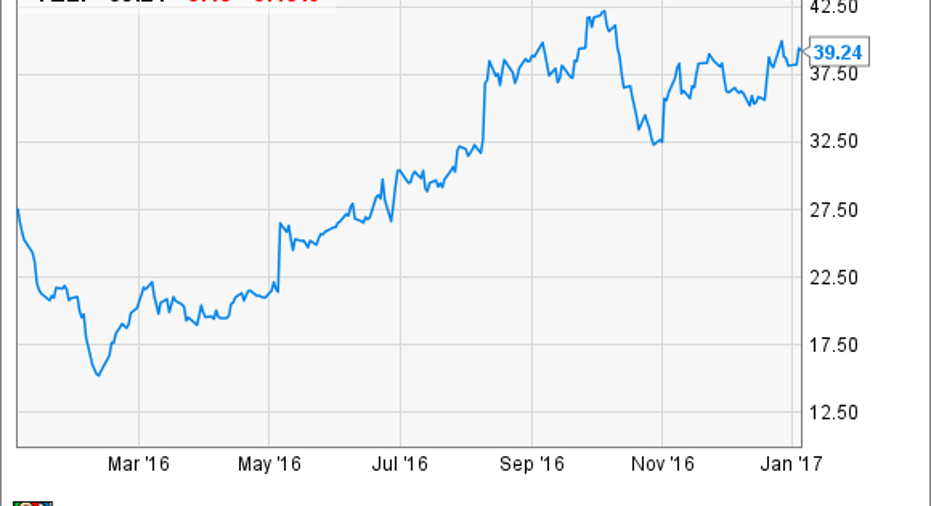 Image source: Yelp.
What happened
Yelp Inc.(NYSE: YELP) delivered a strong 2016 as shares rose 34%, according to data from S&P Global Market Intelligence. The business-review specialist delivered strong revenue growth throughout the year and topped earnings estimates in its last two reports. As the chart below shows, the stock climbed steadily after the market sell-off during the early part of the year.
So what
Through the first three quarters of the year, overall revenue grew 31% to $518.3 million, and adjusted earnings per share increased from $0.26 to $0.46. In other positive signs, local revenue, which makes up nearly 90% of total revenue, increased 41% in the most recent quarter, and the company has increased profits by focusing on the domestic market where it sees a better opportunity to drive local ad spending.
Yelp also improved its product with a new "request a quote" button to assist consumers in finding services like moving. Use of the button increased 20% sequentially in the third quarter. In addition, the company advanced its position in its ancillary food business following 2015's acquisition of Eat24 by adding restaurant reservation functionality to its platform. As a result, transaction volume was up 39% in the quarter.
Now what
Like other tech companies such asTwitterandPandora, Yelp has created a wildly successful product used by millions of consumers, but the business has struggled. Even after last year's gains, the stock is still down by more than half from its 2014 peak as profits failed to materialize as investors expected.
On a GAAP basis, Yelp is still operating at a loss, which actually expanded through the first three quarters of the year from minus $0.14 to minus $0.17, a difference from non-GAAP EPS that owes primarily to an increase in stock-based compensation.
Looking ahead to 2017, revenue growth should continue to be strong as the recent jump in local advertising is encouraging. If Yelp can make those gains count on the bottom line, the stock should continue to move higher.
10 stocks we like better than Yelp When investing geniuses David and Tom Gardner have a stock tip, it can pay to listen. After all, the newsletter they have run for over a decade, Motley Fool Stock Advisor, has tripled the market.*
David and Tom just revealed what they believe are the 10 best stocks for investors to buy right now and Yelp wasn't one of them! That's right -- they think these 10 stocks are even better buys.
Click here to learn about these picks!
*Stock Advisor returns as of January 4, 2017
Jeremy Bowman has no position in any stocks mentioned. The Motley Fool recommends Yelp. The Motley Fool has a disclosure policy.