Why Yelp Inc. Stock Fell 19.3% in February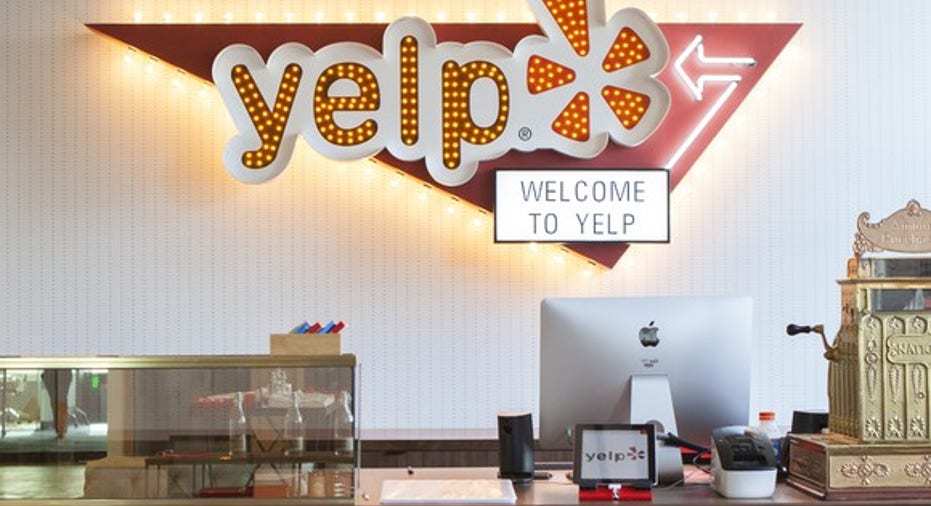 What happened
Shares of Yelp Inc. (NYSE: YELP)declined 19.3% in February,according to data fromS&P Global Market Intelligence, after the local-business-review specialist followed a strong quarterly report with tepid guidance.
So what
More specifically, nearly all of Yelp's decline last month came in the days following its fourth-quarter 2016 announcement. In it, Yelp confirmed that revenue grew 26.7% year over year, to $194.8 million, and adjusted earnings before interest, taxes, depreciation and amortization (EBITDA) climbed nearly 160%, to $45.3 million. Both of those figures beat Yelp's guidance, which called for revenue of $191 million to $195 million, and adjusted EBITDA of $36 million to $40 million.
On the bottom line, Yelp's net income increased more than 150%, to $22.6 million, and adjusted net income per share climbed 145%, to $0.27.
IMAGE SOURCE: YELP, INC.
Underlying Yelp's impressive growth was a 36% increase in local advertising revenue, to $171 million, and 24% growth in local advertising accounts, to roughly 138,000. Yelp also enjoyed healthy 19% growth in transactions revenue, to $16.6 million, thanks to its previous acquisition of food pickup and delivery specialist Eat24.
Meanwhile, Yelp integrated Nowait -- in which it made a small investmentlast year -- into its own app in October, giving consumers the ability to add themselves remotely to wait lists at roughly 3,600 restaurants. Subsequent to the end of the quarter, Yelp followed up by announcing it has paid $40 million in cash (including its prior partial stake) to acquire Nowait outright.
Now what
For the current quarter, Yelp told investors to expect revenue of $195 million to $199 million. The midpoint of that range would mean growth of 25% year over year, but that was below Wall Street's expectations for $204.4 million at the time. Yelp also anticipates full-year revenue of $880 million to $900 million, while analysts were modeling 2017 revenue near the high end of that range.
To be fair, Yelp has a propensity for underpromising and overdelivering; Its fourth-quarter report technically marked the company's fifth straight quarter of exceeding guidance. The difference this time, however, was that Yelp didn't complement that quarterly beat with an equally encouraging outlook, at least relative to the market's lofty expectations. It also didn't help that Yelp shares had more than doubled in the year leading up to last month's report -- an enviable problem for investors to have.
So in the end, while long-term shareholders should be pleased with Yelp's results, it was no surprise to see many investors taking some of their profits off the table in February.
10 stocks we like better than YelpWhen investing geniuses David and Tom Gardner have a stock tip, it can pay to listen. After all, the newsletter they have run for over a decade, Motley Fool Stock Advisor, has tripled the market.*
David and Tom just revealed what they believe are the 10 best stocks for investors to buy right now... and Yelp wasn't one of them! That's right -- they think these 10 stocks are even better buys.
Click here to learn about these picks!
*Stock Advisor returns as of February 6, 2017
Steve Symington has no position in any stocks mentioned. The Motley Fool recommends Yelp. The Motley Fool has a disclosure policy.