Why Wynn Resorts Ltd. Shareholders Have Nothing to Worry About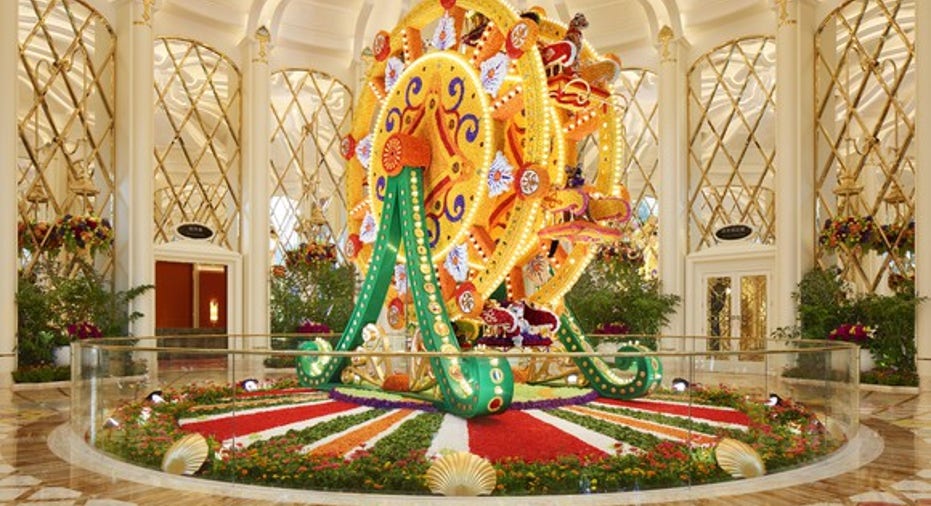 Wynn Resorts (NASDAQ: WYNN) has had a volatile few years as the Macau market has struggled and the company began borrowing money to build out expansion plans. For a long time, the market's fears were being validated with declining results.
But as we near the end of the first quarter of 2017, the worries seem to be subsiding. Investors should have even fewer things to worry about now that growth projects are starting to impact operations.
Ferris Wheel in Wynn Palace in Macau Palace. Image source: Wynn Resorts.
Macau's fortunes have turned
After two years of declines, Macau's gambling revenue is bouncing back in a big way. In the first two months of 2017, revenue is up 10.6%, and there have now been seven straight months of year-over-year growth.
This comes just as Wynn Resorts opened Wynn Palace, its $4.4 billion resort in Macau's Cotai region, long dominated by Las Vegas Sands (NYSE: LVS). Wynn's presence on Cotai gives the company exposure to a region that's equivalent to the Las Vegas Strip of Macau, versus the Macau Peninsula's older resorts, where Wynn Macau is located. If history is any indication, Wynn Palace will be a top performer on Cotai and could eventually generate $1 billion in EBITDA (a proxy for cash flow) annually.
Macau's growth will also help Wynn Macau, which generated over $500 million in EBITDA in 2016. The region's improvement is a tide lifting all gambling establishments, and that means one less worry for investors in 2017.
Rendering of Paradise Park in Las Vegas. Image source: Wynn Resorts.
Las Vegas could have tremendous upside
Wynn Las Vegas generated $475 million in EBITDA during 2016, but it could be in for a big upgrade later this year. Steve Wynn is expected to tear out the golf course behind the resort to build Paradise Park, an entertainment area with a lake, beach, zip line, and other recreation features. The project isn't finalized but it could cost $1.5 billion.However, if Steve Wynn's projected $20 entrance fee holds up, there could be an additional $110 million in revenue from admissions alone.
Wynn Resorts has become one of the most successful resorts in generating non-gaming revenue from restaurants, shops, and clubs. Paradise Park will contribute to that non-gaming trend and add to growth in the future.
With the U.S. economystill growing, Las Vegas gaming revenue stable, and a growth project on the way, there's a bright future for Wynn not only in Macau but domestically as well.
The Boston Project is on the horizon
Growth in Macau and Las Vegas will dominate results for theforeseeablefuture, but sometime in 2019 the company is expected to open Wynn Boston Harbor. The project just north of downtown Boston will be Wynn Resorts' first foray into the East Coast market and further diversify operations. We won't know for some time what operating results will look like, but this is another growth project that should keep results moving higher for years to come.
Fears are fading away
The past couple of years have been all about risk for Wynn Resorts, particularly in Macau. But that worry is beginning to fade away as the region improves. Growth is coming from Wynn Palace in Macau, and potentially from Paradise Park and Wynn Boston Harbor in the U.S. Right now, the future looks bright for this gambling giant.
10 stocks we like better than Wynn ResortsWhen investing geniuses David and Tom Gardner have a stock tip, it can pay to listen. After all, the newsletter they have run for over a decade, Motley Fool Stock Advisor, has tripled the market.*
David and Tom just revealed what they believe are the 10 best stocks for investors to buy right now... and Wynn Resorts wasn't one of them! That's right -- they think these 10 stocks are even better buys.
Click here to learn about these picks!
*Stock Advisor returns as of February 6, 2017
Travis Hoium owns shares of Wynn Resorts. The Motley Fool has no position in any of the stocks mentioned. The Motley Fool has a disclosure policy.