Why Wyndham Worldwide Corporation's Shares Popped 11% Today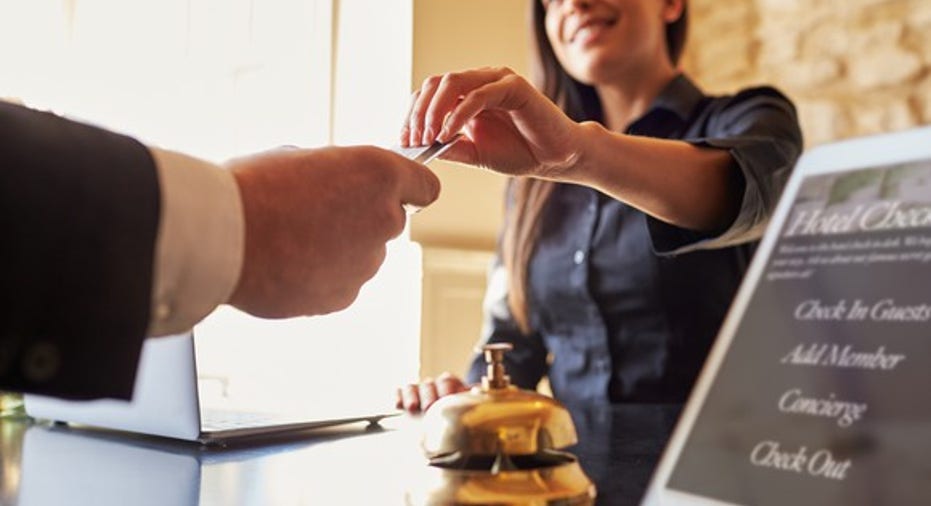 What happened
Shares of hotel brand Wyndham Worldwide Corporation (NYSE: WYN) jumped as much as 11.1% in trading Wednesday after reporting first-quarter 2017 earnings. At 3:45 p.m. EDT on Wall Street, shares were still up an impressive 9.6% on the day.
So what
Revenue for the quarter rose just 1% to $1.32 billion, but net income rose 47% from a year ago to $141 million, or $1.33 per share. Adjusted for one-time items, earnings were $1.14 per share, beating Wall Street's estimate by three cents.
Image source: Getty Images.
Management also said it still expects full-year revenue of $5.80 billion to $5.95 billion and adjusted earnings of $5.98 to $6.18 per share, based on 105.5 million shares outstanding.
Now what
First-quarter results don't show tremendous growth, but margins are improving slightly, and that's what had investors pushing shares higher. Keep in mind that growth is still in the low single-digits, and it isn't expected to pick up significantly soon. With shares trading at 18 times trailing earnings, shares are pretty expensive for a slow-growth stock. For that reason, I'll sit out today's pop, but look for opportunities if shares dip to get in at a better value for this hotel industry leader.
10 stocks we like better than Wyndham WorldwideWhen investing geniuses David and Tom Gardner have a stock tip, it can pay to listen. After all, the newsletter they have run for over a decade, Motley Fool Stock Advisor, has tripled the market.*
David and Tom just revealed what they believe are the 10 best stocks for investors to buy right now...and Wyndham Worldwide wasn't one of them! That's right -- they think these 10 stocks are even better buys.
Click here to learn about these picks!
*Stock Advisor returns as of April 3, 2017.
Travis Hoium has no position in any stocks mentioned. The Motley Fool has no position in any of the stocks mentioned. The Motley Fool has a disclosure policy.