Why Wix.com Ltd. Stock Popped Today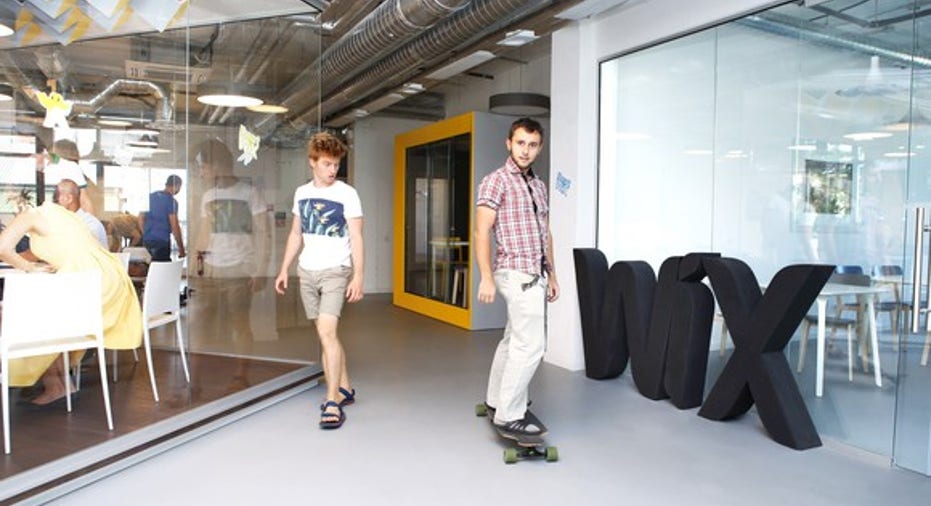 What happened
Shares of Wix.com Ltd. (NASDAQ: WIX) were up 14.3% as of 11:30 a.m. EST Wednesday, after the web-development platform specialist announced strong fourth-quarter 2016 results.
So what
Quarterly revenue increased 48% year over year, to $84.2 million, while adjusted earnings before interest, taxes, depreciation and amortization (EBITDA) more than doubled year over year, to $17.9 million. Based on generally accepted accounting principles (GAAP), that translated to a net loss of $6.2 million, or $0.14 per share. On an adjusted (non-GAAP) basis, which adds perspective by excluding items like stock-based compensation, Wix generated net income of $2.7 million, or $0.06 per share, compared to an adjusted net loss of $5.4 million, or $0.13 per share in the same year-ago period.
IMAGE SOURCE: Wix.com.
By comparison, Wix's prior guidance called for lower revenue of $81 million to $82 million, and lower adjusted EBITDA of $14 million to $15 million. And analysts, on average, were only anticipating revenue of $81.7 million, with adjusted net income of $0.03 per share.
Wix CFO Lior Shemesh elaborated:
Now what
For the current quarter, Wix anticipates revenue will increase 45% to 46% year over year, or to a range of $89 million to $90 million. And for the full year of 2017, Wix sees revenue climbing 41% to 42% over 2016, or to a range of $409 million to $411 million -- significantly above the $382.8 million Wall Street was expecting. Wix also anticipates collections for the full year to be up 32% to 34%, or $452 million to $458 million, and for free cash flow to roughly double to a range of $71 million to $72 million.
All things considered, this is a fairly cut-and-dried case of Wix handily beating estimates to end 2016, and following up with an outlook for the coming year that was evenbetter than expected. So it's no surprise to see shares of Wix touching a fresh all-time high today.
10 stocks we like better than Wix.comWhen investing geniuses David and Tom Gardner have a stock tip, it can pay to listen. After all, the newsletter they have run for over a decade, Motley Fool Stock Advisor, has tripled the market.*
David and Tom just revealed what they believe are the 10 best stocks for investors to buy right now... and Wix.com wasn't one of them! That's right -- they think these 10 stocks are even better buys.
Click here to learn about these picks!
*Stock Advisor returns as of February 6, 2017
Steve Symington has no position in any stocks mentioned. The Motley Fool has no position in any of the stocks mentioned. The Motley Fool has a disclosure policy.