Why Wayfair Inc. Stock Fell 10% Last Month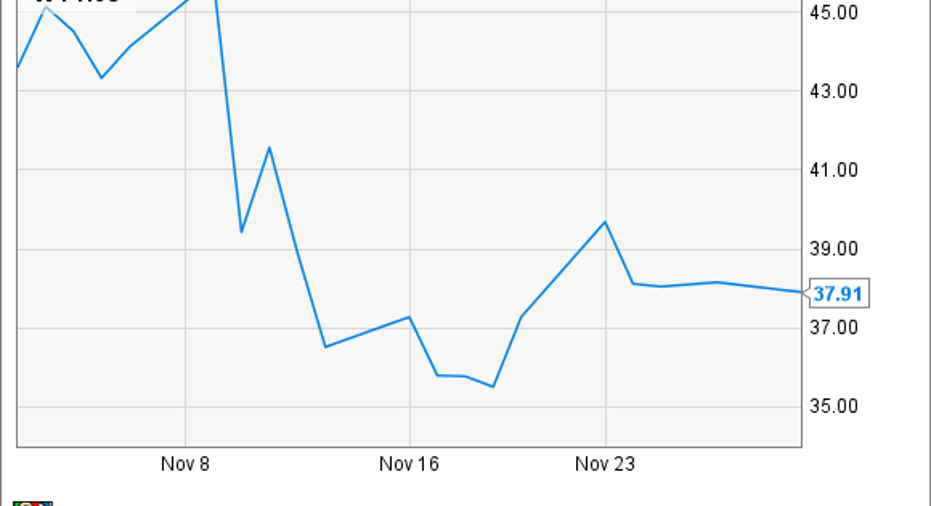 What:Shares ofWayfair Inc. slid 10% in November, according to data from S&P Capital IQ, as the online retailer slumped following its earnings report and continued bashing by noted short seller Whitney Tilson. The chart below shows the stock's path last month:
So what:The key event came when the stock fell 14% after its earnings report came out on Nov. 10. The company's results were ostensibly solid as total revenue jumped 76.7% to $594 million, and its adjusted loss of $0.13 per share beat estimates of a $0.24 loss. However, the stock sold off once management issued its guidance for the fourth quarter. CFO Michael Fleischer projected direct retail sales -- income from the company's five brands -- to grow 70%, down from 90% in the third quarter. Investors seemed to interpret that as a sign that the company's torrid growth is slowing down.
Despite that forecast, there were a number of favorable signs in the report, including a 61% increase in active customers indicating that Wayfair is growing primarily by expanding its customer base.
At the same time, Tilson revealed that Wayfair was his biggest short bet, claiming the stock will be below $10 at this time next year. He had previously correctly shortedLumber Liquidators, which collapsed after a scandal related to formaldehyde in its wood flooring came to light. Tilson pointed out that Wayfair had sold a similarly suspect profit made by Ark floors but, more importantly, that he thinks the company's chances of ever turning a profit are "close to zero."
Now what:What Tilson gets wrong is that Wayfair doesn't have to turn a profit to be valuable as an acquisition target. If the company continues to grow sales at this pace, it will become more appealing to potential buyers likeAmazon.comor other retailers looking for an edge in e-commerce. Online flash sales retailer Zulily was a volatile stock before getting bought out by QVC for $2.4 billion, and Amazon has bought out several other competitors over its history.
Turning a profit would be a more desirable outcome for Wayfair, but a company growing this fast and set to post more than $3 billion in revenue next year can only be ignored for so long. The stock also got a welcome boost when the company reported that direct sales grew 130% over the Thanksgiving weekend.
The article Why Wayfair Inc. Stock Fell 10% Last Month originally appeared on Fool.com.
Jeremy Bowman has no position in any stocks mentioned. The Motley Fool owns shares of and recommends Amazon.com and Lumber Liquidators. The Motley Fool recommends Wayfair. Try any of our Foolish newsletter services free for 30 days. We Fools may not all hold the same opinions, but we all believe that considering a diverse range of insights makes us better investors. The Motley Fool has a disclosure policy.
Copyright 1995 - 2015 The Motley Fool, LLC. All rights reserved. The Motley Fool has a disclosure policy.