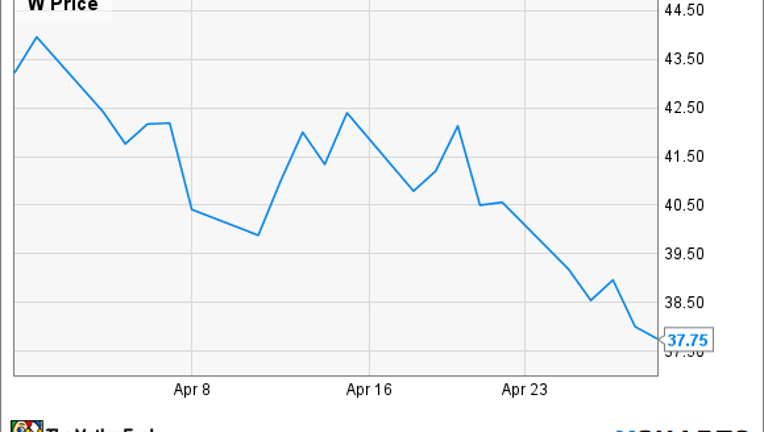 What:Shares of Internet retailerWayfair fell 13% last month, according to data from S&P Global Market Intelligence, on weakness in the retail sector and as a number of insiders sold shares.
So what:Retail sales, which have been weak for several months, fell 0.3% in March from the previous month, and a number of retailers reported weak monthly comparable sales, includingGap, where comp sales fell 5% in March. Since the news came out in April, a number of stocks have fallen.
In addition, in the first week of April, a number of Wayfair officers sold shares; for the month over $4 million in stock was sold by insiders, according to data from insider-monitor.com. That follows a March when more than $48 million in stock was sold by insiders. Though insider selling is not necessarily a negative signal about a stock, it can frighten individual investors. With 59% of its shares sold short, the majority of investors seem to be betting on the company's demise.
Now what:In its short publicly traded history, Wayfair has proven itself to be a volatile stock, as the e-commerce company is growing sales fast but putting up consistent losses on the bottom line. Last month, the company signed a deal with Porch.com to offer installation and assembly services for its home furnishings in a move that mirrorsAmazon.com'sHome Services, launched last year. Wayfair will report first-quarter earnings on May 9. Analysts are expecting a per-share loss of $0.32 on $694.9 million.
The article Why Wayfair Inc. Dropped 13% in April originally appeared on Fool.com.
Jeremy Bowman has no position in any stocks mentioned. The Motley Fool owns shares of and recommends Amazon.com. The Motley Fool recommends Wayfair. Try any of our Foolish newsletter services free for 30 days. We Fools may not all hold the same opinions, but we all believe that considering a diverse range of insights makes us better investors. The Motley Fool has a disclosure policy.
Copyright 1995 - 2016 The Motley Fool, LLC. All rights reserved. The Motley Fool has a disclosure policy.